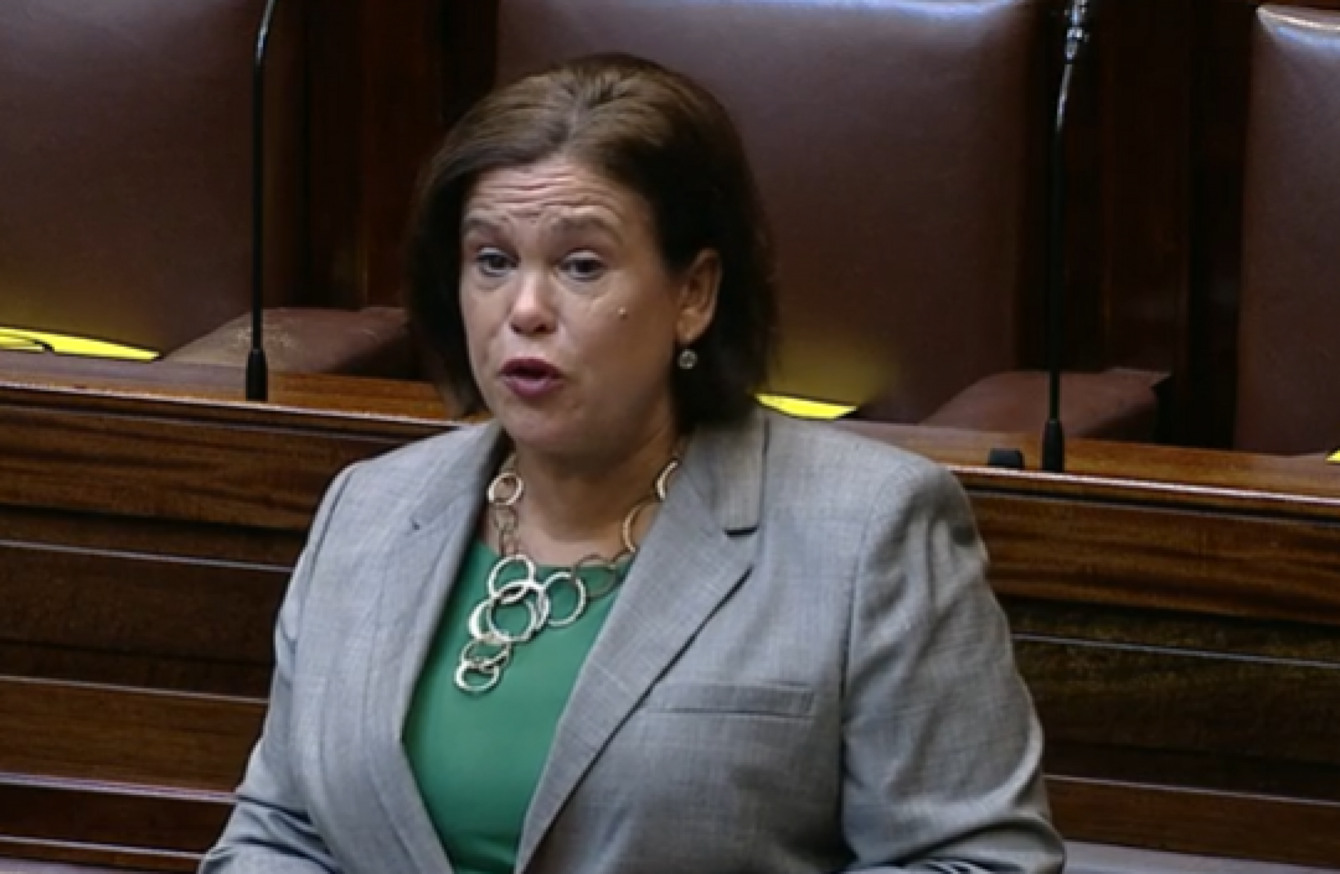 Sinn Féin leader Mary Lou McDonald.
Image: Oireachtas.ie
Sinn Féin leader Mary Lou McDonald.
Image: Oireachtas.ie
Updated Sep 23rd 2020, 4:24 PM
THERE WERE FIERY exchanges in the Dáil this afternoon as Taoiseach Micheál Martin and Sinn Féin's Mary Lou McDonald clashed over the pay rates for lower paid workers.
It came as the Irish Congress of of Trade Unions (ICTU) has announced that it has withdrawn from the government-established Low Pay Commission.
The withdrawal follows a disagreement by the group and other members of the commission during talks last night about a proposed increase in the national minimum wage. The national minimum wage currently stands at €10.10 per hour.
During Leaders' Questions in the Dáil today, McDonald accused the government of turning its back on workers. "
"There's something very wrong when members of a Low Pay Commission cannot agree to a meaningful increase for low-paid workers — workers who were rightly described as heroes, only a few short weeks ago," she said.
"It strikes me that all of this has the fingerprints of the Tanaiste [Leo Varadkar] and Fine Gael all over it," McDonald added.
Responding to the criticism, the Taoiseach accused Sinn Féin of trying to make political capital out of the dispute.
He said, "I regret the fact that ICTU has pulled out of the Low Pay Commission. I understand their reasons. We all in this house agreed with the idea of an independent statutory body to decide on low pay and in respect of the minimum wage.
"Obviously, a lot of employers out there are in significant difficulty, that is why we are supporting so many employers under the Wage Subsidy Scheme," Martin added.
Source: TheJournal.ie/YouTube
Low pay commission
The commission was established in 2015 to advise the Minister of Employment Affairs and Social Protection to set a fair and sustainable minimum wage.
It has an independent chair, and its members include representatives of trade unions, business groups and charities, as well as academics.
The commission held discussions last night in an attempt to reach an agreed recommendation to the government for an increase in the national minimum wage for 2021. It is understood that most members of the commission proposed a rise of 1%, equivalent to 10 cent per hour.
In a statement confirming the group's withdrawal from the commission last night, ICTU general secretary Patricia King said it could not be party to a recommendation that did not increase the national minimum wage by at least 2%.
"If we have learned anything as a society in this pandemic it is that we must value work and those who carry it out," King said.
We must make work pay. Many of the workers on the minimum wage form part of the cadre of essential workers who have helped keep our economy going through this Covid-19 pandemic. 
"It is therefore completely unacceptable that they and other workers who are the lowest paid in this state would not be afforded decency and fairness by receiving a modest minimum 2% increase in the national minimum wage."
King added that the lowest-paid in Irish society suffered disproportionately during the last recession and that ICTU would continue to campaign for increases in the minimum wage through other means.
#Open journalism No news is bad news Support The Journal

Your contributions will help us continue to deliver the stories that are important to you

Support us now
Responding today, business group Ibec said that it was "surprised and disappointed" at ICTU's decision to withdraw from the talks. 
Wage subsidy
During their Dáil debate, Martin and McDonald also clashed on the government's wage subsidy scheme.
"You and your government have turned your back on these workers. Your new wage subsidy scheme locks 153,000 of the lowest paid workers out," McDonald said.
You've put them at risk of losing their jobs, Taoiseach, you've left their employers in a really, really terrible position, because they don't have the money or the resources to pay their staffs very modest wages.
The Taoiseach went on to accuse McDonald of trying to "distort" the situation, saying the subsidy scheme protects employers and by extension their employees.
"You use every situation to tell the untruths and not to tell the truth in relation to the reality out where. You're wrong in terms of wage subsidy scheme. You're fundamentally wrong. That scheme is about employers who employ people," the Taoiseach said.
And you know that there are various formulas designed to facilitate employers who for example, have less than 70% of turnover of the previous year and so on and rates.
"And you deliberately distort what is actually a very effective and unprecedented intervention and deliver market to protect employers to protect enterprises and to protect workers."
- With reporting by Rónán Duffy