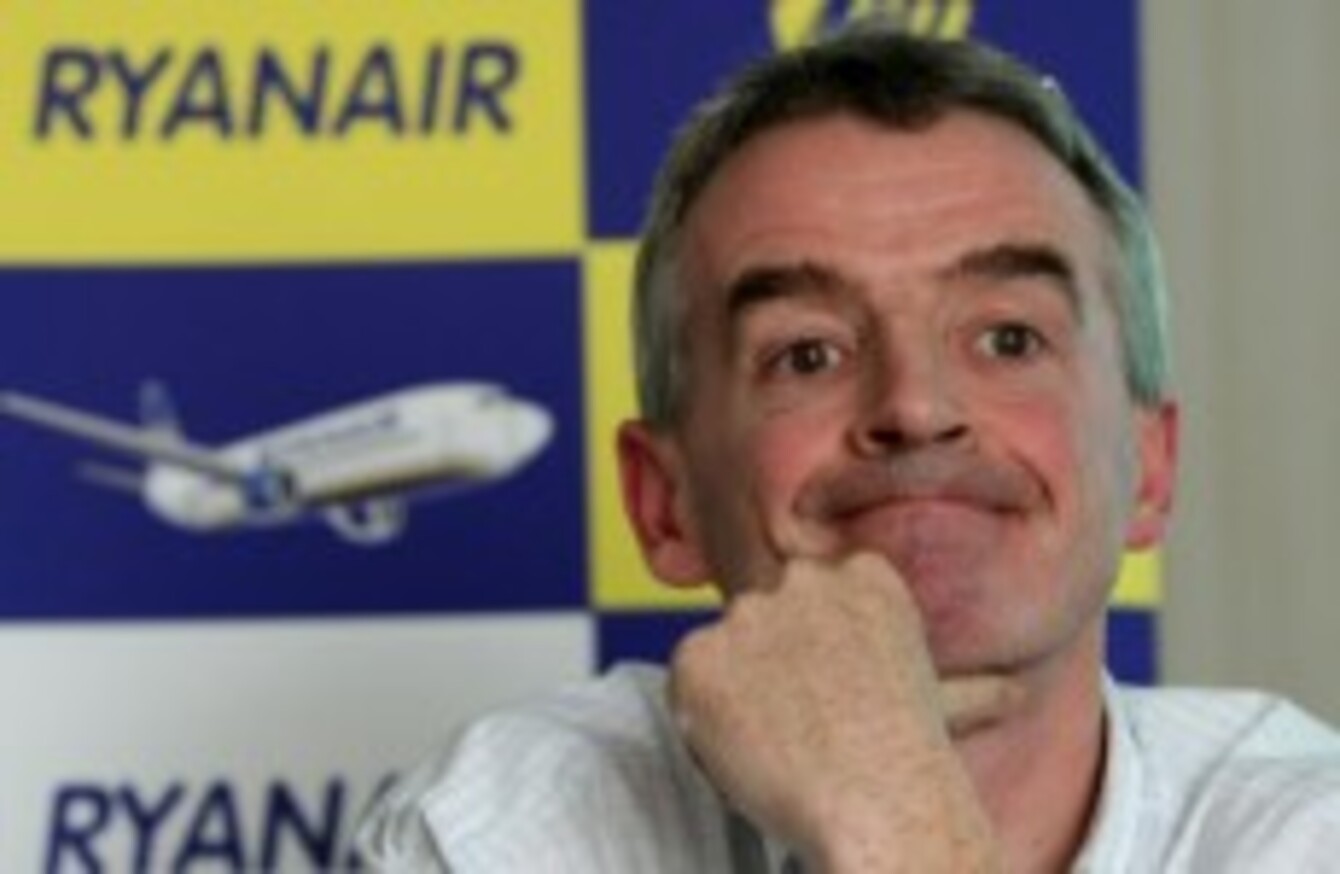 Image: Claude Paris/AP/Press Association Images
Image: Claude Paris/AP/Press Association Images
"A BUNCH OF idiots and lunatics" is how Ryanair CEO Michael O'Leary has described those campaigning for a No vote in the upcoming referendum on the European fiscal compact.
Speaking to CNBC's Squawk Box Europe, O'Leary said that Ireland will vote Yes as it does not have an alternative.
"People who are borrowing $15 billion a year to keep the lights turned on don't have the wherewithal to be turning around and voting no to the people that are lending them the $15 billion.
When you look at the array of idiots and lunatics on the No side, really I wouldn't want to be in any club which would have that lot as a member…

The sensible majority and the rest of Ireland will vote Yes…There is no argument for voting no.
The No side were not the only group castigated by the business tycoon. Politicians in Ireland and Brussels were also labelled "idiots' and 'half-wits' during yesterday's TV appearance.
O'Leary warned that Ireland is heading the way of Greece, as well as taking a swipe at the makeup of the civil service and Leinster House.
When you look at the basis of this treaty, it is about preventing elected government and idiots from spending money they don't have. I think everybody in Europe should be in favour of this treaty.
"Ireland is not doing that great, the warning is that we'll finish up like Greece. The fiscal deficit is still growing and the country is still borrowing to pay for social programmes, for public servants it can't afford," he added.
Commenting on Greece's political leadership and the possibility of them having a say in Ireland, O'Leary added that they could be "better than the half-witted politicians that Ireland has ended up with".
He also criticised Ireland's social programmes, including "lifelong" unemployment assistance and child benefits for multi-millionaires.
Doing his bit
Asked about a €20 million payment to himself at such a difficult time in Europe, O'Leary responded that really he was "doing his bit in the national interest" given the State would take up to 60 per cent in taxes.
The payment comes as Ryanair has about €3.5 billion in cash and little capital expenditure at the moment as an aircraft order has not yet been finalised.
"We run a very disciplined operation. Frankly, as someone who pays about 60 per cent tax in Ireland, I have zero interest in dividends. I really couldn't care less but we have so much cash, we got to do something with it."
And that may also signal good news if you are a Ryanair shareholder as another special dividend could be on its way.