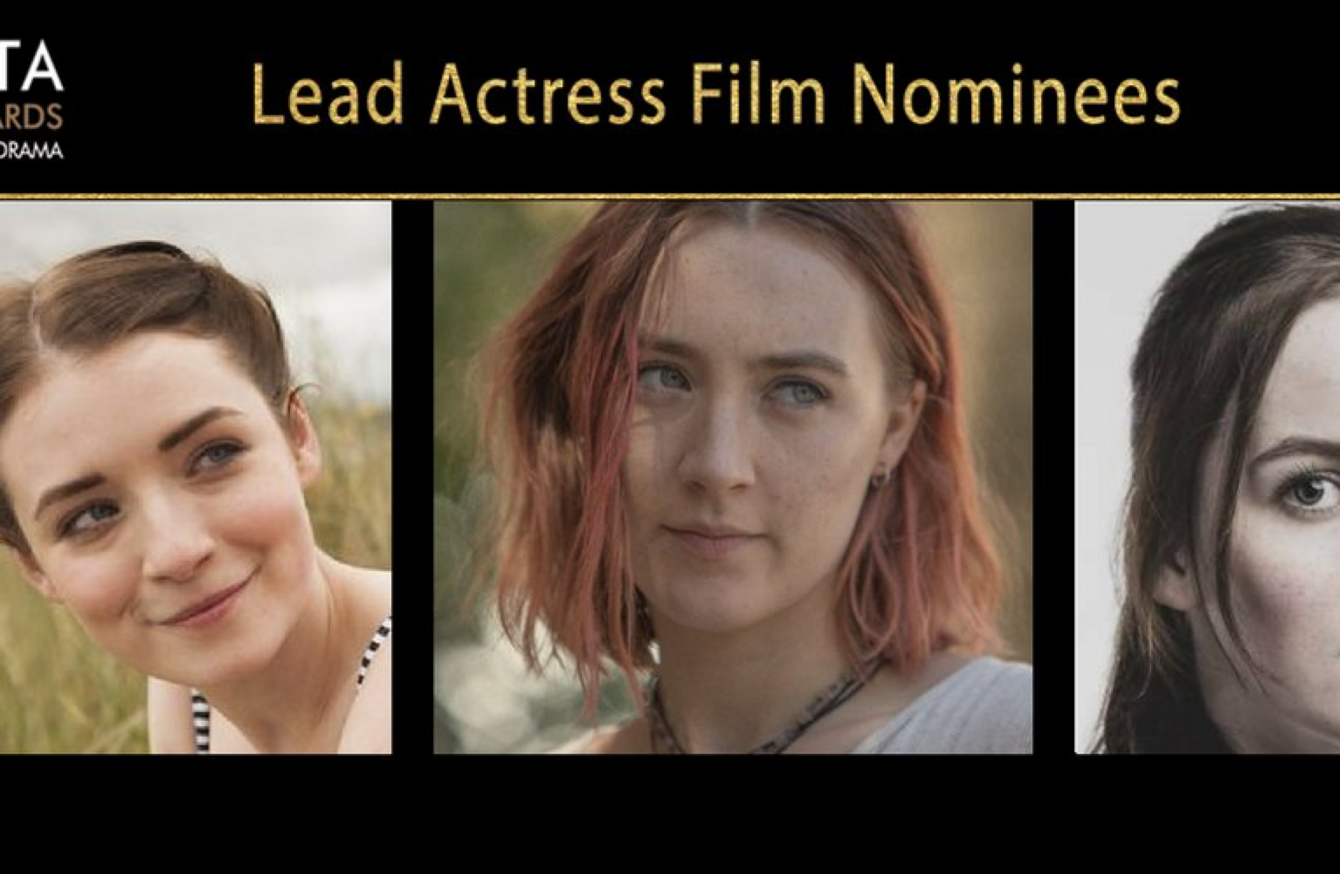 A PLETHORA OF Irish filmmakers and acting talent have been nominated in this year's Irish Film and Television Academy Awards (IFTAs).
The ceremony, which will take place at the Round Room in the Mansion House on 15 February, will be hosted by Deirdre O'Kane.
Here are the nominees across the film and drama categories:
Feature film
Cardboard Gangsters
Handsome Devil
The Killing of a Sacred Deer
Maudie
Michael Inside
Song of Granite
Director – Film
Frank Berry, Michael Inside
John Butler, Handsome Devil
Martin McDonagh, Three Billboards Outside Ebbing, Missouri
Mark O Connor, Cardboard Gangsters
Aisling Walsh, Maudie
Scriptwriter – Film
Frank Berry, Michael Inside
Stephen Burke, Maze
John Butler, Handsome Devil
Nick Kelly, The Drummer and The Keeper
Martin McDonagh, Three Billboards Outside Ebbing, Missouri
Actor in a leading role – Film
John Connors, Cardboard Gangsters
Colin Farrell, The Killing of a Sacred Deer
Dafhyd Flynn, Michael Inside
Fionn O Shea, Handsome Devil
Tom Vaughan-Lawlor, Maze
Actress in a leading role – Film
Sarah Bolger, Halal Daddy
Saoirse Ronan, Lady Bird
Ann Skelly, Kissing Candice
Actor in a supporting role – Film
Barry Keoghan, The Killing of a Sacred Deer
Jacob McCarthy, The Drummer and The Keeper
Andrew Scott, Handsome Devil
Fionn Walton, Cardboard Gangsters
Barry Ward, Maze
Actress in a supporting role – Film
Niamh Algar, The Drummer and The Keeper
Sarah Carroll, The Limit Of
Deirdre O Kane, Halal Daddy
Victoria Smurfit, The Lears
Fionna Hewitt Twamley, Cardboard Gangsters
George Morrison Feature Documentary
The 34th
A Cambodian Spring
The Farthest
No Stone Unturned
The Silver Branch
Short film – Live action
Cry Rosa
For You
The Secret Market
The Tattoo
Time Traveller
Wave
Animated short film
An Beal Bocht
Angela's Christmas
Departure
Late Afternoon
International Film
Dunkirk
Lady Bird
Shape of Water
Three Billboards Outside Ebbing, Missouri
International actor
Timothee Chamelet, Call Me By Your Name
Ethan Hawke, Maudie
Gary Oldman, Darkest Hour
Sam Rockwell, Three Billboards Outside Ebbing, Missouri
International actress
Sally Hawkins, Maudie
Sally Hawkins, Shape of Water
Nicole Kidman, The Killing of a Sacred Deer
Frances McDormand, Three Billboards Outside Ebbing, Missouri
Drama Categories
Drama
Acceptable Risk
Game of Thrones
Line of Duty
Paula
Striking Out
Vikings
Director – Drama
David Caffrey, Peaky Blinders
Rob Quinn, Ackley Bridge
Steve Saint Leger, Vikings
Dearbhla Walsh, Fargo
Scriptwriter – Drama
Ronan Bennett, Gunpowder
Malcolm Campbell, Ackley Bridge
Conor McPherson, Paula
Antoine O Flatharta, Grace Harte
Actor in a leading role – Drama
Richard Dormer, Rellik
Adrian Dunbar, Line Of Duty
Brendan Gleeson, Mr Mercedes
Cillian Murphy, Peaky Blinders
Chris O Dowd, Get Shorty
Actress in a leading role – Drama
Caitriona Balfe, Outlander
Elaine Cassidy, Acceptable Risk
Denise Gough, Paula
Amy Huberman, Striking Out
Ruth Negga, Preacher
Actor in a supporting role – Drama
Liam Cunningham, Game of Thrones
Moe Dunford, Vikings
Aidan Gillen, Game of Thrones
Owen McDonnell, Paula
Jason O Mara, Marvels Agents of S.H.I.E.L.D.
Actress in a supporting role – Drama
Angeline Ball, Acceptable Risk
Eva Birthistle, The Last Kingdom
Jessie Buckley, Taboo
Charlie Murphy, Peaky Blinders
Genevieve O'Reilly, Tin Star
Cinematography
Tom Comerford, Pilgrimage
Richard Kendrick, Song of Granite
Seamus McGarvey, The Greatest Showman
Cathal Watters, Peaky Blinders
Costume Design
Consolata Boyle, Victoria and Abdul
Sarajane Ffrench O Carroll, The Lodgers
Susan O Connor Cave, Vikings
Leonie Prendergast, Pilgrimage
Editing
Tony Cranstoun, The Farthest
Dermot Diskin, Peaky Blinders
Una Ni DhonghaIle, Three Girls
Tadhg O Sullivan, Song of Granite
Makeup and hair
Julie-Ann Ryan & Niamh Glynn, The Cured
Clare Lambe & Sevlene Roddy, Into the Badlands
Lorraine Glynn & Sonya Dolan, The Man Who Invented Christmas
Dee Corcoran & Tom McInerney, Vikings
#Open journalism No news is bad news Support The Journal

Your contributions will help us continue to deliver the stories that are important to you

Support us now
Original music
Ray Harman, The Farthest
Stephen McKeon, Pilgrimage
Stephen Rennicks, Maze
John Gerard Walsh, The Drummer and The Keeper
Production design
Stephen Daly, Into the Badlands
Joe Fallover, The Lodgers
Mark Geraghty, Vikings
John Hand, Maudie
Sound
Steve Fanagan, Kieran Horgan, The Farthest
Ronan Hill, Onnalee Blank, Mathew Waters, Game of Thrones
Karl Merren Brendan Deasy, Into the Badlands
Marco Dolle, Steve Munro, Garret Farrell, Maudie
VFX
Tim Chauncey The Ash Lad: In the Hall of the Mountain King
Ian Benjamin Kenny Enda O Connor The Farthest
Ed Bruce & Nicholas Murphy, Screenscene, Game of Thrones
Tailored Films & Bowsie Workshop, The Lodgers
Explaining the discrepancy between the number of women nominated for Best Actress in a Leading Role and the number of men nominated for the male equivalent, Áine Moriarty, chief executive of the IFTA, explained that this was: "Because there was just not a level of script written for women, it was a very low number of scripts written for lead women in the past year."
And that has to change; we obviously have to encourage more scriptwriters [to include lead women] because you can see, obviously, films that have a female narrative and female leads, they are very commercial – they fill the box office.
She said that she does believe filmmakers are addressing the issue, as is the Irish Film Board – which has introduced a range of measures to tackle gender bias.
"We are hopeful the action being taken will address it so in the future we will have more leading female roles," said Moriarty. "We have a dearth of supporting female actor roles."
She added that Ireland has "only a certain size of industry", but one that is growing.
"From year to year we might have a category that might be a little bit low in numbers in terms of who qualifies to go through," she said.
"It has to be of a standard as well and if you bear in mind that for Saoirse's role that's an international role, that wasn't an Irish scriptwriter. We need more scripts written with the protagonist, with the lead, being female."
Moriarty described the three women who are nominated as "spectacular performers". "So that is brilliant, you have to celebrate the positive," she said.
Of the Irish film industry in general, she said: "We really are punching above our weight, we are making it happen. We as the academy, we have 15 years of nurturing this talent, of showcasing this talent. To be nominated in your home country opens doors internationally."
I think hard work by everyone behind the scenes over the last 15 years is after paying off, it really is.