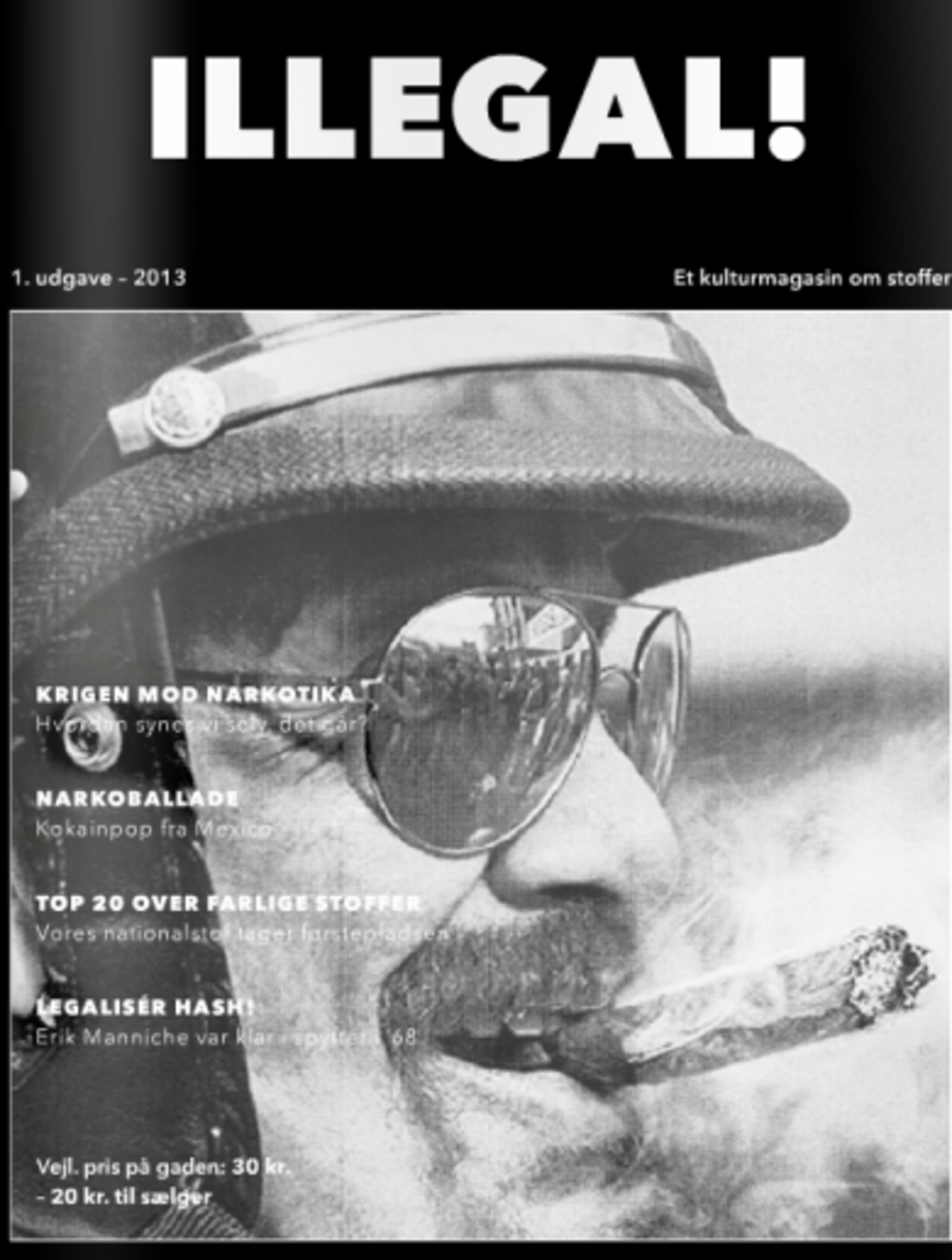 The first edition.
Image: Illegal!
The first edition.
Image: Illegal!
DANISH DRUG ADDICTS have started to sell a magazine launched to help them fund their habit, in the hope that they will turn away from prostitution or crime as a way to pay for their next hit.
The drug and culture magazine, Illegal!, is the brainchild of self-styled social entrepreneur Michael Lodberg Olsen and states openly that its vendors will probably use their income to go out and buy more drugs.
"It has two aims: we want to (help) decriminalise drug users, and we want to give them job opportunities to reduce crime and prostitution," Lodberg Olsen told AFP.
A headline on the latest cover reads:
The best alternative to (giving fellatio) on the street.
The magazine has featured stories on what it says is the failed war on drugs, Portugal's decriminalisation of heavy drug use – billed as a success – and a top 20 list of the most dangerous drugs, topped by alcohol.
By campaigning for the legalisation of drugs through the magazine, Lodberg Olsen wants to make drug addiction an issue for the health authorities rather than the justice system.
In its launch issue, Illegal! estimated that a drug user funding his or her substance abuse through theft costs society half a million kroner (€67,000) per month.
"An iPhone with a retail price of 5,000 kroner costs 500 kroner on the street…A drug user has to steal for 10,000 kroner to make 1,000 kroner," it read.
In a phony advertisement, the second issue showed a flyer on a windshield saying: "Empty the car before we do! Regards, criminalised drug users."
The magazine costs 30 kroner, out of which 20 kroner goes to the vendor.
"Many of those who can make ends meet by selling Illegal! without turning to crime are heroin users," Lodberg Olsen said.
He estimates that a heroin addict typically spends 300 to 600 kroner per day on drugs.
In contrast cocaine addicts could use up anything from 4,000 to 7,000 kroner per day, making it virtually impossible for them to finance their habit by selling the magazine.
'Culture change' for drug addicts
Getting hard drug addicts to stay committed to their new job is easier said than done.
Mikael, 44, who became addicted to heroin in prison when he was 19 before turning to methadone, a relatively cheap and powerful pain reliever, said he had tried his hand at being a vendor.
"But I gave up. It was hard to sell," he said, outside a non-profit café for drug users.
In the past he also tried selling Copenhagen's street magazine for homeless people, but stopped because it was "degrading", he said.
Many of the addicted vendors struggle to stick to a routine.
On a cloudy afternoon on the streets of Vesterbro – a seedy but gentrifying area behind Copenhagen's main train station that is home to Scandinavia's most open drug scene – not a single vendor of the magazine was to be seen.
"They are much less stable than (other) homeless people. It's a culture change for the drug users. They are used to thinking about how they can commit crimes to get money for their next fix," Lodberg Olsen said.
He says he first became involved in drug addicts' rights after moving to Vesterbro and witnessing first hand how they were treated as outcasts by society.
He previously drove a van where drug users could inject in a safe environment, a forerunner to the tax-funded drug consumption rooms launched by the city last year.
"It's going to take a few years before we have a stable network in Copenhagen, so that Copenhageners have a rough idea of where and when they can buy the magazine," he added.
Currently there are about 40 vendors of the magazine, whose circulation has soared from an initial 5,000 to 10,000 copies of the second issue.
About half of the vendors are Eastern European migrants – largely drug-free – hired by "Illegal!" after Copenhagen's street magazine for the homeless refused to employ them because they weren't Danish citizens.
"The Eastern Europeans have shown a really strong interest … so they are a good partner for us," said Lodberg Olsen.