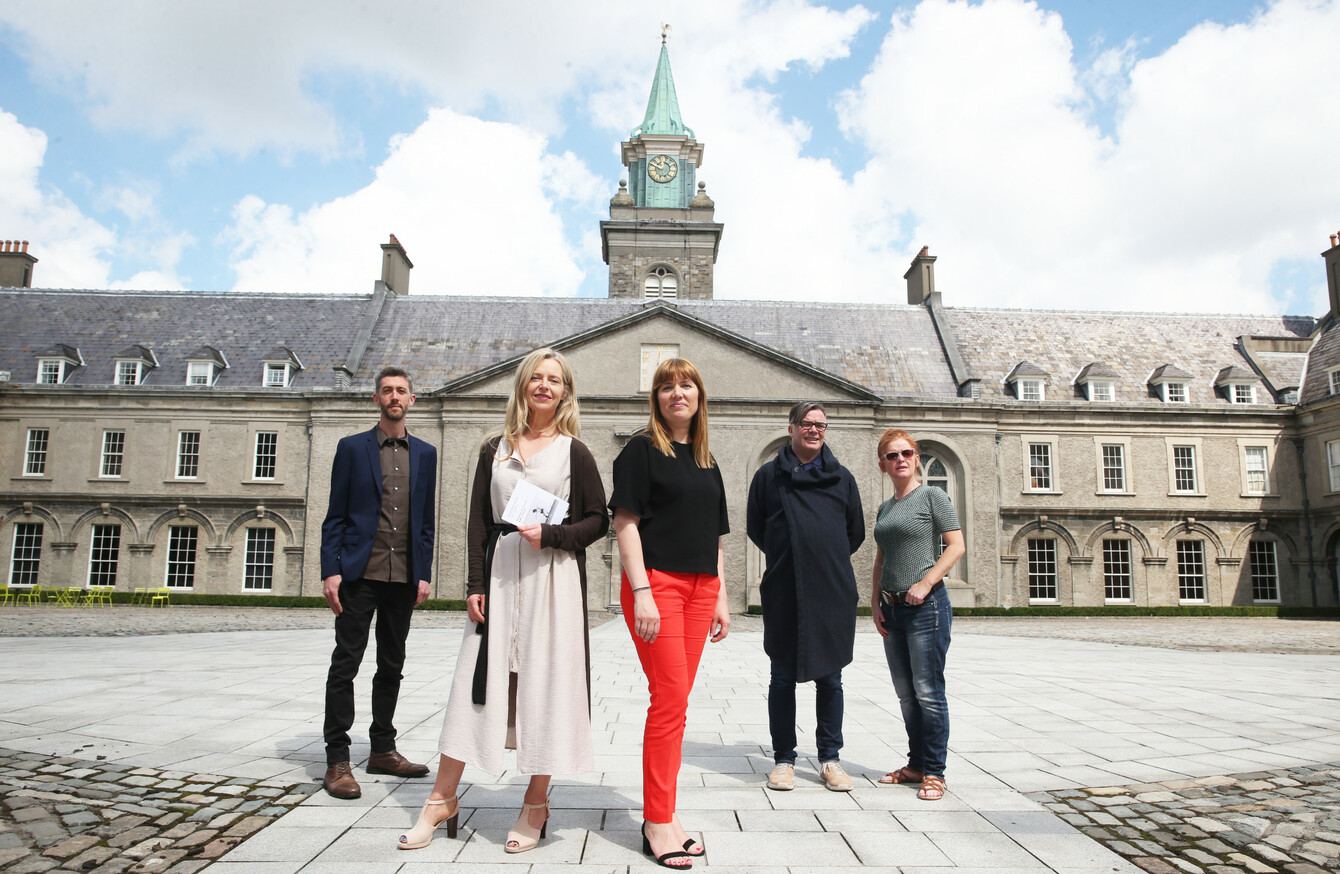 Artist Ciaran Murphy, Christina Kennedy, IMMA Head of Collections, Elaine Cullen, Market Development Manager for Moet Hennessy, and artists Mark Garry and Mairead McClean at the launch of the Hennessy Art Fund for IMMA Collection 2017.
Image: Photocall Ireland
Artist Ciaran Murphy, Christina Kennedy, IMMA Head of Collections, Elaine Cullen, Market Development Manager for Moet Hennessy, and artists Mark Garry and Mairead McClean at the launch of the Hennessy Art Fund for IMMA Collection 2017.
Image: Photocall Ireland
THE RECESSION WAS felt across Ireland – from the contents of people's wallets to the budgets of major organisations.
It also had an impact on the country's cultural arena, leaving museums and galleries short in funding and struggling to find new ways to bring in cash.
For the staff of the Irish Museum of Modern Art – known as IMMA – the lack of funds from 2008 on meant rethinking how the Dublin-based institution did everything, from buying collections to programming events.
The money still hasn't been restored to pre-recession levels, but as IMMA took in its latest works acquired under the Hennessy Art Fund – one of the ways it embraced commercial partnerships to further its collections –  its director Sarah Glennie explains to us how they make it all work.
Major challenges
Opened in 1991, IMMA is charged with being Ireland's leading national institution for the collection and presentation of modern and contemporary art.
It's no small task, as it is institutions like IMMA that future generations depend on to show us how art evolved over time in Ireland. The museum collects contemporary works that reflect artists' preoccupations and, in turn, Irish society.
It's not just Irish works that IMMA collects – it has art by the likes of Marina Abramovic and Roy Lichtenstein for example – and its collection dates from 1940.
Funding comes in part through the Department of Arts, Heritage and the Gaeltacht, but it's not enough to keep the place running. And post-recession, IMMA couldn't just rely on private philanthropy either. So it had to get creative.
IMMA director Sarah Glennie tells TheJournal.ie that the cuts in funding from 2008 were close to 48%.
As a public institution, it couldn't make redundancies due to the Haddington Road Agreement, so it had to come up with new ways to make money.
This money would fund exhibitions, engagement and learning programmes, the care of the collections (such as conserving, framing, digitising, storage) and acquisitions.
Coming into 2014, once the bills and wages were paid, there was no money left for all of the above. And that hasn't changed.
So IMMA started thinking outside the box.
It began hiring out the site for use by promoters such as MCD, for events like Forbidden Fruit and larger concerts. IMMA rents out the car park to St James' Hospital staff. It allows the chapel and great hall to be booked for weddings and events.
And it also turned to sponsors and philanthropists – which meant engaging with brands and commercial businesses. This can be a tricky thing in the world of art.
'Devastating effect'
"IMMA is not alone in really having to rethink its operation," says Glennie. "The net result of all the cuts to the organisation was the availability of resources to help artists live and work here [in Ireland]."
In 2014, Glennie gave a speech on the issue at a business leaders' breakfast, and at the event was businessman John Cunningham. He was taken by the story and teamed up with her for IMMA 1000, a fund with an aim of raising €120,000 a year across three years, and then using this money to support artists.
The museum said at the time that the severe cuts in arts funding since 2008 "have had a devastating effect on supports available directly to contemporary artists, and as a result artists simply cannot afford to live and work in Ireland, creating a huge concern for the future of Irish art, and contemporary Irish culture".
The work in gaining donors and sponsors was intense, but rewarding. "In 2013 we managed to raise about €80k and in 2016 we were close to €600k," says Glennie.
Commercial income has also grown. We are also in a position where we can generate close to €1.2 million. Some of that still has to go into the running of the building. There is a shortfall between funding received from the State and money required to open the doors.
The organisational budget is about €900k. "So once you've done all of that, finding money to purchase work is very difficult – that's a very hand-to-mouth situation," says Glennie.
Demands on culture
"More than anything we felt the real lack of investment into Irish art," she adds. "It is a very small field here, it isn't a very broad and deep sector. We weren't the only State organisation not able to purchase. If you take all that money out of the equation, that is a big deficit of money."
Early on, point, Glennie says she felt herself "a little bit angry that these demands are still being made on culture to keep on delivering". She says that cultural institutions responsible for telling stories about Ireland were now under pressure, and there needed to be honesty about that.
It's still a big issue. Many organisations recognise it. It's very difficult to sustain a practice in Ireland.
The drinks brand Hennessy began talking to IMMA about forming a partnership. "They had a really great attitude toward that conversation and they wanted something that was meaningful and needed and that would create a legacy," says Glennie. What came out of this was the creation of an art fund.
This would involve a significant investment in an artist's career, and would mean that their art would become part of the national collection.
"We were coming out of a period where we were not able to purchase and we were conscious there was a generation of artists not being represented," says Glennie. "Our aim should be to reinvest."
Art vs commerce
The relationship between art and commerce can be a fraught one. How does IMMA deal with it?
"With all these things it's just really important that both the institution and the sponsor is very clear from the beginning about the core objectives. One thing very important to Hennessy is publicity – that is something we need to be conscious of," says Glennie.
Hennessy also wanted to put the work on display (something that isn't always done with work purchased by IMMA), which meant that it could only purchase art that would be ready within a certain timeframe. Hennessy also had a representative who was part of the selection process, in a non-voting position.
What are Glennie's thoughts on art institutions working with brands?
"It's changed because it's had to change," she says. "It still is a relationship on both sides that needs to be clearly negotiated and understood like any of these partnerships. Where any two worlds come together there are always potential pitfalls. But we've been extremely lucky with all our corporate sponsors."
They include Matheson, Goodbody's, Credit Suisse, and BNP. "They've been very enthusiastic, very flexible – you know, really engaged with what we're doing. And then our responsibility is to think about how we can make their investment in IMMA worthwhile for them in whatever what it is that's important to them and each company has a different set of objectives around that. Our responsibility is to protect artists and the integrity of artist's work in that."
It obviously is one that is a big responsibility on both sides and it's a process that needs to be entered into with a lot of care and consideration on both sides.
As for the future, she says she doesn't expect IMMA will reach the same funding levels as before. "We are all realising it is a different landscape," says Glennie.
But she doesn't leave the government totally off the hook. "State investment does need to increase in IMMA and hopefully as it does and in arts in general."
Does she worry that by showing they could tackle the funding issues themselves, IMMA has created a situation where the State could be slow in restoring funding levels?
"I think in the past those fears might have been just and that held organisations back that if they were too self-sufficient they would almost be punished," she says. "I'm really hopeful we are in a different time frame now and that self sufficiency is rewarded rather than punished."
Social media, technology, and internment
Glennie says that any contemporary work that's made now "reflects the concerns of what's going on in society at this time".
"It's not that specific to Ireland. It's broader than just an Irish concern but contemporary artists make work out of the experience of living now and we feel that's why audiences respond to the works so strongly," she explains. "I think contemporary art is extremely accessible."
And a look at this year's selection chosen for the Hennessy Art Fund bears that out:
Ciarán Murphy's painting, L-2 (2013), explores loss and absence
Mairéad McClean's film No More (2013) recalls the childhood trauma of her father's internment in Northern Ireland
Mark Garry's installation, North of the West (2017), filmed at Mullaghmore Peninsula Sligo, shows parallels between the sea and his paradoxical childhood relationship with the Christian faith
Yuri Pattison's multi-media installation, transparency, hybrid viscosity (communal table v.00P) (2017), takes its inspiration "from the communal tables common to flexible work spaces, synonymous with the digital economies emerging over the past decade; co-working spaces, the hot desk, laptop café, tech incubators, etc".
"Anything like this is a very small representation of what could be coming into the collection," says Glennie of the fund. And that's IMMA's aim: in the face of funding cuts, to find their own way to do things, for future generations.
"Some positive things have come out of it," says Glennie of the issues faced. "We would think in IMMA a lot of the work we've done in the last few years to build this resourcefulness would not go away, whatever happens."
For more information, visit Imma.ie