Image: Mark Stedman/Photocall Ireland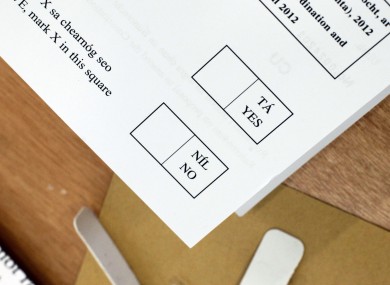 Image: Mark Stedman/Photocall Ireland
ALMOST HALF (48 per cent) of TDs say in a new survey that immigrants should have the right to vote in General Elections if they have lived in Ireland for at least three years or more.
That is an increase of 32 per cent on last year's results, according to a new survey of TDs carried out by Millward Brown Lansdowne and co-authored by The Integration Centre.
The centre said that the survey reveals "positive progress" in TDs' attitudes to immigrants' rights.
Of the 166 TDs in the Dáil, 71 agreed to participate in this research, which was a 43 per cent response rate. A spokesperson for the Integration Centre said that wasn't a disappointing amount, and would be the general response rate to surveys
Survey
The survey is a follow up to one carried out in 2011 and reveals that more than half (52 per cent) of the TDs surveyed claim to have spoken about immigrants' rights in the Dáil, an increase of 22 per cent  on the previous year.
Nearly half (48 per cent) of TDs think that the Department of Justice is not the appropriate department to have responsibility for integration, which is up from 34 per cent the year before.
When it comes to racial incidents, the number of TDs who feel such incidents are more prevalent since the economic downturn has risen – from 38 per cent to 45 per cent.
Three quarters of TDs believe that immigrants have an important role to play in the recovery of the economy,  a number which is similar to last year.
When asked about rolling out integration strategies, opinion was divided. The answers showed that 39 per cent believe it is the responsibility of national government to take the lead, versus 37 per cent who believe it is the local authorities who should take responsibility.
Killian Forde, CEO of The Integration Centre said:
Generally, these results indicate positive shifts in the opinions of politicians towards immigration and integration policy. These findings, especially when compared to last year's, indicate that political thinking around immigrants and integration has improved since last year.
He added:
Notably a number of the changes seemingly desired by politicians could be implemented without cost to the state. Given that these changes are unlikely to cost the exchequer, should they not be put in place? The Integration Centre would like to take this opportunity to invite TDs to a presentation on these findings in the Dáil, where a debate of these issues will take place.
The full results of the survey will be presented to TDs in Leinster House on November 15 at 11am for review and discussion.