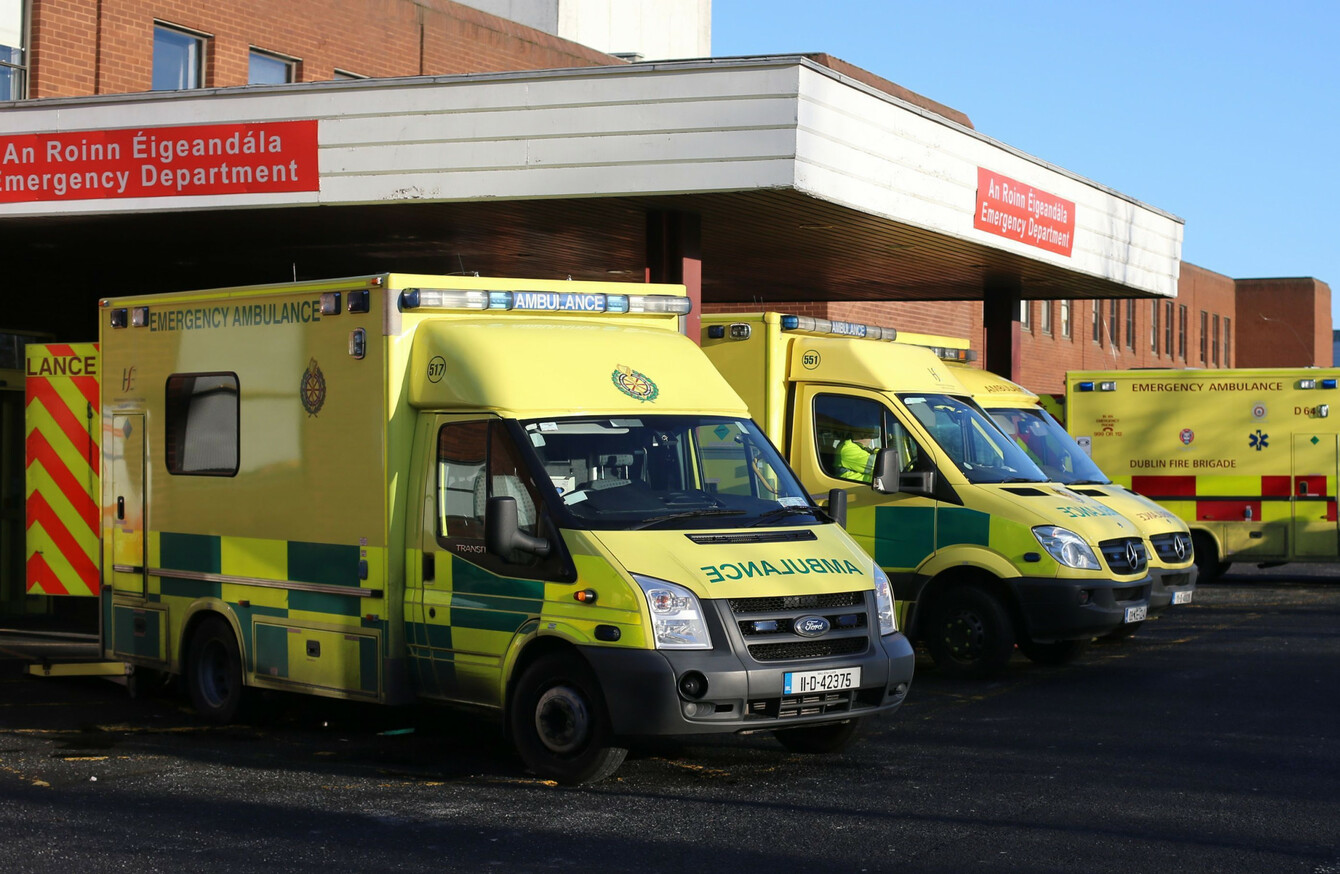 Ambulances outside Beaumont Hospital in Dublin.
Image: Niall Carson/PA Images
Ambulances outside Beaumont Hospital in Dublin.
Image: Niall Carson/PA Images
THE NEW PRESIDENT of the IMO has said that patients should either be admitted or discharged within six hours of arriving at emergency departments.
Peadar Gilligan was giving his inaugural address as president of the Irish Medical Organisation at the group's AGM in Killarney this evening.
Gilligan, who is a consultant in emergency medicine in Beaumont Hospital, says that the average 14 hour waiting time at emergency departments in Dublin is unacceptable.
He said that six hours should be set down as the minimum standard.
Such a standard of care requires that hospitals have adequate capacity in terms of beds, staffing, diagnostics, theatre time, and timely discharge of hospitalised patients to rehabilitation services, convalescence, nursing homes or assisted home care.
Gilligan also said the proposals to introduce 2,500 extra beds into the system is inadequate and that it needs to be almost tripled to 7,000 new beds.
"The 2,590 bed target is based on a series of very positive assumptions including improving health generally and major investment and reform across the health services."
"To plan on the basis of all our plans working out optimally is at best foolhardy," he added.
Dishonoured
Speaking more generally about the health service, Gilligan said that Irish society had 'very significant expectations' of people who want to be doctors but that this is not matched by fair contracts.
Gilligan said that similarly qualified doctors are often forced to accepted different pay rates and that doctor contracts were 'routinely dishonoured'.
"The fact that new contracts need to be negotiated for GPs, NCHDs, consultants and public health specialists is indicative of the fact that Doctors in Ireland currently do not feel valued," he said.
Health Minister Simon Harris also addressed the IMO's meeting this evening and responded to Gilligan's claim that the increased bed capacity of 2,590 was not sufficient.
"I realise you may contend that this is not enough but I go back to my point about finding the right balance between primary and secondary care, and I hope you will acknowledge that there is momentum now to reverse the frankly crazy decisions in the past to reduce beds," Harris said.
The reality is that those who say we just need more primary care are only telling half the story.  Those who say we just need more beds are only telling the other half.  When we put them together we begin to see the full picture – adequate hospital beds to meet our demographic needs now and for the future, coupled with primary and community care that is resourced and developed to its full potential.
"Other ministers may have addressed your conferences and then left and cut bed numbers. I will do the opposite and increase bed numbers year on year. We will deliver in full on the recommendations of the internationally peer-reviewed bed capacity report," Harris added.