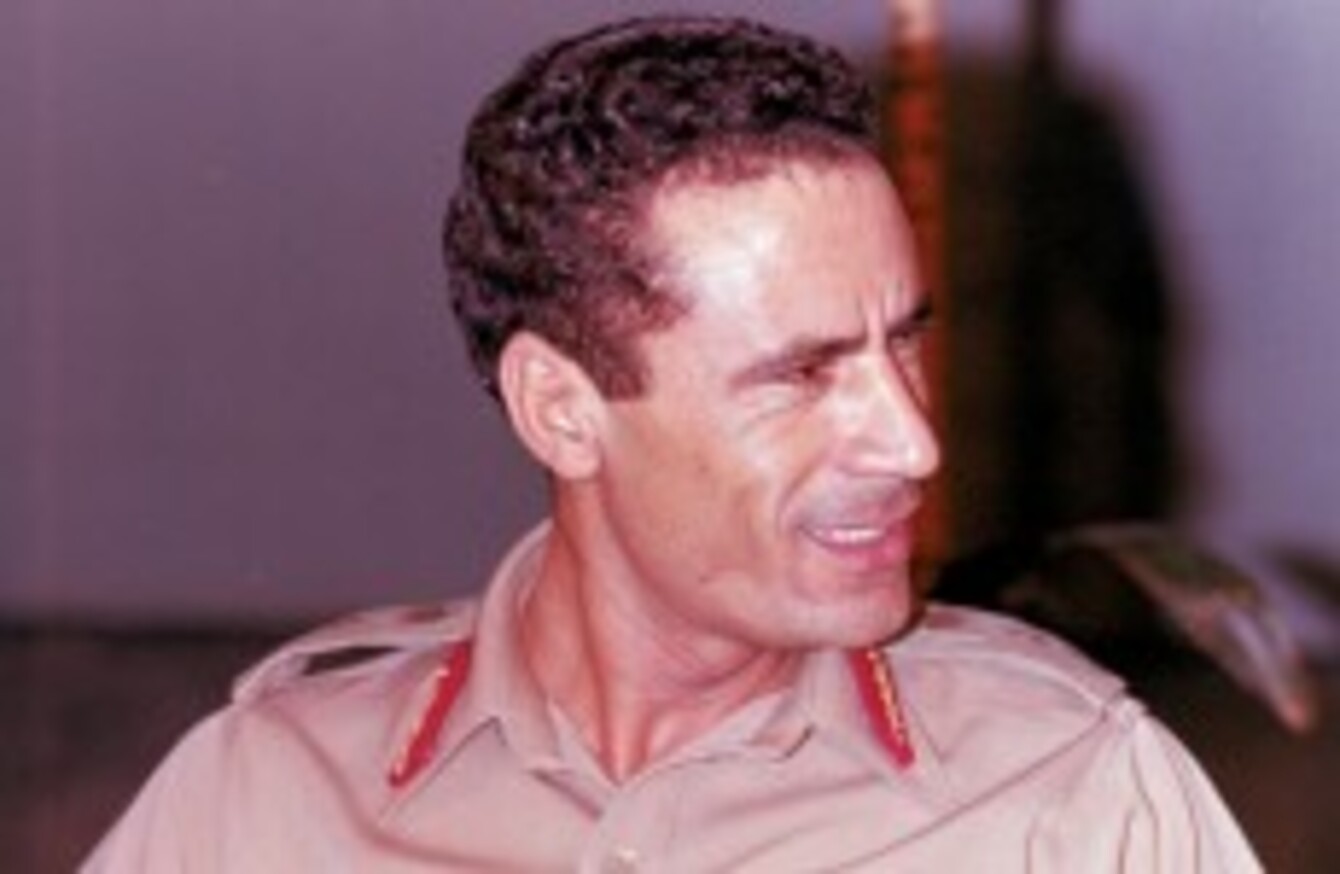 Muammar Gaddafi in 1970 shortly after his revolution began
Image: Press Association
Muammar Gaddafi in 1970 shortly after his revolution began
Image: Press Association
MUAMMAR GADDAFI, THE man who ruled Libya with an iron fist for over 40 years is dead, killed in a raid on his hometown of Sirte, where he had fled in the aftermath of an uprising which pushed him from power.
Gaddafi had outlasted seven US presidents, one of whom tried to assassinate him and had in the aftermath of 9/11 appeared to court favour with the West.
But it was the very people whom he ruled who grew increasingly restless with his autocratic regime. His death was confirmed by Libya's interim premier Mahmoud Jibril and came as Libyan fighters defeated Gaddafi's last holdouts in Sirte, the last major site of resistance in the country.
In February, inspired by events in other north African nations such as Tunisia and Egypt, the Libyan people rose up against Gaddafi and with the aid of NATO air forces, they took control of Tripoli in August, effectively ending his 41-year rule.
Raised in a tent
Born in June of 1942, Gaddafi was part of the Bedouin, a desert-dwelling Arab ethnic group. He was raised in a tent near Sirte and attended Muslim schools before entering a military academy in Benghazi in 1961 from which he graduated in 1966.
It was from Benghazi that as a lieutenant in the Libyan army, 27-year-old Gaddafi led a bloodless coup against the then ruler King Idris and together with his loyal followers established a new Libyan Arab Republic.
Gaddafi is said by Al Jazeera to have modelled himself on the Egyptian ruler Gamal Abdul Nasser whose nationalistic streak led to the Suez Crisis of 1956 in which the UK, France and Israel fought a brief but disastrous and deeply embarrassing war against Egypt.
Here is Gaddafi with his ally Nasser in 1969:

The early years of Gaddafi's rule were marked by his declaration of a cultural revolution in which he set up People's Committees, formed to take over businesses and silence dissidents who expressed discontent with his rule. Many of these dissidents simply disappeared.
In the late 1970s, Gaddafi published three volumes of his famous Green Book which presents an alternative to both socialism and capitalism combined with aspects of Islam. As part of his Green Book-based revolution, Gaddafi changed the official name of the country to the 'Great Socialist Popular Libyan Arab Jamahiriyah' (State of the Masses) in 1977.
Foreign intervention
He exercised total control of the government and even established a calendar which was based on the death of Prophet Muhammad.
Here is Gaddafi explaining his policies in an interview with the BBC broadcast in 1976:

Gaddafi's political and social ideals were not confined to Libya. He was a supporter both idealogically and financially of the Palestinian Liberation Organisation and funded groups such as the IRA in the North and the leftist FARC guerillas in Colombia.
In his interview with the BBC he argued that countries like Libya have a duty to intervene in other nations where it is believed that ordinary people are being oppressed by autocratic governments.
Mad dog
For years, relations with the west were fraught. In 1986, a bombing on a Berlin nightclub in which three people were killed, including two US servicemen, and hundreds injured led to US airstrikes on Tripoli which directly targeted the Gaddafi compound.
The man himself survived, labelled by then US president Ronald Reagan as the "Mad Dog of the Middle East".
Gaddafi denied involvement in the 1988 Lockerbie bombing in which 270 people were killed after Pan Am flight flying over the Scottish village of Lockerbie blew up.
But he was later forced to handover two of the men accused of the bombing, one of whom, Abdulbaset Al Megrahi, was later controversially released on compassionate grounds from a Scottish prison, returning to Libya where he is now said to be close to death.
After the 9/11 terrorist attacks on the United States, Gaddafi joined the west in fighting Al Qaeda, surrendering his weapons of mass destruction in 2003 and forming relationships with western leaders:
With the leaders of Germany, Russia, and Canada in 2009

With former UK prime minister Gordon Brown in 2009

With Italian prime minister Silvio Berlusconi in 2008

With US president Barack Obama in 2009

With former UK premier Tony Blair in 2007

With French president Nicolas Sarkozy in 2007
He even addressed the 64th General Assembly of the United Nations in 2009, reeling off a lengthy list of demands including compensation for the colonisation of African countries which he said meant that Europe owed some $7.7 trillion:

The end
But it was the the sight of revolutions in Tunisia and Egypt which inspired the ordinary Libyan people who had become disillusioned with Gaddafi's rule to rise up against him.
Rebels forces first took control of the eastern city of Benghazi from where Gaddafi had many years ago launched his own revolution.
Rebel forces, who politically became known as the National Transitional Council, effectively partitioned the country in two as Gaddafi retained control of the west repelling attacks from the rebels.
Eventually, Nato got involved as western leaders grew increasingly concerned with Gaddafi's rhetoric and his vows to crush people who rose up against him. A series of televised addresses showed Gaddafi waving his Green Book and being steadfastly defiant.
But when Tripoli fell in August, he fled his compound, on the run since there have been sightings but it was only today that it could be confirmed that he is dead.
Somewhat bizarrely, a US television sitcom broadcast in 1987 seemed to predict Gaddafi would die in 2011 (thanks to Oliver Walker/@locke24 for the tip). Let the conspiracy theories begin…