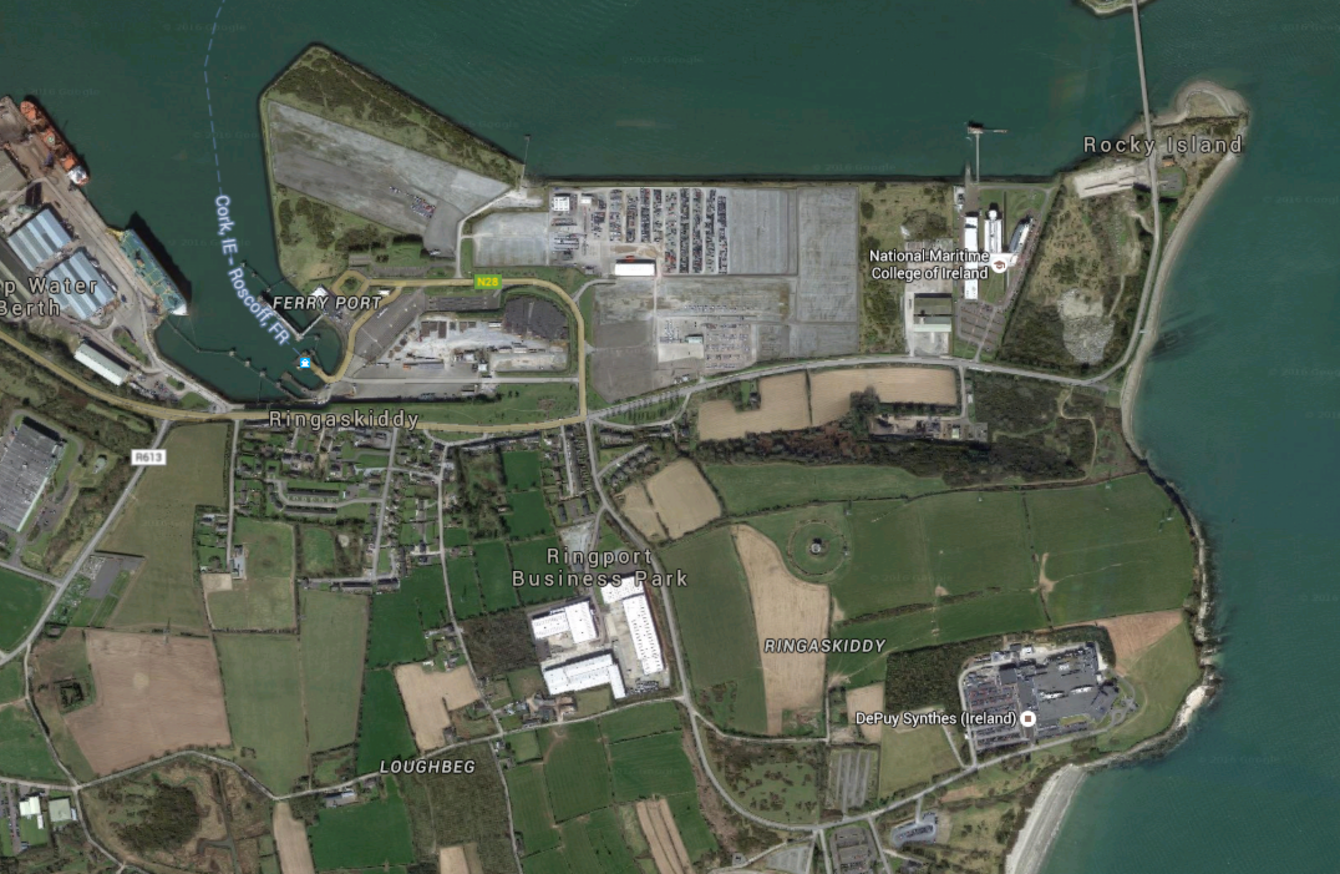 The Ringaskiddy Harbour
Image: Google Maps
The Ringaskiddy Harbour
Image: Google Maps
PLANS FOR AN incinerator in Cork go before An Bord Pleanala again today.
The 15-year plan to put an incinerator at the Indaver site in Ringaskiddy have been met with resistance from the community, local politicians and members of PDFORRA, the Defence Forces representative body.
An application to build the plant was rejected by An Bord Pleanala in 2011 on the grounds that the plan did not adequately plan for flooding or coastal erosion.
Previous hearings took place in 2003 and 2009, and inspectors at both recommended refusal for the project, with the 2009 Inspector's recommendation being carried by the Bord, and a planning refusal issued in 2011.
The 2003 Inspector, Philip Jones, recommended refusal on 14 grounds, but was overturned by the Bord.
However, two days before Christmas 2015 An Bord Pleanala ruled the incinerator constitutes strategic infrastructure development, allowing for another application.
Indaver submitted a planning application to An Bord Pleanála for a 240,000 tonne per annum waste-to-energy facility in Ringaskiddy. The proposed facility will treat household, commercial, industrial, non-hazardous and suitable hazardous waste, generating approximately 18.5MW of electricity for export to the national grid.
The hearing will take place in the Carrigaline Court Hotel at 10am.
Chase, the local body which has campaigned against the plan, says that the location is "more unsuitable than ever".
"It is our belief that the site and location are more unsuitable than ever. Opposition to the project is now stronger than ever, the anger is palpable.
The context of the Ringaskiddy peninsula has changed immeasurably since 2001. It is now home to a thriving hub of tourism, R&D and education, into which the Government has invested or committed to investing €500m, and Indaver directly threatens this continued investment.
"We want to guarantee the positive development and investment in Cork Harbour and move away from our existing high levels of background contamination, move past the toxic slag heaps on Haulbowline, and see cancer rates in line with the national average, not 44% above it."
For their part, Indaver say the €160 million plan is in line with national, local and regional waste plans.
As a nation, we currently generate more than two million tonnes of residual municipal waste annually, much of which is exported for disposal abroad.
"This reliance on exporting our waste is not sustainable and exposes us to market shocks. Our site in Ringaskiddy is located in an area zoned for industrial activity and is designated an Industrial Area and a Strategic Employment Area."