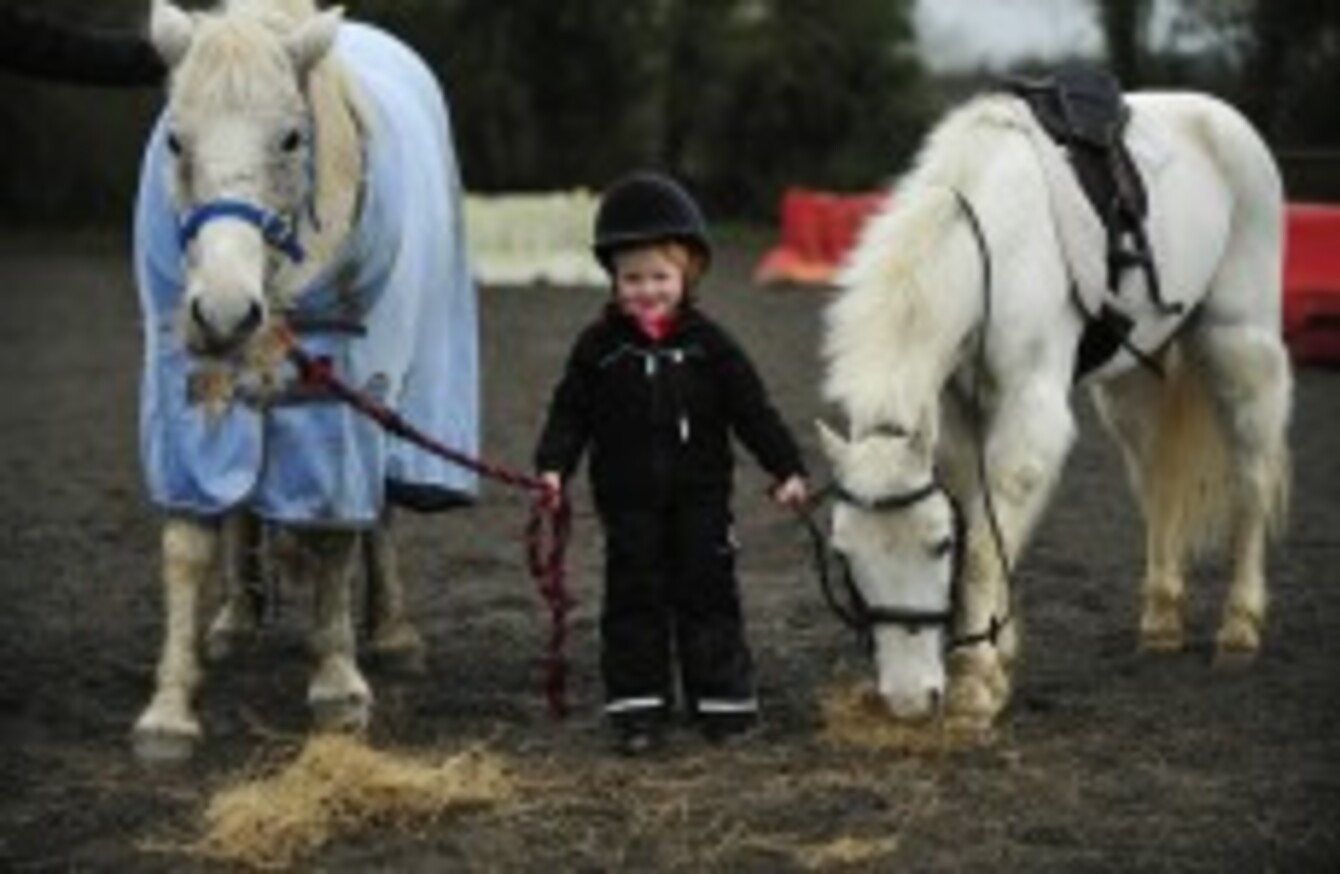 Three-year-old Kasey Lou Carberry at the launch of the ISPCA Hay Drive yesterday.
Three-year-old Kasey Lou Carberry at the launch of the ISPCA Hay Drive yesterday.
THE ISPCA RESPONDED to over 1,500 equine distress calls related to neglected or abused horses, ponies and foals in 2012. Almost 100 of these animals had to be taken into ISPCA care which is an increase of 10 per cent compared to 2011.
The animals welfare organisation expects a rise in the number of equine related calls this year and yesterday launched their second annual Hay Drive which calls for support from the public to help the ISPCA feed, care for and rehome the horses, ponies and foals in their care.
Speaking to TheJournal.ie, Chief Inspector at the ISPCA Conor Dowling said the recession has has a significant effect on equines as they were selling for inflated prices during the boom and were consequently over-bred.
"Everything was selling for silly money years ago," he said. "Now we're left with all of these unwanted animals and despite this people still continue to breed them."
"It's a parallel with the housing market; breeders are holding out hope that the market will recover and people will start buying equines again but the difference is that instead of empty houses there are live beings left and they're suffering," he added.
Dowling said there is "no coincidence" that the increase in abandoned horses and ponies coincided with the recession as the organisation would have had just 8 equines in its care back in 2006.
"People certainly took on animals without thinking," he said. "Maybe they moved to the countryside and got a bit of land and thought it would be nice to have a pony without understanding the practicalities of longterm future."
Difficult winter ahead
With a particularly wet summer the problem of feeding has become especially difficult this winter as hay is becoming scarce, the ISPCA said.  Many horses, ponies and foals which were able to graze during the summer will be left abandoned and neglected during the winter rather than costing the owner money in feed and the ISPCA will become a vital source of care for these animals during the harsh winter months.
The ISPCA currently has around 80 equines in care and Dowling said they are struggling to care for them. "We've been trying to create the space because we know we'll have to take in more this winter but we're so overrun we're full to the rafters and we're wondering how we're going to feed them, care for them, find new homes etc," he said.
Rehoming equine animals can be more difficult than the other animals the ISPCA have in their care as they require more money and resources.
"People are struggling themselves now so they're less likely to take on an animal that will cost them a lot of money and we have to make sure their homes are suitable for the animals we well," he said.
"We're just hoping people will help us out during the Hay Drive so that we're capable of dealing with the situation over the next few months because it's going to be a difficult winter," he added.
This winter the ISPCA is urgently asking people to donate online or to text HAY to 57802 to donate €3 to help fill the ISPCA hay barn. €3 will buy a bale of hay and feed a neglected horse for a day.