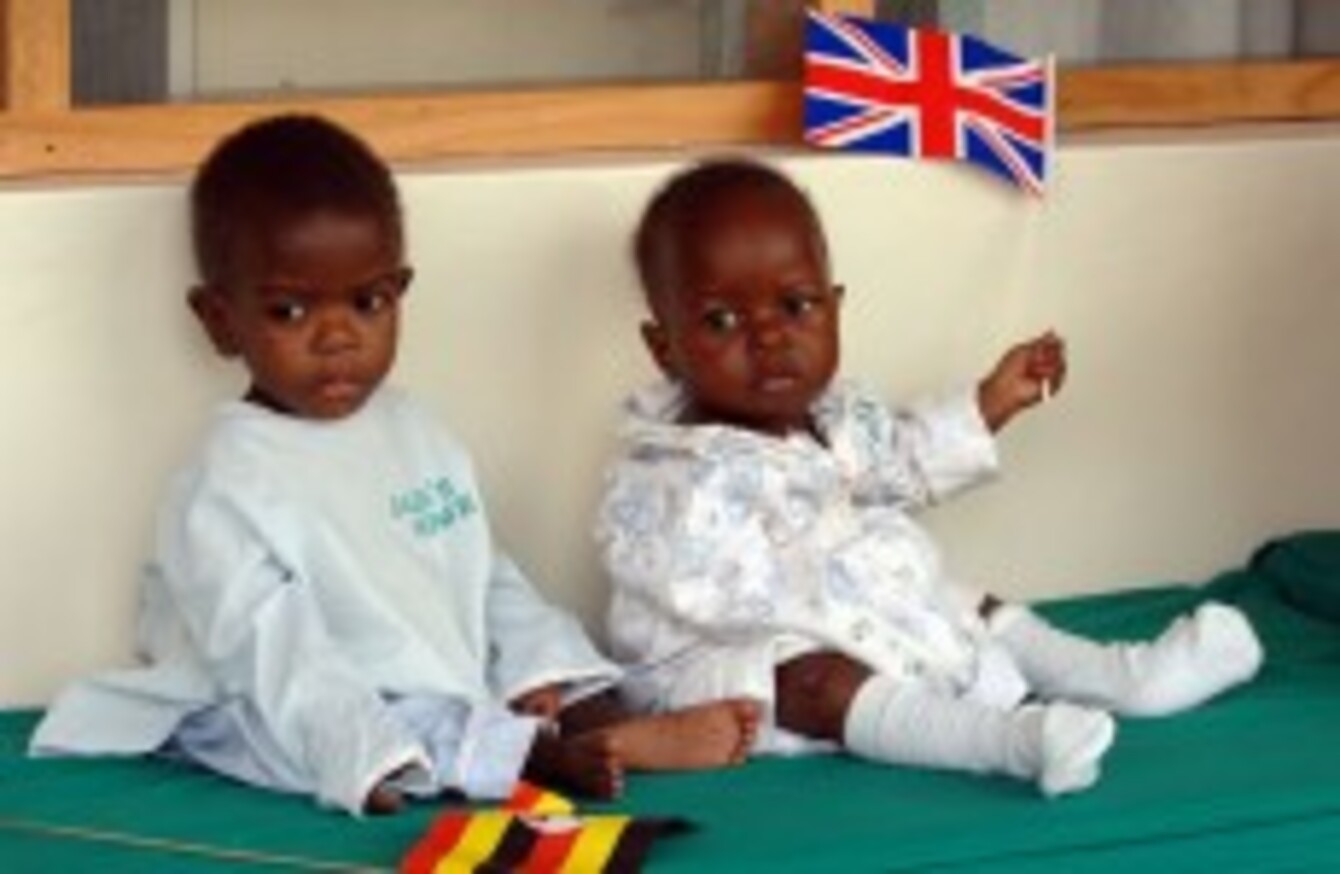 Two young children hold flags at Queen Elizabeth's visit to an AIDS orphanage in Kampala, Uganda.
Image: Anwar Hussein
Two young children hold flags at Queen Elizabeth's visit to an AIDS orphanage in Kampala, Uganda.
Image: Anwar Hussein
PROMISCUOUS FISHERMEN HAVE been blamed for spreading HIV and AIDS in a small village in Uganda.
In Kasensero 43 per cent of the 10,000 inhabitants live with HIV, compared to seven percent nationally.
The first case of AIDS in Uganda was reported in the village in the 1980s.
Raymond Byaruhanga, chief doctor at the AIDS Information Centre in the Ugandan capital Kampala, said that fishing communities around Lake Victoria "are the places with the highest HIV prevalence rates in the country".
The mindset of the fishermen is to say, 'one day my boat will overturn and I will die. Therefore there's no need to be scared of HIV, it will take several years to kill me'.
Storms are frequent on Lake Victoria and a wave can easily overturn the light boats that the fishermen use. Few can swim and none wear life jackets.
Sex workers transmit the virus to the fishermen, who pass it on to other sex workers and to their wives. Sometimes the wives pass it on to other men while their husbands are away on the lake, often to traders who come to buy fish.
The flow of sex workers, traders and fishermen makes it very difficult to follow up on and treat patients, Byaruhanga said.
 Source: YouTube/NTV Uganda
'Drinking and women'
Once they finish a long shift, many of the fishermen head straight for the bars of the town and the sex workers who hang out there.
Josua Mununuzi, the owner of four boats, stated:
Most of the fishermen are interested only in drinking and in women.
He said "nothing has changed" in the 10 years he has worked in the area, except the faces of the prostitutes hanging around in the narrow streets, where the smell of urine mingles with that of rotting rubbish.
The good wages earned by fisherman attract a steady stream of sex workers from surrounding communities.
"Since it's a fishing port, we get a lot of sex workers coming here," said Kato Francis, a doctor at Kasensero's run-down hospital.
Five clients a day
Sex workers typically come to the town for a few months, often during the peak fishing season.
The going rate here for sex is as little as $2 (€1.50), or up to $3 for a 'valued lady'.
Sheyla moved to the village two months ago. She said her clients regularly ask for sex without a condom, but that she always refuses.
However, she noted that the same cannot be said for all of her colleagues.
A friend of mine had sex with a man and when she took the condom off the man was bleeding … I'm scared of that.
Like most of the sex workers in town, Sheyla lives in a tiny room close to the bars.
With an average of five clients a day, she has saved up enough money to buy a small plot where she hopes to build a house.
A number of aid agencies have come to Kasensero in recent years to work on issues related to AIDS, Francis said, but added that "changes have been few and far between".
- Emmanuel Leroux-Nega