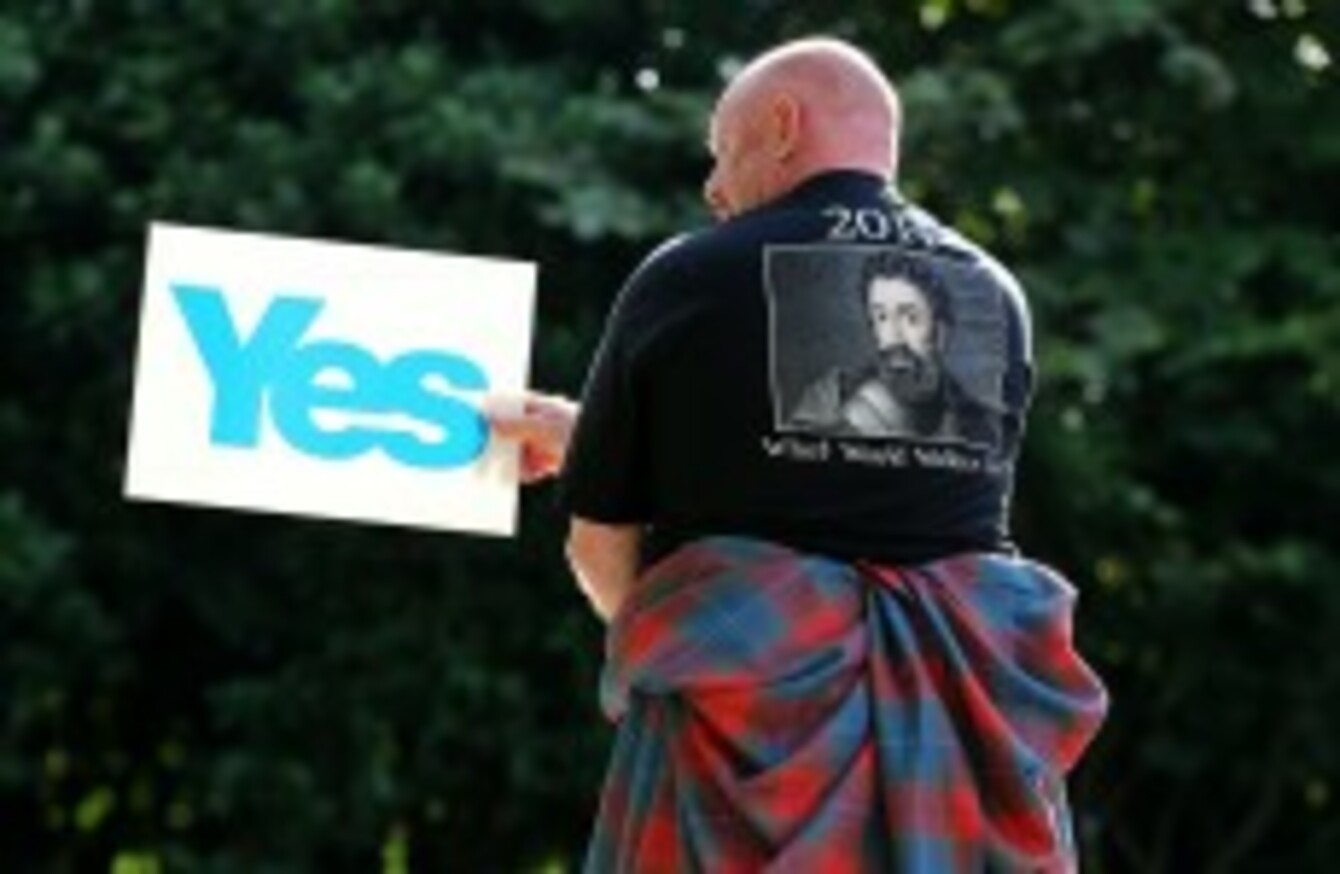 Image: Andrew Milligan/PA Wire/Press Association Images
Image: Andrew Milligan/PA Wire/Press Association Images
BRITAIN'S PRIME MINISTER and Scotland's first minister are to approve plans today for a referendum on Scottish independence, in a move that could lead to the breakup of Great Britain after 300 years.
Premier David Cameron, who opposes a Scottish breakaway, will ink the deal in Edinburgh with Scotland's First Minister Alex Salmond, firing the starting gun on two years of campaigning that will pitch them on opposite sides.
After months of negotiations, London is expected to give Scotland's administration the power to conduct the referendum in the autumn of 2014, offering Scots a straight yes-no question on leaving the United Kingdom.
"Scotland's two governments have come together to deliver a referendum that will be legal, fair and decisive," Cameron is expected to say.
"It paves the way so that the biggest question of all can be settled: a separate Scotland or a United Kingdom? I will be making a very positive argument for our United Kingdom.
"It is now up to the people of Scotland to make that historic decision."
Cameron's Conservatives will be joined by their Liberal Democrat coalition partners in the British parliament and the opposition Labour party in urging voters to keep Britain together.
Prime Minister David Cameron and First Minister Alex Salmond are to meet in Edinburgh today. Andrew Milligan/PA Wire/Press Association Images.
The marathon campaign will pit them against the Salmond's pro-independence Scottish National Party (SNP), the majority party in the devolved Edinburgh parliament.
The independence campaign has celebrity backing from James Bond star Sean Connery, but only a minority of Scots appear to back it, with a survey released on 8 October by pollsters TNS-BMRB showing 28 per cent in favour.
Salmond said in May he was seeking independence "not because I think we are better than any other country, but because I know that we are as good as any other country".
The SNP had pressed for the 2014 date, giving them time to try to win over voters and coinciding with the anniversary of the 1314 Battle of Bannockburn — a famous Scots victory over the English.
Salmond, who has pushed for a referendum since his party won a majority in the Scottish parliament in May 2011, says Scotland — which has a population of five million — should be able to run its own foreign, economic and defence policies.
The devolved Scottish government currently has powers over policy areas such as health and education, as well as a separate legal system.
England and Scotland were joined by acts passed in 1707. Together with Scotland and Wales, they make up Great Britain, while the United Kingdom also includes Northern Ireland.