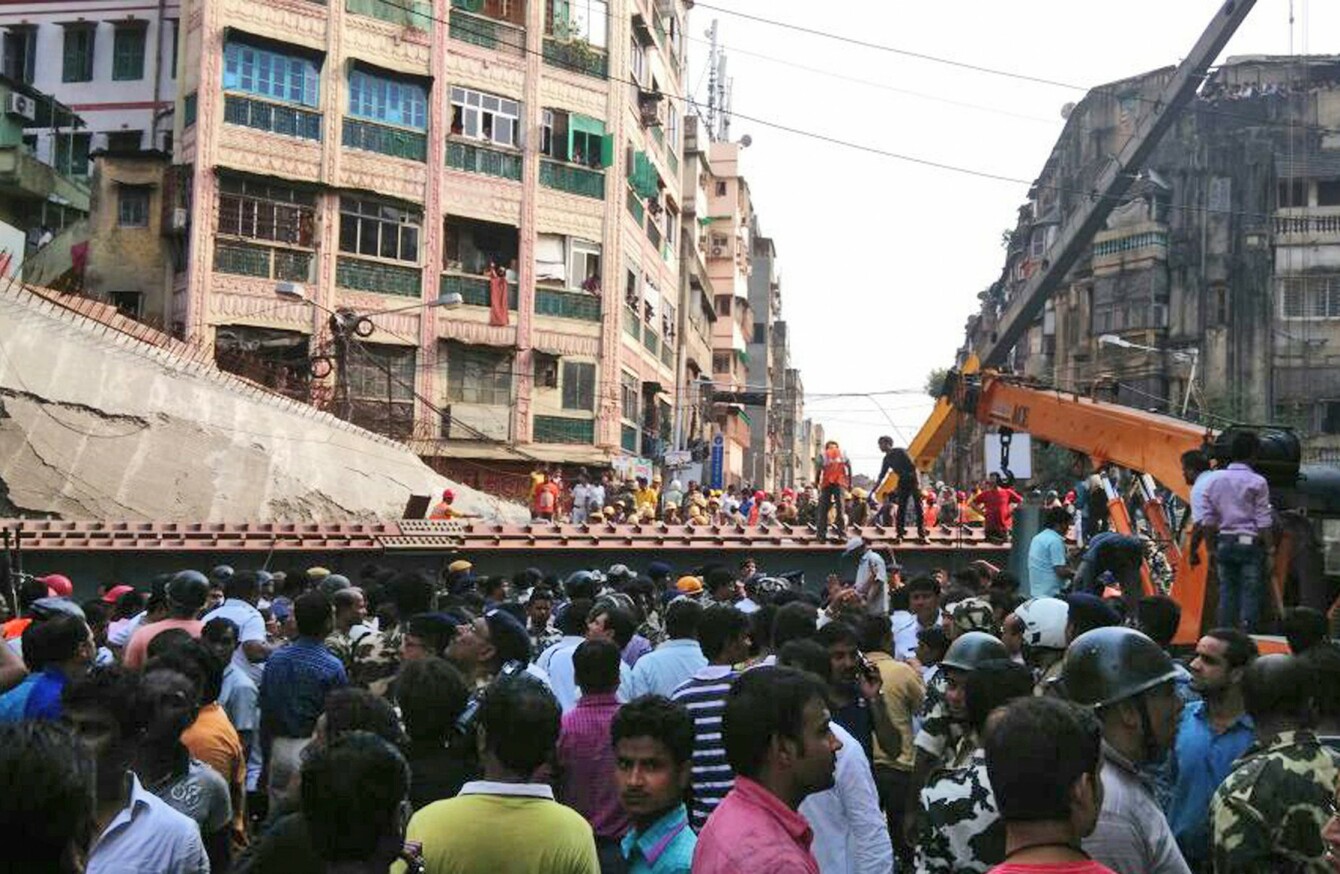 Image: AP
Image: AP
Updated 8.55pm
HUNDREDS OF EMERGENCY workers in India are battling to rescue dozens of people still trapped after a flyover collapsed onto a busy street, killing at least 20 people and injuring nearly 100.
The flyover was under construction when a 100-metre (330-feet) section collapsed suddenly onto a crowded street in the eastern city of Kolkata around lunchtime, crushing pedestrians, cars and other vehicles under huge concrete slabs and metal.
"So far 20 people are confirmed dead. The toll is likely to rise as many people are injured," Javed Ahmed Khan, disaster management minister for the state of West Bengal, told AFP.
Anil Shekhawat, a spokesman for the National Disaster Response Force (NDRF), said the number of injured stood at 92.
Most suffered multiple fractures and were in a critical condition, Shekhawat added, saying that the death toll was expected to rise, with an unknown number of people still trapped under the rubble.
Specialist rescue teams armed with concrete and metal cutters, drilling machines, sensors to detect life and sniffer dogs were dispatched to the scene.
Anurag Gupta, a spokesman for the National Disaster Management Authority, told AFP hundreds of rescuers would work through the night to rescue the trapped victims.
"Three hundred men from NDRF are at the spot along with 300 Indian army men. Police and local authorities are also helping," Gupta said.
'Everything is lost'
But many of those engaged in the rescue effort appeared to be ordinary people who were seen trying to pull away concrete slabs with their bare hands.
Workers struggled to get cranes and other large machinery through the narrow streets of Burrabazar, one of the oldest and most congested parts of the city, where locals desperately waited for news of missing loved ones.
"Everything is finished," Parbati Mondal, whose fruit-seller husband had not been seen since the accident, screamed.
An injured builder told AFP at the scene that he had been working on the structure before it collapsed and had seen bolts come out of the metal girders.
"We were cementing two iron girders for the pillars, but the girders couldn't take the weight of the cement," 30-year-old Milan Sheikh said, before being taken away to hospital.
The bolts started coming out this morning and then the flyover came crashing down.
Construction on the two-kilometre-long flyover began in 2009 and was supposed to be completed within 18 months but has suffered a series of hold-ups.
The disaster is the latest in a string of deadly construction accidents in India, where enforcement of safety rules is weak and substandard materials are often used.
'Like a bomb blast' 
Construction on the flyover had been delayed for several years in the congested city, according to local media reports.
Television footage showed one bloodied body trapped under a concrete slab, and also the hand of a person sticking out from under twisted debris.
An eyewitness at the scene described a loud bang "like a bomb blast and suddenly there was a lot of smoke and dust".
"I looked at the other side of the road and people were screaming: 'The bridge is collapsing'," the unnamed man told television networks.
A crane was seen lifting a mangled car from under the debris and part of a crushed bus was visible protruding from the rubble, although it was unclear if it had been carrying passengers.
Firemen were also on the scene, fighting a blaze that ignited from spilt petrol.
Home Minister Rajnath Singh said he was monitoring the situation adding that he was "deeply saddened to know that precious lives have been lost in the Kolkata accident".
The accident is the latest in a string of deadly construction collapses in India, some of which have highlighted shoddy building standards.
A huge demand for housing, roads and other infrastructure in India often results in cost-cutting and a lack of safety inspections.