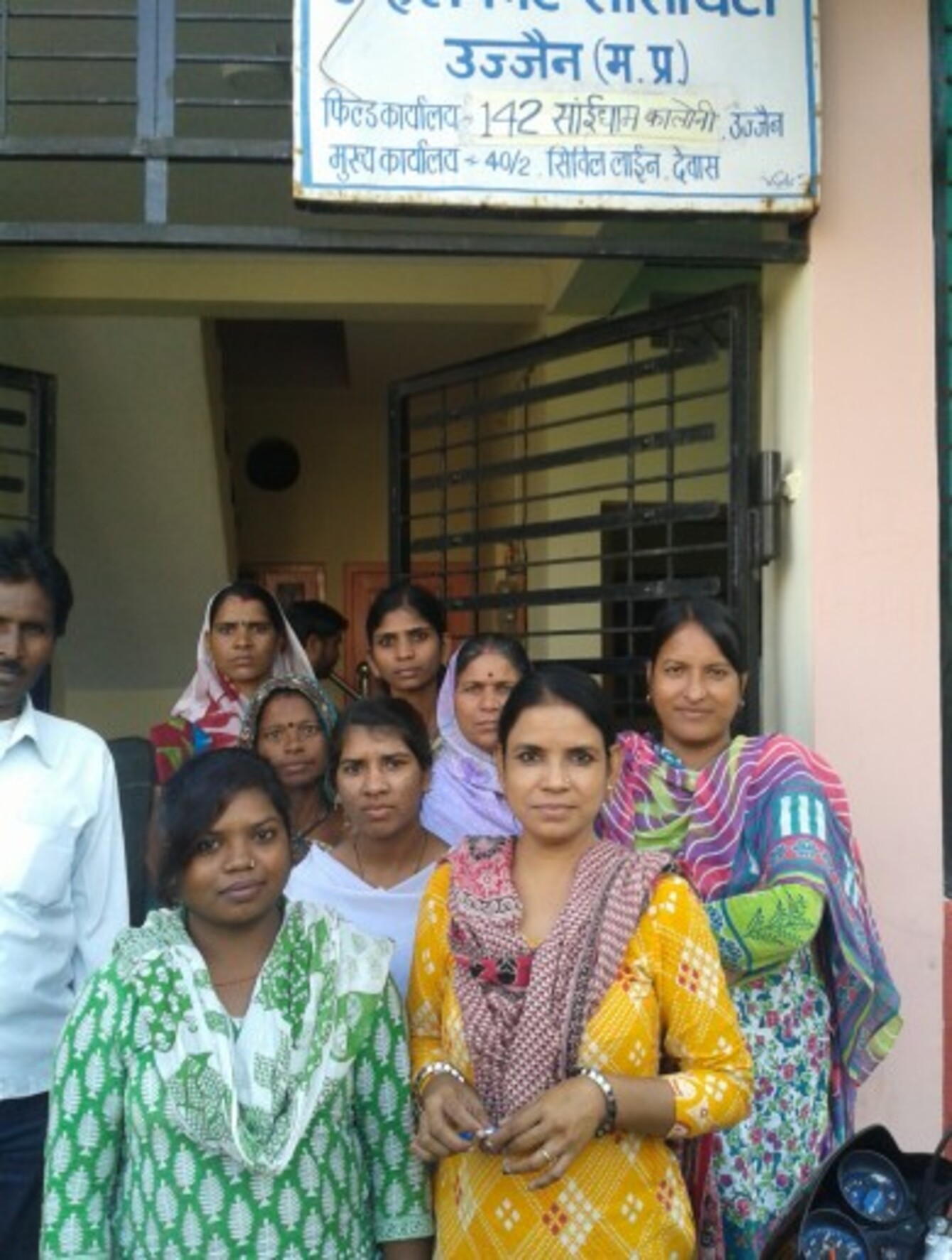 Brabha Borasi (front left), Mumdaz Ansari (front right) with colleagues at the Jan Sahas field office in Ujjain, which focuses on helping victims of sexual violence.
Image: TheJournal.ie
Brabha Borasi (front left), Mumdaz Ansari (front right) with colleagues at the Jan Sahas field office in Ujjain, which focuses on helping victims of sexual violence.
Image: TheJournal.ie
IN INDIA, 92 women are raped each day - or one every 15-20 minutes.
The majority of rape cases go unreported, however. Local community organisations in the country tell TheJournal.ie that this is down to a cultural demonisation of rape victims, kept in place with the connivance of the political class.
Last month, the country's Minister for Women said India was fourth in the world for female safety – despite it being listed, in 2012, as the worst place in the world to be a woman.
Across the vast country, sexual violence against women takes place in cities and towns; in fields and in offices; in homes and on streets.
But it's in rural India where the most flagrant abuse occurs – as Lakshmi* knows only too well.
Now 35, she was raped three years ago while working in the fields in a village near Dewas.
"I am a lower caste woman raped by an upper-caste man," she tells TheJournal.ie during a recent visit.
He was a member of the ruling village council. Upper caste men feel arrogant that they will not be prosecuted and that they can do anything.
Her family, and the entire community, laid the blame for the heinous crime on Lakshmi herself.
"My family said that my behaviour was the reason I was raped," she says.
I was so alienated after the incident. The whole village was on one side and I was on the other side. I was being blamed and shamed.
"I was traumatised. I thought the whole village wanted to kill me and my family. The police doctor did not conduct a serious medical check-up. Psychologically it was brutal.
In India people expect women to have purity of character. The same does not apply to men.
Unused to press attention from local media, she – like the rest of the rape survivors interviewed for this piece - is forthright and unemotional about her ordeal, and grateful that outsiders care enough to read her story.
Dalit
While life in India is hard for many, surely nothing compares to life as a Dalit woman at the mercy of upper castes – and particularly the men. Dalit, meaning "oppressed", is the self-chosen political name of the Indian castes considered "Untouchable" by the four main Hindu varnas – or caste groups – of Indian society.
And it doesn't get much harder than in rural Madhya Pradesh, a sprawling state known as the heart of India. It covers 308,245 square kilometres, bigger than the United Kingdom or Italy, and only just smaller than Vietnam or Malaysia.
The state is home to the Jan Sahas Social Development Society. Begun in 2000 an effort to fight the worst abuses of the caste system (including manual scavenging), Jan Sahas works in more than 4,000 villages
It also runs a programme for the survivors of rape in Ujjain, a small city of over half a million people.
The charity receives funding from a range of international sources, including the Karuna Trust - a charity based in London headed by an Irishman, Ciaran Maguire.
Jan Sahas has also received UN recognition. In 2014, it was presented by Bill Clinton with a Stars Foundation impact award.

Out of its small, spartan, colourful Ujjain office, Jan Sahas helps around 50 victims of sexual violence at any one time – 35 minors and 11 adults over 18 years  of age.
The youngest rape survivor the charity currently works with is seven years old. All told, it works with 46 service users raped in the last 12 months.
Lakshmi
I'm joined by two progamme co-ordinators, Mumtaz Ansari and Brabha Borasi and Sumit Chavan, their (male) Jan Sahas colleague, who doubles up as a translator.
Ansari and Borasi explain that they and their colleagues went to Lakshmi's village on a fact-finding mission after seeing a small piece in a local newspaper about her ordeal, which, needless to say, was unspeakably horrific.
Lakhsmi suspected their fact-finding visit was a trap set by her rapist, but slowly agreed to receive advice on the case.
Lakshmi shakes her head in disbelief as she explains how, instead of arresting her rapist, the police in her village took a case against her husband for allegedly assaulting the perpetrator.
She says that, when she queried this, she and her family were chased out of the village by the police.
Perpetrator
"The village and my relatives abandoned me," she says. "There is no work for me there any more.
And the perpetrator has raped other women. I would have been psychologically broken or physically dead were it not for the help I received here [at Jan Sahas].
According to Ansari, doctors regularly carry out substandard medical examinations in cases where Dalit or tribal women are raped by Brahmin or upper-caste men.
Helped by the Jan Sahas legal team, she extricated her husband from jail, and took a case in the lower court against the perpetrator, but lost due to the poor standard of medical procedure that took place after the ordeal. They are now appealing.
Jan Sahas has helped to train Lakshmi to return to the workforce, and arranged for her three daughters to be educated outside the village, due to local opposition to their education.
Vulnerable
All three women – Lakshmi, Ansari and Borasi – say the problem of sexual violence towards wmoen in India has worsened in the last five years. It is now the most pressing problem in society.
In the last few years, more and more girls are heading out of their houses for schools and colleges and jobs, she says.
In Ansari's experience, most rapes happen while the women are out doing work in the fields near upper caste households. There is also a huge problem in government offices, where she says sexual harassment is rife.
The key aim of Jan Sahas is to educate Dalit women on the importance of safety at work, Ansari adds.
"They are physically vulnerable there. And also, the more women go out to work and join workplaces, the more men seem to prey on them. There is no justice
It's so dangerous for women, we can't leave the houses.
As well as providing legal help, safe houses and retraining, Jan Sahas help to fund counselling.
"If we don't give counselling to the men, the husbands, the brothers, the fathers, they start making notions about the woman's character that affects their relationship for the next 10 years or 20 years," Borasi adds.
"So these victims need counselling almost every week."
Domestic maid
Sakshi* has received counselling. A 30-year-old tribal woman from a village near Dewas, she tells the story of how she was disowned by her family after she was raped, then was raped again while cooking as a domestic maid in Ujjain.
In this case, the perpetrator was also an upper caste Hindu, she explains:
I was disowned from my family when I reported it to the police, and since the incident I have been living on my own with the help of Jan Sahas.
Jan Sahas have helped her take a legal case, which is still in process. Though it is a non-bailable offence (indictable, effectively) but the perpetrator has yet to be arrested.
Asked whether she can turn to her family, she shakes her head firmly.
Her family was furious once she began receiving help from Jan Sahas, a multi-denominational organisation that happens to be headed by a Muslim.
(Although it has its origins in the Hindu tradition, the caste system has infected all strands of society, with many Muslims and Sikhs considered 'Untouchable'.)
Local politicians began threatening Sakshi, and she left with the help of Jan Sahas. I ask other survivors of rape whether political interference in their cases at a local level is common, and am met with a sea of nods.
They speak of offers of money from local politicians, and threats from the perpetrators.
"The police are on the side of the perpetrators," Sakshi says.
I think the problem is increasing and even the police are not supporting the victims. They are on the side of the perpetrators. Local politicians will often pressure the victim.
In this case, Jan Sahas has applied to the state level of commission, human rights commission, and the police authorities.
Across castes
But not all victims of India's endemic gender-based are Dalit or 'out-castes'.
In January of this year, Riti* – from an upper caste – was raped by a 26-year-old Dalit boy at the age of 14, and then tricked into leaving her family in Mumbai on the promise of marriage. He managed to acquire false identity cards to enable her to marry.
"For six months she was away from her family and the police were being paid off by the perpetrator's family," Borasi adds.
"The police were very disrespectful towards her. Every time she would go to the police, the local police station, they would talk to her in a very humiliating manner."
Eventually, the girl came to a child protection house run by Jan Sahas for recovery, but the police pressured her into giving a statement that she left with the boy of her own volition.
There have been other cases involving upper caste women but they are very rare. The same cannot be true of the fate of girls aged under 18 from across the caste spectrum.
According to a 2013 Human Rights Watch report, over 7,000 minors are also raped each year in the country, while untold numbers are sold by their families to human traffickers.
Modi
For Indian NGOs, advocacy is complicated further by the ever-looming threat of losing their licence if they criticise the federal government.
The political reaction to Dalit movements has been mixed, ever legendary Dalit leader Bhimrao Ambedkar, an opponent of Gandhi's caste-based politics, led mass conversions to Buddhism the 1950s, due to its promise of equality.
The slowly continuing conversions have led to the declassification of Buddhism and Jainism as separate religions in some states, where they have been conflated with the majority Hindu religion.
For the women at the raw end of India's caste system, the problem is worsening.
"The environment for women has degraded," Ansari said.
"Politicians are involved in threatening women at 2am, for goodness sake. They are threatening to decapitate them, and saying they are saying they will burn the house."
The world is full of patriarchal societies, yet some are more patriarchal than others.
Jan Sahas receive funding from charities, including the Karuna Trust in London. Co-run by Irish aid workers, it funds a range of projects among India's poorest.
*Some names have been changed.