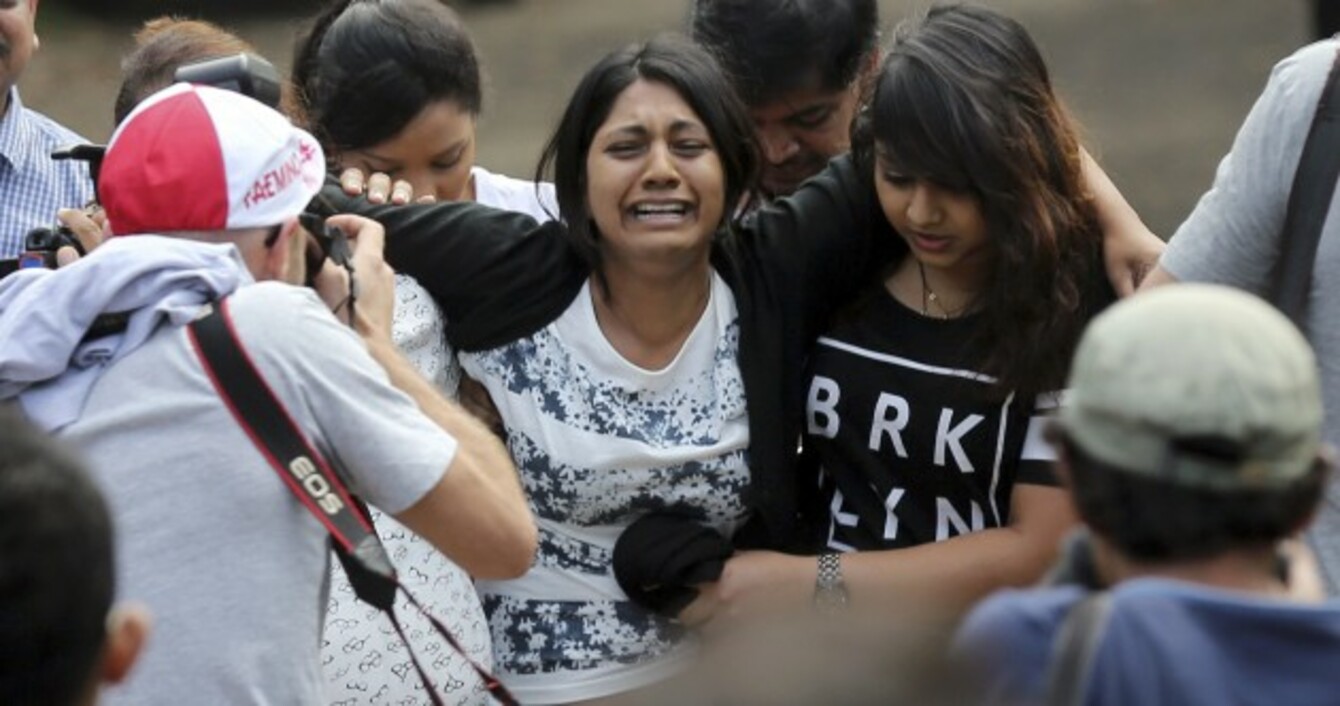 Brintha Sukumaran, centre, sister of Myuran Sukumaran, an Australian on death row, cries as she makes her way to the prison island of Nusakambangan to say her final goodbye to her brother.
Image: Tatan Syuflana
Brintha Sukumaran, centre, sister of Myuran Sukumaran, an Australian on death row, cries as she makes her way to the prison island of Nusakambangan to say her final goodbye to her brother.
Image: Tatan Syuflana
INDONESIA HAS STAUNCHLY defended its execution of seven foreigners including two Australians as a vital front of its "war" on drugs.
The condemned men reportedly all refused blindfolds and sang hymns, among them "Amazing Grace", as they went to face the firing squad in a jungle clearing.
Australia withdrew its ambassador in protest at the midnight executions, but Indonesian President Joko Widodo said he was merely applying "the rule of law" against narcotics traffickers.
The seven convicts — two from Australia, one from Brazil and four from Africa — were shot by firing squad, along with one Indonesian, despite strident foreign appeals and pleas from family members.
'Dark hour'
Australian Prime Minister Tony Abbott has said that the relationship between Indonesia and Australia has entered a "dark hour".
Source: Kim Webster/YouTube
The families of the two Australians released a statement:
Mentally ill 
Brazil expressed "deep regret" at the execution of its national, whose family says is mentally ill, and said it was weighing its next move.
A Irish priest, who was with the prisoners before their executions, told RTÉ'S Morning Ireland, that he spent time with the Brazilian man, who he said definitely had a mental illness.
He said he spend a few hours with the man yesterday, who he said would hear voices, and had been diagnosed by Indonesia's largest university as schizophrenic.
He said when he was being led to his execution in chains, the man said it was not right, stating that he had made one small mistake and shouldn't die for it.
Father Boroughs said he prepared the men ahead of their execution and also met with family members.
He added that the two Australians "had found the light" ahead of their execution.
Tearful supporters 
As the clocked ticked down to midnight, a group of tearful supporters also sang hymns, embraced and held candles aloft during a vigil at the port in Cilacap, the gateway to the prison island of Nusakambangan.
After the executions, family members could be seen crying and were ushered away by friends and supporters.
A Filipina originally set to be executed was given an 11th hour reprieve after a woman who allegedly duped her into ferrying drugs to Indonesia came forward to police in the Philippines.
The reprieve for Mary Jane Veloso was hailed in the Philippines as a miracle and a gift from God, but Indonesian Attorney General Muhammad Prasetyo stressed it was only a "postponement" to allow time for police investigations.
He added:
"We are fighting a war against horrible drug crimes that threaten our nation's survival."I would like to say that an execution is not a pleasant thing. It is not a fun job."
"But we must do it in order to save the nation from the danger of drugs. We are not making enemies of countries from where those executed came. What we are fighting against is drug-related crimes."
 'They asked for mercy: there was none' 
Prasetyo also played down Australia's decision to recall its ambassador, describing it as a "temporary reaction", while Foreign Minister Retno Marsudi stressed Jakarta's desire to "continue having good relations" with one of its most important trading partners.
Australia had mounted a sustained campaign to save its citizens, who have been on death row for almost a decade, and Prime Minister Tony Abbott said the executions were "both cruel and unnecessary".
Many Australian celebrities took part in a video campaign calling for mercy.
Actor Guy Pearce has taken to Twitter to condemn the executions.
Australians Andrew Chan and Myuran Sukumaran, ringleaders of the so-called "Bali Nine" heroin-trafficking gang, were described by Canberra as reformed men after years in prison.
The families said their sons did "all they could to make amends, helping many others" in the years since their arrests, with Sukumaran teaching fellow inmates English and art, and Chan ordained as a minister in February.
Reprieve 
There were very different scenes in the Philippines after the late let-off for Veloso, whose case attracted emotional appeals for mercy from boxing superstar Manny Pacquiao among others.
"Miracles do come true," her mother Celia told a Philippine radio station, adding that her daughter's two boys aged 12 and six were awake and yelling "Yes, yes, mama will live".
President Benigno Aquino said the entire country was grateful to Indonesia and thanking God for the last-minute reprieve, his spokesman Herminio Coloma said.
Little is known about the other four foreigners executed — three of them are from Nigeria but it is not clear whether the fourth held Ghanaian or Nigerian nationality.
A Frenchman was originally among the group to be executed but he was granted a temporary reprieve after authorities agreed to allow a legal appeal to run its course.
© – AFP 2015 Additional reporting Christina Finn