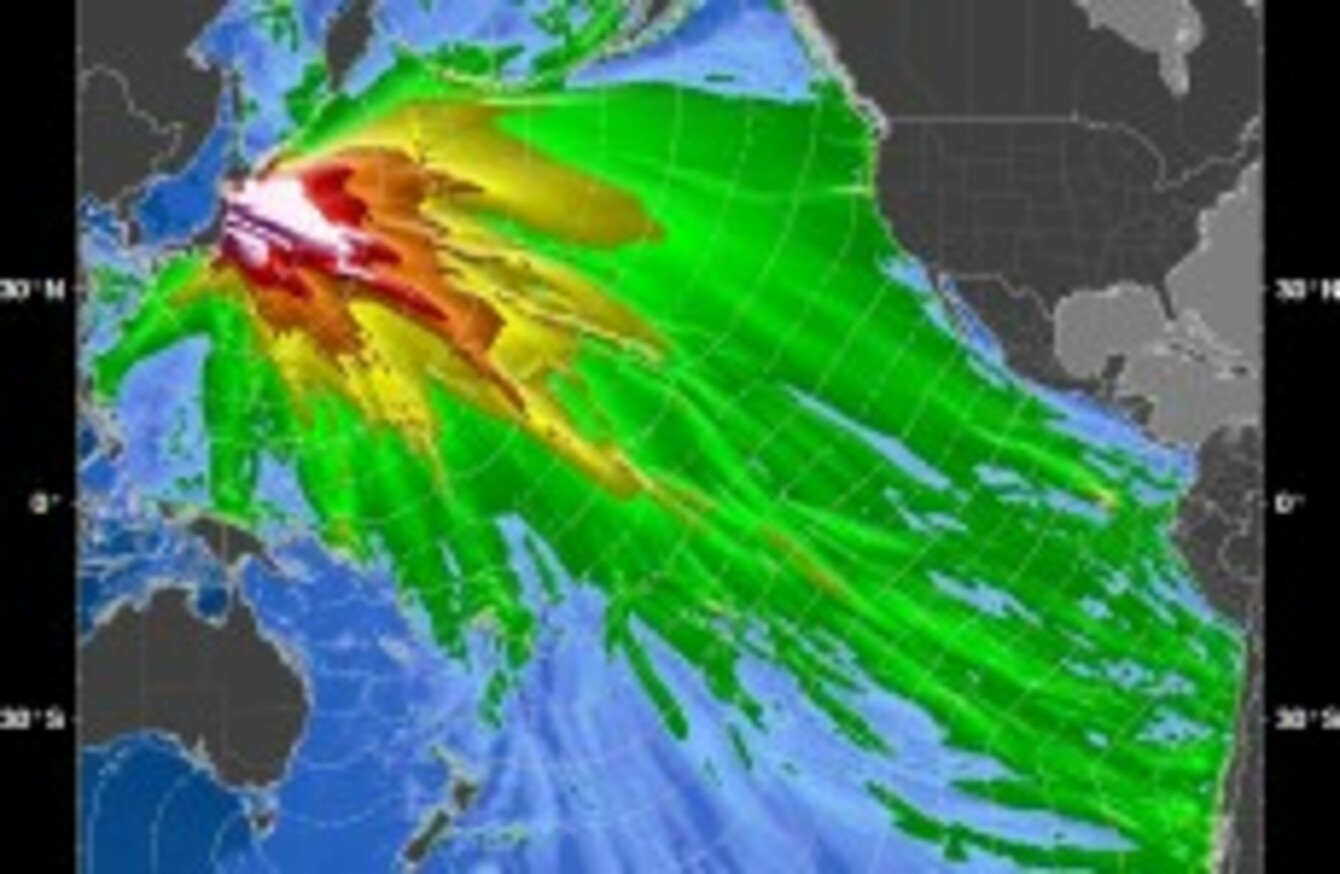 This image provided by the Pacific Tsunami Warning Center shows a "tsunami forecast model" created by the Pacific Tsunami Warning Center in Ewa Beach, Hawaii
Image: Nathan Becker/AP/Press Association Images
This image provided by the Pacific Tsunami Warning Center shows a "tsunami forecast model" created by the Pacific Tsunami Warning Center in Ewa Beach, Hawaii
Image: Nathan Becker/AP/Press Association Images
INDONESIA IS BRACED for a tsunami, which is due to hit at 6pm local time (11am Irish time), after the strongest earthquake for at least a century shook Japan.
The provinces of Papua, northern Sulawesi and Maluku, are likely to be hit, the country's Meteorology, Climatology and Geophysics Agency said. Affected areas are "expected to pay attention to this warning and immediately guide their communities for evacuation," a statement said.
The first wave is due to hit Hawaii – where an evacuation began earlier today – at 3.07am HST, or at about 1pm Irish time. A 4.5 magnitude earthquake struck Hawaii just before 1am local time – at about 10.50am Irish time.
The Pacific Tsunami Warning Centre warned that all shores were at risk, no matter which area they faced:
"A TSUNAMI IS A SERIES OF LONG OCEAN WAVES. EACH INDIVIDUAL WAVE CREST CAN LAST 5 TO 15 MINUTES
OR MORE AND EXTENSIVELY FLOOD COASTAL AREAS.
THE DANGER CAN CONTINUE FOR MANY HOURS AFTER THE INITIAL WAVE AS SUBSEQUENT WAVES ARRIVE. TSUNAMI WAVE HEIGHTS
CANNOT BE PREDICTED AND THE FIRST WAVE MAY NOT BE THE LARGEST.

TSUNAMI WAVES EFFICIENTLY WRAP AROUND ISLANDS.
ALL SHORES ARE AT RISK NO MATTER WHICH DIRECTION THEY FACE.
THE TROUGH OF A TSUNAMI WAVE MAY TEMPORARILY EXPOSE THE SEAFLOOR BUT THE AREA WILL
QUICKLY FLOOD AGAIN.
EXTREMELY STRONG AND UNUSUAL NEARSHORE CURRENTS CAN ACCOMPANY A TSUNAMI. DEBRIS PICKED UP AND CARRIED
BY A TSUNAMI AMPLIFIES ITS DESTRUCTIVE POWER.
SIMULTANEOUS HIGH TIDES OR HIGH SURF CAN SIGNIFICANTLY INCREASE THE TSUNAMI HAZARD."
Meanwhile, the Philippines ordered residents living in coastal areas in 19 provinces to seek higher ground after raising its tsunami alert to Level 2, warning of waves of up to one meter.
The first tsunami waves are expected to hit Philippine shores between 5:00 p.m. and 7:00 p.m. local time, or 4pm Irish time, and may continue for hours, the National Disaster Risk Reduction and Management Council said in a bulletin.