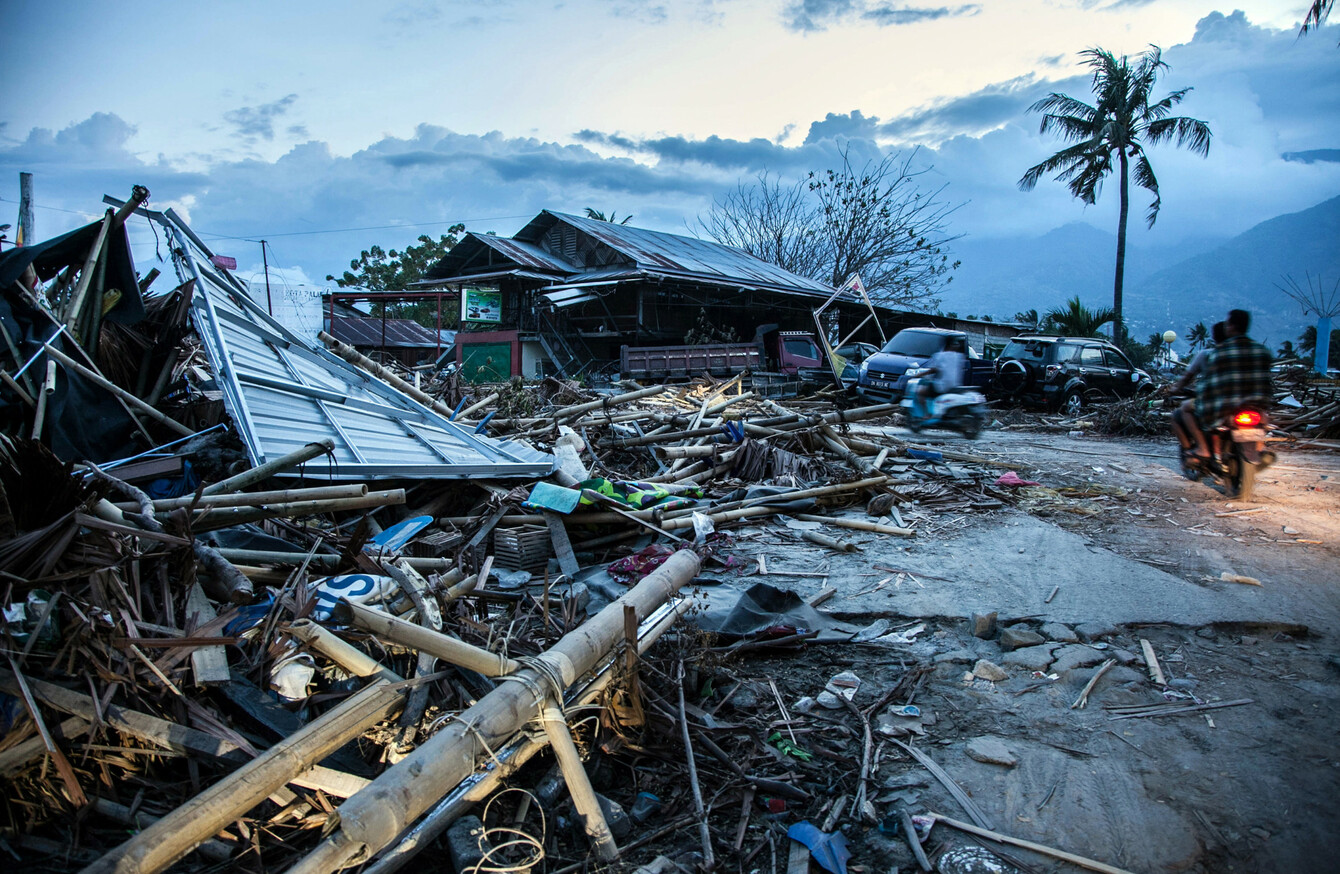 Ivan Damanik/PA Images
Image: Ivan Damanik
Ivan Damanik/PA Images
Image: Ivan Damanik
MORE THAN 1,200 people are now known to have died in the earthquake and tsunami that smashed into Sulawesi as police pledged to clamp down on looting by survivors taking advantage of the chaos.
There were reports of officers firing warning shots and tear gas to ward off people ransacking shops in Palu, a coastal city ravaged by a 7.5-magnitude quake and the tsunami it spawned.
Almost 200,000 people are in need of urgent help, the United Nations says, among them tens of thousands of children.
Survivors are battling thirst and hunger, with food and clean water in short supply, and local hospitals are overwhelmed by the number of injured.
Police said today that they had previously tolerated desperate survivors taking food and water from closed shops, but had now arrested dozens of people for stealing computers and cash.
"On the first and second day clearly no shops were open. People were hungry. There were people in dire need. That's not a problem," said deputy national police chief Ari Dono Sukmanto.
"But after day two, the food supply started to come in, it only needed to be distributed. We are now re-enforcing the law."
"There are ATMs. They are open," he added. "If people steal, we catch and investigate," he said.
Food and water
Despite official assurances, desperation was evident on the streets of Palu, where survivors clambered through wreckage hunting for anything salvageable.
Others crowded around daisy-chained power strips at the few buildings that still have electricity, or queued for water, cash or petrol being brought in via armed police convoy.
"The government, the president have come here, but what we really need is food and water," Burhanuddin Aid Masse, 48, told AFP.
Queues to get a few litres of petrol lasted more than 24 hours in some places.
Sanitation is also a growing problem. "People everywhere want to go to the toilet but there's no toilet. So we do it along the road at night," said 50-year-old Armawati Yarmin.
Rescue efforts have been hampered by a lack of heavy machinery, severed transport links, the scale of the damage, and the Indonesian government's initial reluctance to accept foreign help.
Along the road to Donggala – a large town close to the epicentre of the quake – there were more scenes of destruction. The town itself appeared relatively unscathed, but in the worst affected areas it was difficult to find a single vertical surface.
Donggala resident Farid, aged 48, pleaded for help: "Don't centre all the aid on Palu," he said. "We in Donggala have nothing."
As if to remind the world of the tectonic fragility of Indonesia, a series of quakes hit the island of Sumba today, albeit hundreds of kilometres from Palu.
Landslides
The official death toll from the tragedy in central Sulawesi stood at 1,234, according to the government.
The Indonesian military is leading the rescue effort, but following a reluctant acceptance of help by President Joko Widodo, international NGOs also have teams on the ground in Palu.
Among the dead are dozens of students whose lifeless bodies were pulled from their landslide-swamped church in Sulawesi.
"A total of 34 bodies were found by the team," Indonesia Red Cross spokeswoman Aulia Arriani told AFP after the grim discovery, adding that 86 students had initially been reported missing from a Bible camp at the Jonooge Church Training Centre.
Arriani said rescuers faced an arduous trek to reach the mudslide and retrieve the victims.
"The most challenging problem is travelling in the mud as much as 1.5 hours by foot while carrying the bodies to an ambulance," she said.
#Open journalism No news is bad news Support The Journal

Your contributions will help us continue to deliver the stories that are important to you

Support us now
Indonesia is the world's most populous Muslim-majority nation but there are small pockets of religious minorities, including Christians, across the archipelago of 260 million people.
Urgent need 
The United Nations Office for the Coordination of Humanitarian Affairs warned yesterday that there were 191,000 people in urgent need of help after the quake-tsunami, among them 46,000 children and 14,000 elderly — many in areas that aren't the focus of government recovery efforts.
The dead – many yet uncounted, their bodies still trapped in the rubble of collapsed buildings – are also a source of concern for authorities.
In Indonesia's hot, equatorial climate, bodies quickly begin to rot and provide a breeding ground for deadly diseases.
At Poboya – in the hills above the devastated seaside city of Palu – volunteers have begun to fill a vast grave with the dead, with instructions to prepare for 1,300 victims to be laid to rest.
Trucks stacked with corpses wrapped in orange, yellow and black bags are bringing their load to the site, where the bodies are dragged into the grave as excavators pour soil on top.
'I lost her'
Two people have been plucked from the 80-room Hotel Roa-Roa, Indonesia's search and rescue agency said, and there could still be more alive.
And for Azwan, who – like many Indonesians – goes by one single name, there was joy when he was reunited with his wife, Dewi, after 48 hours of fearing the worst as he searched hospitals and morgues.
The 38-year-old civil servant struggled to keep his emotions in check as he told how the couple had been reunited two days after Dewi had been swept away by the tsunami.
"I was so happy, so emotional. Thank god I could see her again," Azwan told AFP.
But for some, the search yields only sorrow as they trudge around open-air morgues, where the dead lay in the baking sun – waiting to be claimed, waiting to be named.