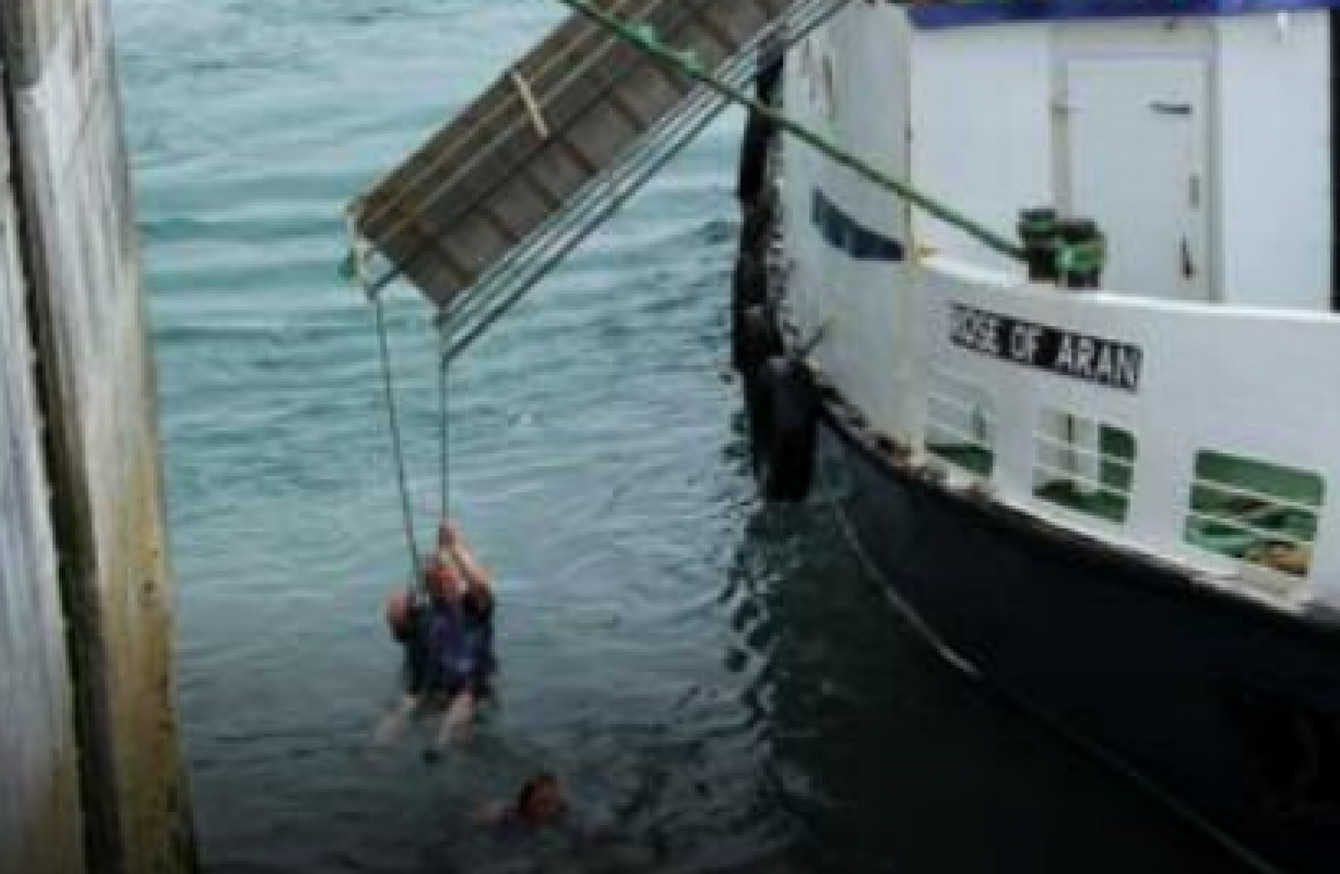 A man being rescued from the sea at Inis Oirr harbour on June 6, 2016.
A man being rescued from the sea at Inis Oirr harbour on June 6, 2016.
A REPORT HAS called for a range of new safety measures after a man and woman fell into the sea while disembarking a ferry at Inis Oirr harbour on the Aran Islands.
The pair were thrown into the sea after the gangway of the MV Rose of Aran tipped downwards towards the water on 6 June 2016.
The woman managed to swim to a ladder on the quay and tried to climb up, but the bottom of the ladder was encrusted with marine growth and she could not get a firm grip, so remained in the water until a man climbed down the ladder and helped her to climb out.
The man, who could not swim, was helped to shore over rocks after a life ring was thrown to him. The pair received medical treatment on Inis Oirr and were taken back to the mainland later the same day.
A newly released report from the Marine Casualty Investigation Board (MCIB) found that the pair would not have been rescued without the help of bystanders entering the water and assisting them to shore.
The MCIB report details a range of factors that caused the incident. It found that the ropes used to fasten the stern of the boat to the quayside had not been properly tied on. One of the lines had been secured by a bystander and had not been checked by the crew.
It also noted that the crew of the boat, owned by Liscannor Ferry Company, were not trained or prepared for rescuing someone from the harbour.
The report concluded that the lack of any By-Laws or a harbour master on the pier results in overcrowding and congestion which hinders the safe berthing of ferries using the pier.
The ferry company was ordered to ensure boats were safely and securely moored before gangways were allowed to be used. The MCIB also called for new policies to monitor the safety of passengers embarking and disembarking.
Galway County Council should design and implement a safety management system for all operations on Inis Oirr Pier including the formulation of By-Laws which can be enforced.
The council responded by saying that an extension to the pier is currently in the planning stage and when it is completed there will be By-Laws and perhaps a harbour master.