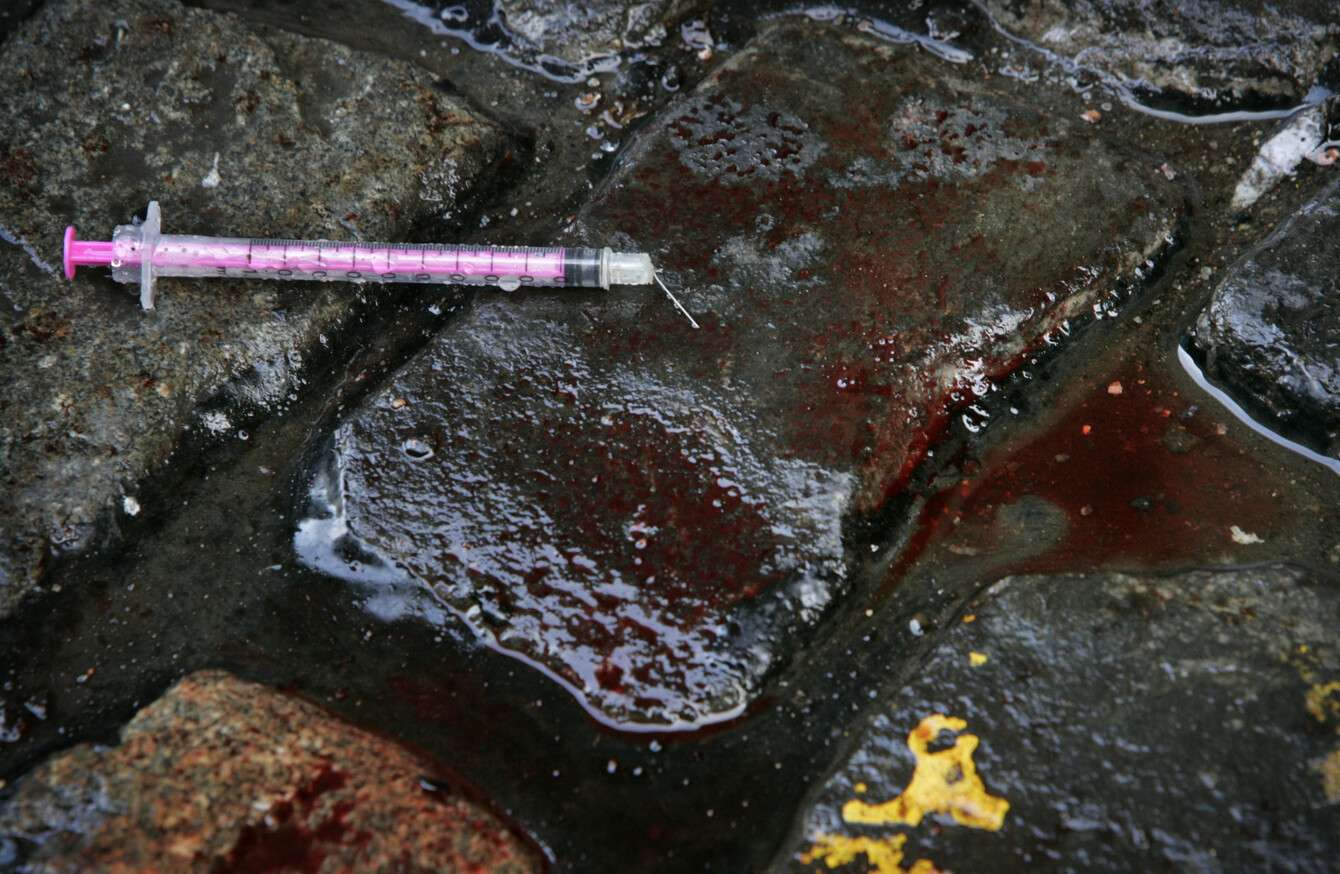 Image: Mark Stedman/Photocall Ireland
Image: Mark Stedman/Photocall Ireland
POLITICIANS AND NOT-for-profit officials have voiced concerns after the introduction of medically supervised injection centres hit a major set back this month.
The centres – which would be medically supervised buildings in which drug users could inject – have been a part of government drug policy for a number of years.
The 2016 Programme for Government explicitly says that it "will support a health-led rather than criminal justice approach to drugs use including legislating for injection rooms".
This legislation came in the form of the of the Misuse of Drugs (Supervised Injecting Facilities) Bill 2017, which passed through the final stage in March.
(This in itself took longer than originally anticipated, with the Misuse of Drugs Bill essentially being split into two last year – prompting concerns at the time that the government was giving up on the centres)
Following on from the laws passing, the management and operation of a pilot centre was put out to tender by the HSE in August.
The winner of the tender was due to be announced last month, with the first facility expected to have been open early next year. The pilot phase was expected to last for an 18 month period with an evaluation at six months and again at 18 months.
Setbacks 
The HSE confirmed that the evaluation stage of the procurement process for the injecting centres is currently still ongoing, with the successful bidder now due to be announced later this month.
However, the centres have since met another snag.
The Dublin Business Alliance – which is a lobby group made up of the Licensed Vintners Association, the Restaurants Association and the Temple Bar Company – has been vocally opposed to the introduction of the centres in Dublin city, arguing that the laws underpinning them are sloppy and not properly thought out.
The DBA sought a number of Section 5 Declarations in relation to planning laws around the centres.
Essentially, a Section 5 Declaration is lodged to determine whether planning permission would be needed to change the use of a premises into a injecting centre.
The Planning Authority ruled that for a number of premises listed in the tendering process, planning permission would have to be sought before an injecting centre could be opened there.
This would mean a consultation and appeals process which would further delay the centres, raising worries among those who think they're needed as a matter of urgency.
"Flawed legislation" 
According to Martin Harte, CEO of the Temple Bar Company and spokesperson for the Dublin Business Alliance, the fact that planning permission will have to be sought for the centres is a good thing, as it will allow members of the public to voice any concerns they have about them.
"The planning system is a much more open democratic process than other systems," Harte told TheJournal.ie.
"One major problem is that the legislation does not allow for any organisation – including the gardaí or local residents – to make any observation on how the centre is run or where it is, and that's a huge problem," he said.
Harte is highly critical of the Misuse of Drugs (Supervised Injecting Facilities) Act, saying that it is deeply flawed. His group sought the Section 5 declarations in order to ensure that some public input could be garnered on where an injection centre could be set up.
As well as that issue, he said that the laws are too vague on determining the illegality of possessing banned drugs when travelling to and from the centres.
"I think the legislation is sloppy. I think there are significant gaps in it. Not only in relation to how people can't make observations or have any say in how they are run, but in terms of possession, and more.
"Under the current legislation we have a situation where it's legal to be in possession – once you're an authorised user – of any controlled substance once you're on the premises, but how do you get on the premises? That's going to be a problem," he said.
 Not necessarily for the legitimate users, but those that want to abuse it for drug dealing and that's where the problem is going to be.
Back in September, the issue was raised at Dublin City Council's Joint Policing Committee, where it was determined that gardaí would have to use discretion in such circumstances.
Harte insists that his group isn't against the idea of supervised injecting centres as a concept, but rather said their introduction is being progressed too fast without proper consultation.
He said the Dublin Business Alliance would continue to object against the centres until their issues are addressed, which could mean severe delays for their introduction.
"Much needed service"
This has been regarded a serious blow to the entire initiative. Paula Byrne – head of day services with Merchant's Quay Ireland – said the organisation was very disappointed with the decision.
"From our perspective we're very disappointed in the delay in opening the facility," said Byrne.
As far as we're concerned it's a much needed service for our clients.
"The sad reality is is that one person per day is dying from a drug related overdose, which isn't acceptable.
And our view is is that this facility is a vital part of the solution – and it's imperative that this service is available as soon as possible.
MQI – along with the Ana Liffey Drug Project – is one of the organisations to tender for the contract in operating the pilot centre.
Byrne said it was clear now that planning permission would be needed to operate the centre and that it was unknown how long it would take to secure that permission.
"We've no sense of time… and we really don't know how long it would take," she said.
We would hope that we could go through the proper process and the centre could open.
Byrne said that there had been concerns raised in the local area around the introduction of the centres and these concerns were "reasonable".
"It's a pilot. There's a lot to learn for all of use and I'm sure there are things that will come out of the pilot as you start to get into it," she said.
It is the first such facility on ireland and it's reasonable to expect the local community to be nervous.
Byrne said that whoever won the tender needed to be "open and transparent".
If we're not and don't engage with the community then I think having something hidden behind closed doors is not going to help people's understanding or how they see the facility supporting out clients.
In response to a query from TheJournal.ie, a HSE spokesperson said that the tendering process had not finished and that until then it would not be making any further comment.
As things stand, the fate of the injecting centres in Dublin is far from certain.