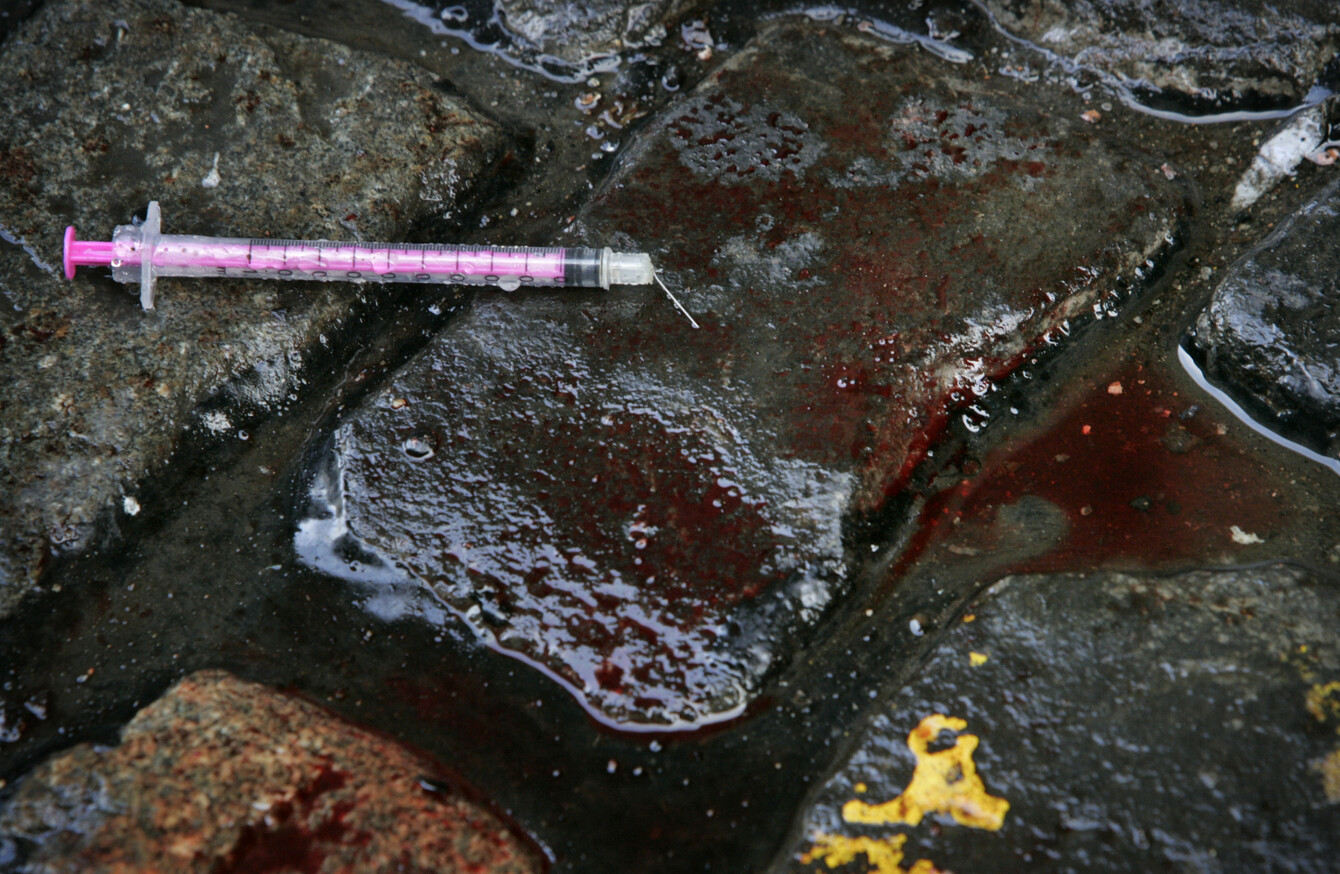 A used needle used to inject heroin sits in a pool of blood on Lotts Lane, Dublin 1.
Image: Mark Stedman/Photocall Ireland
A used needle used to inject heroin sits in a pool of blood on Lotts Lane, Dublin 1.
Image: Mark Stedman/Photocall Ireland
SUPERVISED INJECTION CENTRES are on the way to Dublin but local councillors said they are concerned that they will be a nightmare to police, and that they fear users will be able to possess heroin without the prospect of prosecution.
Elected representatives, as well as senior gardaí, said there would have to be compromise and discretion when it came to possession of drug laws if the centre is to be successful.
Concerns were raised yesterday at Dublin City Council's Joint Policing Committee – a quarterly meeting where policing issues are raised by councillors from all areas of the city.
Junior Health Minister with responsibility for drugs Catherine Byrne was in attendance at the meeting, where she said that while the legislation may have passed through the Oireachtas, the finer details of the centres would still have to be figured out.
Many councillors had spoken of their fear that the new injection centre would allow people to walk through parts of the city with heroin and they would not be arrested for it. On many occasions, the representatives asked Byrne at what point someone in possession of drugs would be arrested.
Byrne dismissed claims that there could be a "magic circle" where heroin possession would be legal in parts of Dublin – similar to the concept of 'Hamsterdam' which featured on popular crime drama The Wire. However, she did say it is going to be difficult not to place the supervised injection facility in a place where there are no schools or creches in the vicinity.
We live in a city with a huge drug problem. We have a number of schools in the city. It would be very difficult to have one location to be somewhat distant away from primary or secondary schools. But I want to be clear. Nobody is going to give out free drugs at this centre. There's no magic circle where it's legal to have drugs. Drugs are illegal. A guard can still stop someone outside the service or in the centre to ask where they got it. Whoever is going to run the service is going to have cooperation with gardaí.
Sinn Féin's Larry O'Toole asked if gardaí would be standing outside the centre, searching anyone about to enter the premises. Likening it to "shooting fish in a barrel", O'Toole said that there needs to be more consistency in the proposals and that the prospect of people walking around Dublin with drugs and not being touched by the law was unpalatable.
This view was shared by Councillor Cieran Perry who said that the current proposals are "effectively legalising heroin in Dublin".
He said: "I'd be against the normalisation of drug use and that's what I think this will do. I don't see how this will actually work. There's no solid evidence for it."
'It's a start'
Labour's Dermot Lacey agreed but said that while it is not the be-all and end-all to the drugs crisis in the city, it is a start.
"Nobody likes this solution and it's not the solution but I welcome the decision to pass the legislation. But you have to think at what point does possession become a crime – is it five feet outside the centre, 10 feet, 50 feet?"
Addressing the queries, Minister Byrne said that a lot of what could make this centre successful is down to the people who eventually set it up. She said that there will be need to be a great cooperation between the service providers and gardaí.
As things stand, the location of the new centre has not been decided. However, the tendering process is due to finish at the end of next month.
The bill to allow the injection centres passed through the Oireachtas earlier this year.
Amid the discussion at the JPC, Assistant Garda Commissioner Pat Leahy, who has spent his entire career working in Dublin's north inner city, said he has seen the devastation which drugs can cause to an area.
In his opinion, anything which removes someone from injecting in public must be welcomed. However, it is the prospect of policing the centre which Leahy said could prove problematic.
He said that there are challenges for policing but stressed that this centre is a "health initiative" and that cooperation between a number of public sectors is required for the pilot project to take off.
"We cannot stand by and I for one wouldn't want to see my kids down a laneway. It's a health initiative. Discretion has been muted. We will have to find our feet. It's going to be a challenge," Leahy added.
The law doesn't change but the Garda [Síochána] have to have a reasonable position. We cannot consider someone entering the building as reasonable suspicion.
"Up and down main streets there are people who have heroin on them. Anything that can improve lives, I have to support. I cannot see any other way than treatment is the answer. We have to be mature about this."
Speaking about the issue previously, Tony Duffin, CEO of the Ana Liffey Drug Project, has long supported the initiative to bring supervised injection centres into Ireland.
He told TheJournal.ie last month: "Supervised injecting facilities are a very positive step – they will save both lives and money. Ana Liffey has been working for the implementation of these services for a number of years, and it is terrific to see that work pay off.
"Every time someone injects themselves and hides themselves away they risk fatal overdose. There's a heightened risk of blood-borne viruses. There's an increased risk of infection and vein damage."