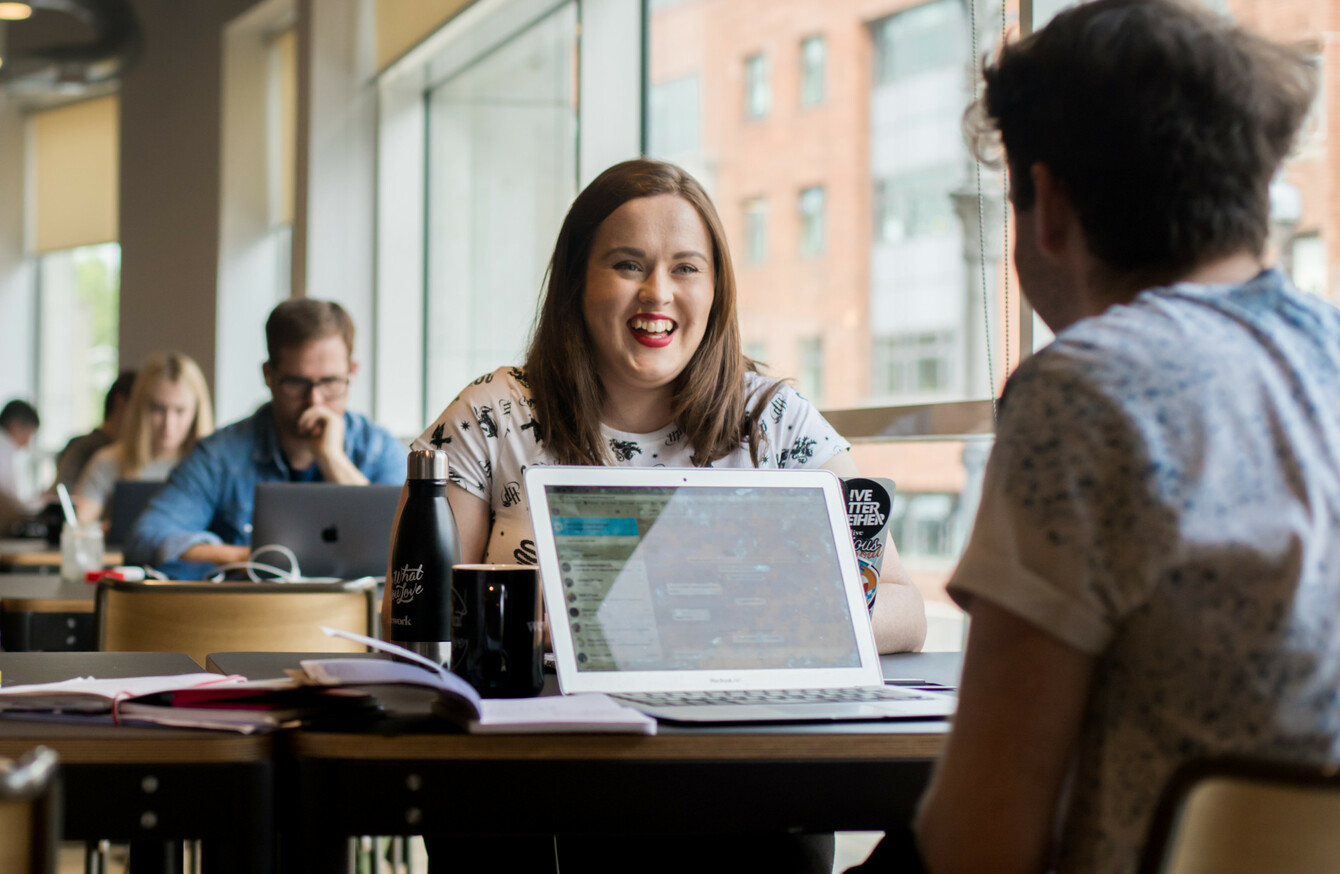 Image: WeWork
Image: WeWork
FANCY A BEER from your office bar of a Friday evening? Or a morning break spent playing arcade games? Then you'll love WeWork's new coworking space in the heart of Dublin city.
WeWork's Iveagh Court location is the first of three to launch in Ireland and is already home to a number of Irish startups, as well as household names like Microsoft and Twilio.
Often, coworking or hot desking can mean windowless rooms, soulless office blocks and no real sense of belonging. WeWork, in contrast, is known for operating out of bright open spaces, with impressive views and modern furnishings.
Iveagh Court is no exception. But while each WeWork has a common look and feel, there are unique elements to each one, which pay homage to their surroundings.
For Leni Zneimer, WeWork General Manager for the UK and Ireland, the standout feature lies on the ground floor of Iveagh Court, which has a distinctly cosy feel:
We use design and artwork to represent the locality of the space and draw in local elements from the outside. The lower ground floor was inspired by an Irish speakeasy.
Of course, fashionable furniture and vibrant colour palettes aside, the real focus at WeWork spaces is bringing people together.
"There is always a sense of collaboration and togetherness in our buildings, between the members themselves and the community teams," says Leni.
The environment is entrepreneurial and creative, and anyone can tap into that, regardless of the industry or job they're in.
The co-working culture is most definitely on the rise. WeWork alone operates in 270 locations in 71 cities worldwide, with startups using the space alongside larger corporates looking for greater flexibility. Leni says the growth has come as no surprise:
There has been a macro shift in the way people are working. People want to find a working routine that complements their lifestyle, and this is where flexible working environments have come into play.
In addition to the comfortable communal spaces, private meeting rooms and soundproof phone booths, members enjoy a range of amenities such as an arcade room, bar area and shower facilities.
There's also a bar with beer and stout taps, Happy Hour events (like an upcoming macaroon and Prosecco one for Dublin Pride) and dog-friendly office rules.
But according to Leni, the biggest benefit to renting in WeWork is the scale of networking and upskilling opportunities that are available for companies big and small:
All our members have access to dozens of events each week from networking to workshops to member-hosted events. These are constantly creating connections between members.
Interested in joining the WeWork community? Check out their hot desk and office options.