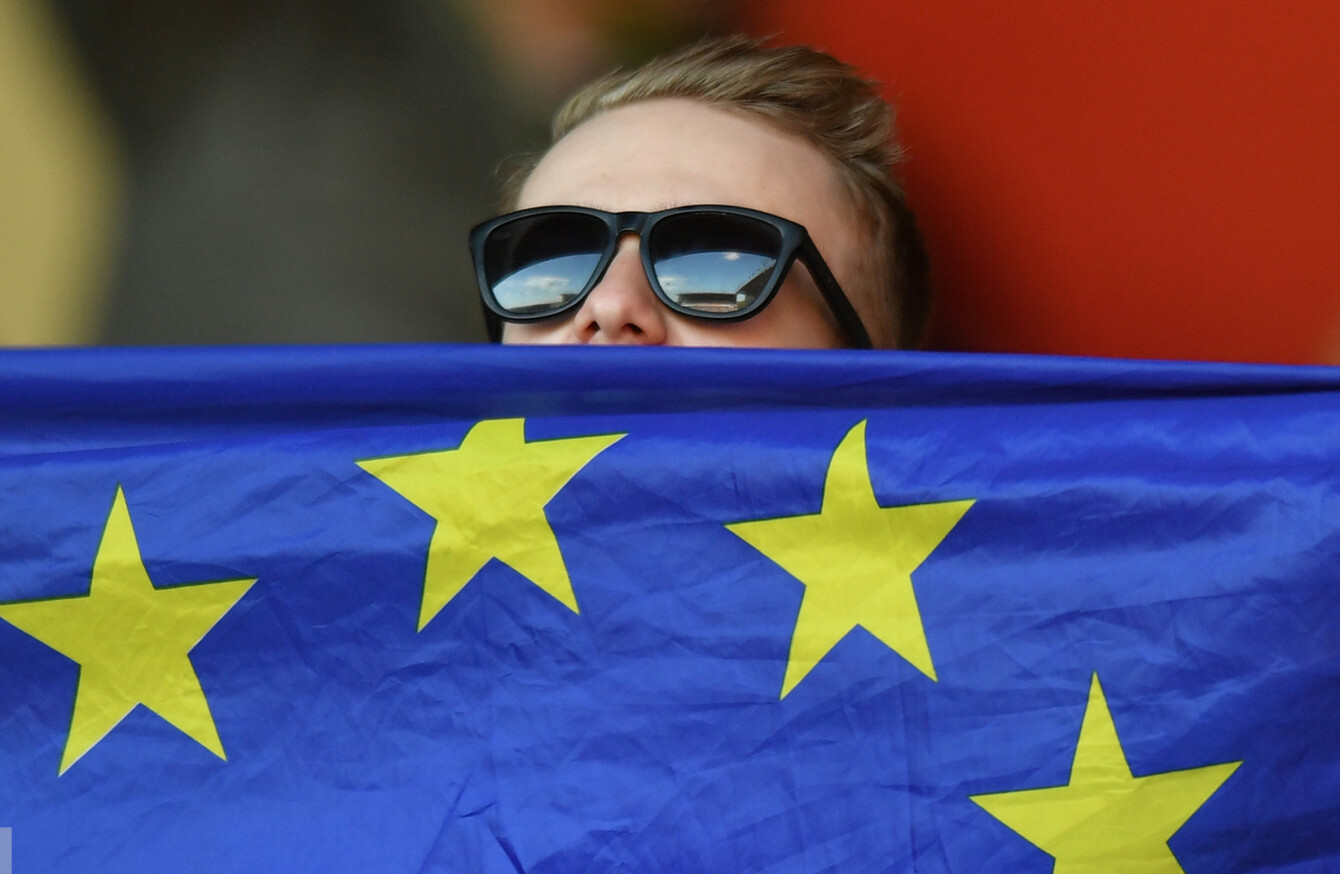 Young person shows support with European flag
Image: Anthony Devlin
Young person shows support with European flag
Image: Anthony Devlin
FREE YOUTH INTERRAIL travel tickets are being offered by DiscoverEU to 15,000 European 18-year-olds on a pilot scheme run by the European Commission.
The aim is to get young people interested in connecting with Europe.
Ireland South MP Deirdre Clune told TheJournal.ie the initiative offers a cultural experience and is "an ideal opportunity" for young people who are yet to make summer plans.
When can I apply for tickets?
Online applications will be open to any young person of European nationality between June 12-26.
The application process asks young people to provide personal information and their plans for the trip followed by five questions linked to the European Year of Cultural Heritage and EU youth initiatives.
Brian Hayes Fine Gael MEP said that these questions would be "minimalist" and advised young people to have an idea where they want to travel, apply early and get the application in on time.
Before a jury of the European Commission make their final decision and select the 140 winners in Ireland, there will be a tie-breaker question used to decide on successful applications.
Am I the right age? 
Applicants should be 18 years old on 1 July 2018, so they must have been born on any date between 2 July 1999 and 1 July 2000.
When do I get to travel?
Winners will be notified about their free travel tickets in early July.
Irish applicants must have their passport in date and be ready to travel for their desired dates as tickets are valid for a minimum of one day and maximum 30 days over a set period from 9 July to 30 September 2018.
Can I go with my friends? 
Ticketholders can travel in at least one or a maximum of four European countries, either individually or in a group of five people maximum.
In the case of a group, a leader should be appointed on the group's behalf and they then fill out the application form.
An EU travel agent will then work with the successful applicants to arrange necessary travel and assist costs. But spending money, accommodation or travel insurance will not be provided.
What if I have a disability? 
Young people with reduced mobility or visibility impairments will be entitled to receive additional support.
How will I be travelling? 
Although the travel pass will cover mostly rail travel, there will be alternatives offered such as buses or ferries. Those who have extra travel costs to reach the InterRail network will be accommodated with travel by plane to certain destinations being covered by the scheme.
This is particularly to ensure that young people living in remote areas have a chance to take part, as well as those from islands such as Ireland, Malta and Cyprus.
Anything else I need?
Speaking to TheJournal.ie, Brian Hayes urged youngsters interested to "plot their way around" and make sure their budget stretches in taking in all the potential costs.
Hayes also recommended going with a group of friends to get the most out of the experience. Route ideas and information can be found on the InterRail website.
Deirdre Clune MEP advised youngsters to take plenty of suncream and "see as much as you can" but particularly to "stick where the locals are".
Brian Hayes said that this is a great opportunity to meet others while interrailing, and the MEP added that
While DiscoverEU is a small project now, it has the potential to be as successful as other EU programmes like Erasmus."
What happens after my trip?
Winners are asked to report back on travel experiences via social media sites or by providing a presentation at their school or in the local community.
This feedback Deirdre Clune hopes will help the scheme improve going forward after this pilot stage.