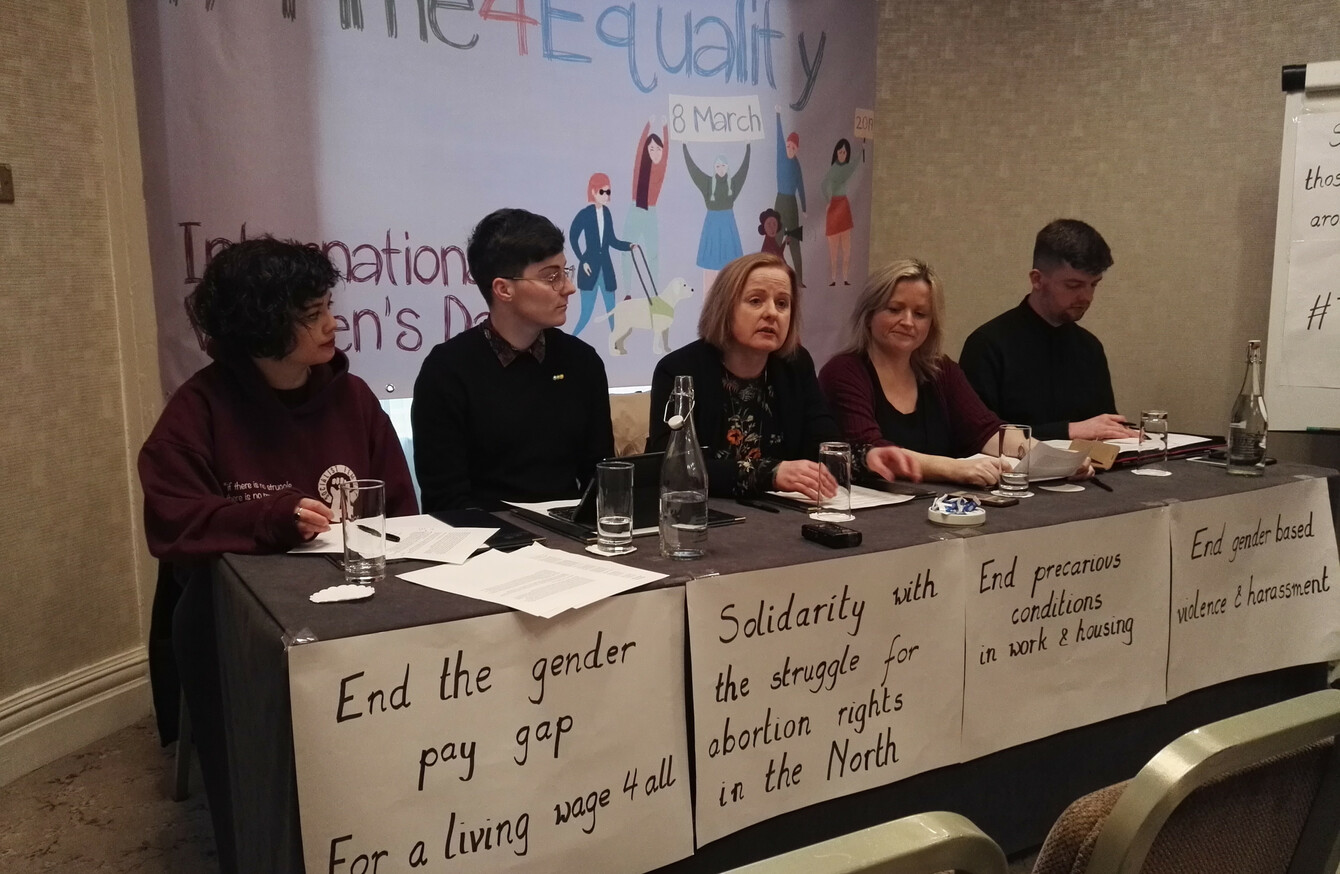 Image: Michelle Hennessy/TheJournal.ie
Image: Michelle Hennessy/TheJournal.ie
ACTIVISTS AND UNIONS have called for people in Ireland to take part in mass walkouts on International Women's Day this year.
A large protest is planned for 8 March on O'Connell Bridge in Dublin and people are being asked to leave their workplaces or colleges at 3pm to join, or if they are in other parts of the country to join local demonstrations.
Speaking today, Solidarity TD Ruth Coppinger said the demonstration will call for:
An end to gender-based violence and harassment;
Closure of the gender pay gap;
An end to precarious conditions in work and housing;
Solidarity with the struggle for abortion rights in the North.
"This year we saw the phenomenon of #ThisIsNotConsent and #IBelieveHer as protests said 'enough' to rape culture and victim blaming. We've also seen walkouts by Google workers worldwide against sexual harassment."
Coppinger referenced what she called her 'thong protest' in the Dáil last year, which she said she had done to highlight the rape myths that are being used in Irish courts. At the time she was reacting to one particular trial in which counsel for the defence mentioned the 17-year-old complainant was wearing a thong. 
Source: TheJournal.ie/YouTube
She said International Women's Day began as a day of struggle by female workers and now it is "returning to those roots".
"In recent years, a global revolt of women has emerged, demanding freedom from violence, exploitation and, in the case of Ireland, for abortion rights. On all those issues, it is movements on the ground that has forced change."
Coppinger was joined by Leona O'Callaghan, an abuse survivor who waived her right to anonymity last year when her abuser Patrick O'Dea was convicted.
He was already serving 15 years in prison for raping another girl when he was sentenced to 17 years for the crimes he committed against O'Callaghan. This sentence will run concurrently.
Bias, blame and unfairness was at the heard of my experience. Despite support and media coverage around the #MeToo movement and #ThisIsNotConsent protests last year, only a matter of months ago I stood in an Irish court where my abuser's defence were permitted to indicate that I as a child had given a sign of consent due to not physically fighting back during rapes on me.
"The judge was asked to take this as a mitigating factor. A child cannot consent. A thong cannot consent."
She said Irish people "remain participants in a victim-blaming Ireland" as she called for women and men to "stand together and demand equality and call for action and change" on 8 March.