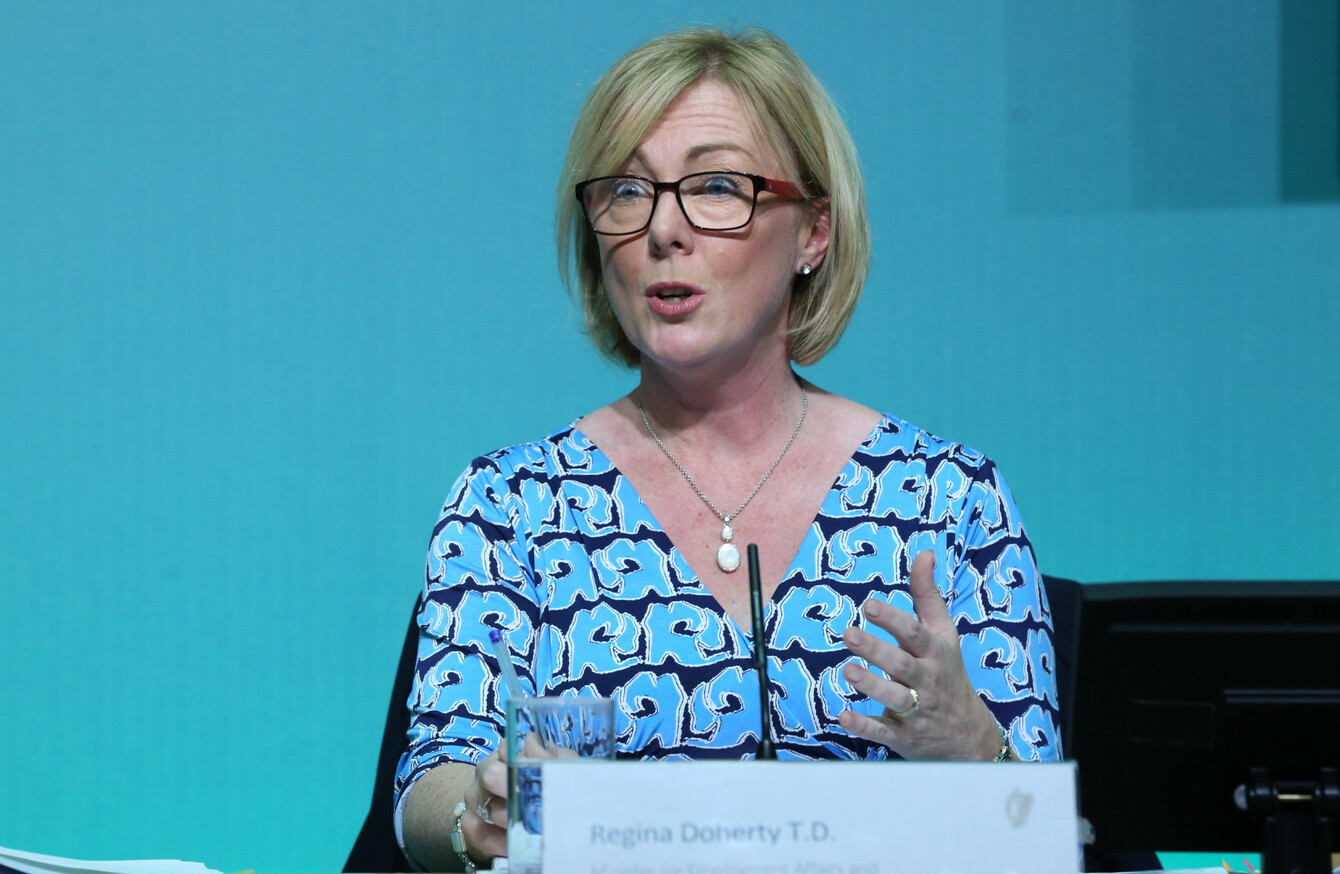 Social Protection Minister Regina Doherty.
Image: Sam Boal
Social Protection Minister Regina Doherty.
Image: Sam Boal
A NEW INTERNSHIP programme is to be launched next year, according to the Employment Affairs and Social Protection Minister Regina Doherty.
The Youth Employment Support Scheme will come online in the second quarter of 2018, and will target young people who face barriers to employment.
Previously, Taoiseach Leo Varadkar flagged that a new, more focused initiative would replace JobBridge, which was wound down last year.
JobBridge was set up in 2011 as an initiative to help the unemployed get work experience. The scheme had people on long-term jobseeker's benefit work as interns for a company in return for an extra €52 on top of their social welfare payment.
It came under heavy criticism in the years since it was launched, with various group and political parties calling for it to be discontinued.
Chief among concerns raised by people was the exploitation of workers by certain companies and that the top up payment was too small.
JobBridge concerns
When put to the minister by TheJournal.ie that people might hear alarm bells with the announcement of another internship programme, Doherty defended JobBridge.
"It would be remiss of me if I didn't say that JobBridge was one of the most successful programmes that we have run. While it had political issues, people got work from it and employers [found workers] who were really good and very skilled," she said.
Doherty said the new internship scheme is not particularly aimed at graduates – but all young people, regardless of education attainment levels.
"There are young people who have barriers to accessing employment and who want to be able to access employment," said the minister, adding that the new initiative is "another angle" to work with people who want to voluntarily break down the barrier.
"It will be an entirely voluntary scheme, no one is going to be made to go on it," she added.
Doherty added that the support scheme will be available outside of the JobPath programme (an employment activation initiative), which has come in for criticism recently.
The programme will offer "cooperation, interaction and support" for young people who want to work, said the minister.
The minister would not be drawn on whether those on social welfare will be given supplementary income for taking up a place on the internship programme, adding:
"I haven't finalised the details yet."
Hiring older workers
In addition, Doherty said employers will get a €10,000 subsidy to hire long-term unemployed workers who are over 50 years old.
The measure is an enhancement of the JobsPlus scheme (which encourages and rewards employers who offer employment opportunities to the long-term unemployed to support older workers).
This was flagged by Junior Minister Kevin 'Boxer' Moran ahead of the Budget on Tuesday.
"This section of the workforce has found it most difficult to find employment in recent times. Despite age discrimination laws, the reality is that people who are over a certain age are overlooked by employers, despite this cohort of workers being highly qualified and experienced in their respective roles," said Moran.
"A lot of people who were affected by the recession 10 years ago are finding it extremely
difficult to obtain work now that the economy has picked up again. I think it is only fair that an incentive is provided to employers to take on those who are over the age of 55 years," he added.