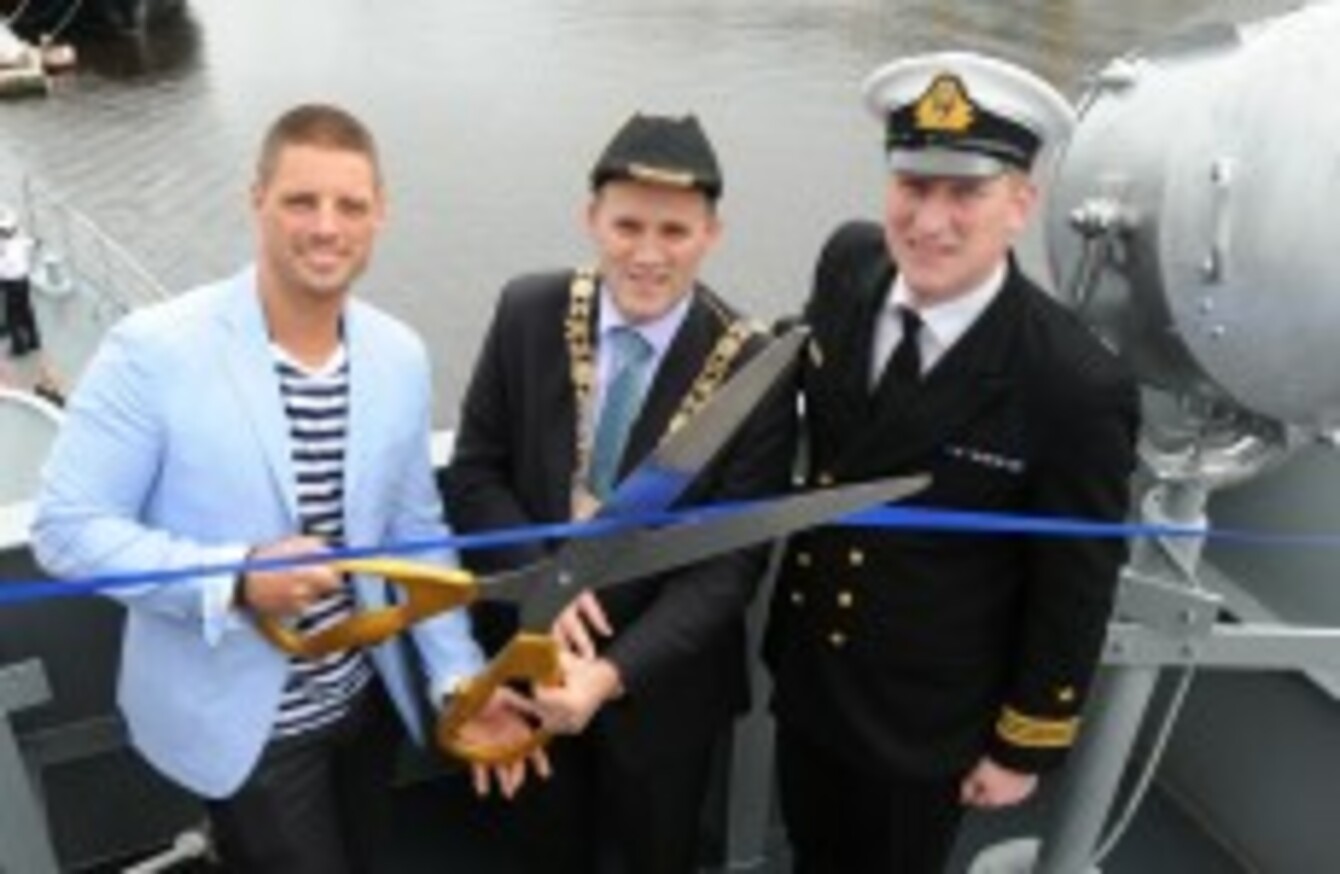 The Lord Mayor of Dublin, Naoise Ó Muirí (centre) at the Dublin Tall Ships: "I made a general nuisance of myself for the whole weekend with my admiral's hat."
Image: Sasko Lazarov/Photocall Ireland
The Lord Mayor of Dublin, Naoise Ó Muirí (centre) at the Dublin Tall Ships: "I made a general nuisance of myself for the whole weekend with my admiral's hat."
Image: Sasko Lazarov/Photocall Ireland
A THIRD OF the way through his 12-month tenure, The Lord Mayor of Dublin, Councillor Naoise Ó Muirí, believes that the demands on his time to date is proof that the position is as necessary as ever.
"For those that say that the lord mayor's role is defunct, you cannot square that circle with the demands on my time," he says.
While quick to acknowledge what an honour it is, it hasn't been a walk in the park. "It's an endurance test, there's no doubt about it."
The Mansion House on Dublin's Dawson Street does not feel like a home, but instead a series of meeting rooms.
That is, until you hear the low sound of running feet on the wooden floors – the mayor's two young children have the day off.
"I think it's good for the house that there are kids around the place," he says. "It doesn't happen that often. Typically the lord mayor is a little bit older."
Younger he may be, but he still has opinions in abundance. Opinions he was happy to share with TheJournal.ie.
On whether he believes he has to watch what he says and does
Having previously condemned the actions which followed the funeral of Alan Ryan, as well as sending the below tweet in response to the news of Tallaght Hospital securing an overdraft last month, The Lord Mayor doesn't see an issue.
I think I'm entitled to comment and I'm obliged to comment. I mean, I have the honour of being the Lord Mayor of Dublin and I don't see any issue. I may upset a few people along the way. I don't comment unnecessarily. The lord mayor is the first citizen of the city. They should be independent-minded and should have the interests of the city at heart, so I don't see any difficulty with that.
Remembering a recent event he attended, he mentions one such opinion. "I had to speak early on, and I just mentioned my professional disregard for the legal classes, on the basis that they actually don't make anything," he says. "They're not producers, they're not engineers. I don't see any useful output."
Despite being challenged about this since, Ó Muirí remains unrepentant. "The first on the list for settlement are the lawyers, and we have to look at that."
I think that's part of my role. I challenge the legal classes to prove their output and to prove their worth in the context of what they do. You would be amazed at what a senior counsel earns these days, and for what? And so I think they need to make the case. Legal costs seem to be a factor in everything in Ireland. The costs of lawyers. And they are the one group that always seems to get paid, no matter what the dispute.
On the current one-year term
I am starting to see that it's quite a short timeframe. You are helter skelter trying to achieve and deliver in 12 months. I have travelled abroad quite a bit representing the city in the last number of months. Every mayor I meet says 'how can you do anything in a year?'. That's their view on things. I hadn't really thought of that when I got elected.
On whether a directly elected mayor would be better for Dublin

More than it simply being a good thing for the capital, The Lord Mayor thinks it's a necessity, believing that "Dublin will get left behind as a region unless they decide to do it."
While he thinks that the Dublin of 20 years ago competed with other counties within Ireland, the Dublin of 2012 competes on an international level. "That's why I see internationalisation as a huge part of the Lord Mayor's role," he says.
Dublin's place on the international stage needs to be viewed realistically, however:
I think we're competing with Copenhagen, Amsterdam … we're not really competing with London, Paris … those major capitals. We're competing with mid-tier capital cities around the world. That's where we have to go. I think part of that has to be a directly elected mayor, but to do it properly, finance has to be devolved locally, so you have to be able to set taxes and charges locally, and the role of the city manager has to reform.
A directly elected mayor has to have executive powers. So there's a change needed in the role of the city manager and I think the entire Dublin region should come under a directly elected mayor, as opposed to the four different local authorities in the city. That's the only way it will work. Anything other than that, I think, is not sufficient.
People are typically happy to pay [taxes] if they see their money going to good use. That's the key. It'll be a challenge for the local political system to start taking hard financial decisions and we haven't always been great in that regard, but it has to be done. There's no doubt about it.
On what he thinks about the current state of Ireland's IT industry
As the managing director of an IT company who's "out of the technology game for the year," Ó Muirí has more of an interest in this area than most, and his views on the health of the IT industry are positive, for the most part.
While IT organisations in the private sector continue to grow and innovate, work needs to be done elsewhere.
"You take dublincity.ie, the Dublin City Council website," he says. "The general view is that it's a poor website. So that's a challenge now that I would be throwing down to the city council. If you're really serious about a digital Dublin, you have to look at that website. It has to be the very best."
The fact that companies in the IT sector continue to relocate here shouldn't be viewed as mission accomplished, according to Ó Muirí. "I think Ireland has a good [IT] reputation. The only thing is, we probably had that reputation 10 years ago and I don't think we've done enough to maintain it and to move on."
We like to think of ourselves as a digital city. There are practical things we have to do to be that digital city. We can't just say we're a digital city and think we'll get away with it. We have to be a truly digital city. Like urban wifi; the city is rolling out urban wifi. From my perspective, it isn't enough that the city makes it available. I think the city should start using it, and by the city, I mean the city council.
As a country, are we becoming too reliant on our IT industry
"There's a global skills shortage in technology so I think there's always going to be work in that regard," he says. "My issue for Ireland is the 25-35 year old male, who worked in construction and now has no opportunity".
This, for Ó Muirí, is the big issue. "You need to decide what you're going to do with that person," he says. "What are you going to offer that person?"
What sector, what area are are you going to promote, so that person, low to medium-skilled, can get a job in Ireland. That's the challenge to crack. The high-end IT guy's will always be able to look after themselves. They will always be skilled enough, mobile enough, and adaptable enough to get work. It's the other sector that needs the work.
#Open journalism No news is bad news Support The Journal

Your contributions will help us continue to deliver the stories that are important to you

Support us now
On the recent merging of the Digital Hub into Dublin City Council and whether government can stifle creativity
Admitting that local authority administrations are "traditionally bureaucratic," The Lord Mayor wants to see this change.
"It's a real challenge to actually move on," he says. "I'm very interested in getting the city involved with the digital hub. I think it can bring its own skills to bear on the city, just as much as the city can help the digital hub."
Someone recently said to me that city administrations are where good technology goes to die. It was a brutally frank assessment of technology and the public service. City managers are very open to technology and I think they want to move on, but we just need to keep pushing it.
When the recent issues regarding KildareStreet.com come up, Ó Muirí is quick to acknowledge that the view that government are not interested in improving democracy through technology exists.
It is very easy for projects to be stopped, to be killed off and to not be delivered. I'm open, and in fairness to the city council, the combination of urban wifi and open data offers a very powerful tool-set if made available to people to push on with.
On how Europe needs to change
Referring to the perceived power base that exists at the centre of Europe, The Lord Mayor believes that this has left Irish people feeling "a little bit detached and disenfranchised."
For this to change, Ó Muirí wants devolution to start with some of its institutions.
"I don't see any reason why the new Euro banking regulator should be based in Germany, and it has gone unchallenged, thus far," he says. Admitting that he has a vested interest in the thousands of jobs that would come with such a move, Ó Muirí thinks that Dublin should be the location for another reason.
We know all about bad regulations. We have paid the price, bitterly, for regulatory failures. We know about debt. We are seen as the good boys of Europe. We have essentially signed up to a programme and delivered on our part of it so, from my perspective, there's an element of 'it's payback time'.
They're talking about maybe putting it in Belgium or Luxembourg. For me, that's all part of the centre. If we're serious about devolution of power, move that institution to somewhere else. As it stands at the moment, the perception is that there is a small power-block that is calling the shots.
On that phrase
When challenged about the derision with which a lot of Irish people view the phrase "the good boys of Europe," The Lord Mayor thinks we need to be realistic about where we are and what we can, and can't, do.
"In reality, we are at the behest of major international creditors, whether we like it or not," he says "We have had to borrow major amounts of money to keep afloat. Our negotiating hand is relatively constrained, shall we say."
Recalling a recent holiday taken by his parents, Ó Muirí shares an anecdote to illustrate what he believes to be Ireland's reality in Europe.
My folks went on holiday to Italy some time ago. Whether we like it or not, we're not at the centre of Europe. They were looking at the amount of comment in the Italian papers. They were looking for comment about the Irish situation, and there was little or none.
So actually, I think that government and Enda Kenny have done a great job in terms of keeping us up on the agenda in Europe in the first place, because many of the European states would see us as a smaller nation on the periphery, and their job is to keep us centre-stage. We are in a programme.
I don't like that, but that's where we are.