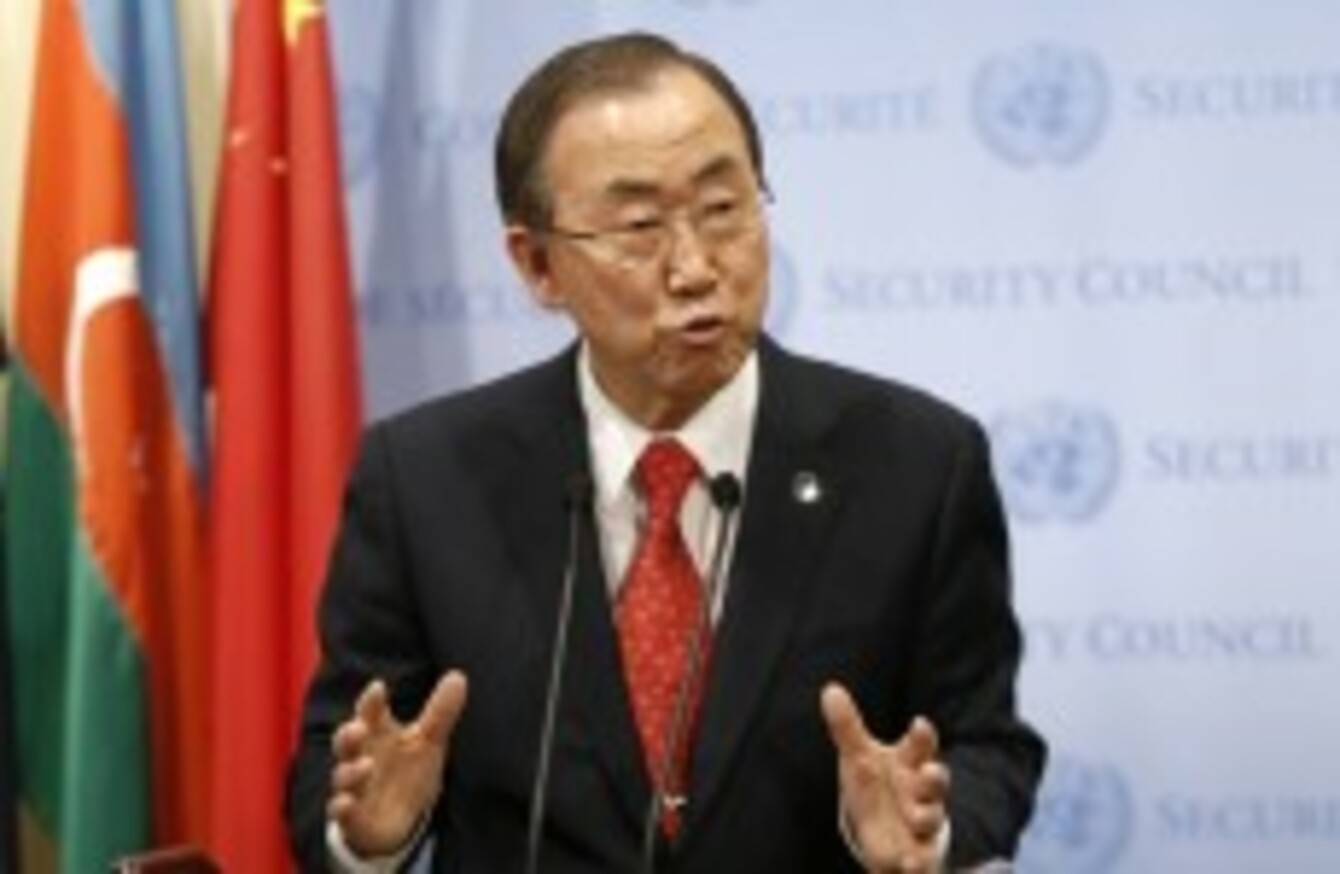 United Nations Secretary General Ban Ki-moon
Image: Kathy Willens/AP/Press Association Images
United Nations Secretary General Ban Ki-moon
Image: Kathy Willens/AP/Press Association Images
THE BRITISH AND French governments have warned that Iran must clarify that it supports the formation of a transitional government in Syria if it is to attend this week's peace talks in Geneva.
It's after the main Syrian opposition warned that it would not attend the UN-hosted talks if Iran comes to the gathering. Ahmad Ramadan, a senior member of the Syrian National Coalition, said the opposition was "suspending" its participation because Iran has forces in Syria and is "invading" the country
"Iran must now clarify that they accept the basis of the secretary-general's invitation. This makes it clear that the only basis for anyone to attend Geneva II is to implement in full the June 2012 Geneva communique, calling for mutually-agreed political transition," a British Foreign Office spokesman said.
Foreign Secretary William Hague, arriving in Brussels for talks with other EU foreign ministers, said it would be "very helpful" for Iran — the Syrian regime's closest ally — to publicly back a transitional government.
"The world will want to hear that from Iran," Hague said.
He warned that the peace talks "could be a long process, but it is important that it starts and it is important that the spotlight be put on the regime".
France's foreign minister Laurent Fabius said in a statement that participation in the talks was conditional upon accepting "the establishment of a transitional government in Syria with full executive powers".
Invitation
UN Secretary General Ban Ki-moon extended the invitation to Iran after the country vowed to play a "positive and constructive role" in efforts to end Syria's worsening three-year civil war.
Iran is a key backer of Syrian President Bashar al-Assad.
Washington has also warned Tehran to back calls for a transitional government in Syria, or lose its invitation to the talks.
If Iran does go, there will be 40 countries and a group of regional bodies at the opening meeting, which will be the most intensive diplomatic effort yet to end a war that the UN says has left well over 100,000 dead.
This article includes reporting from AFP and AP.