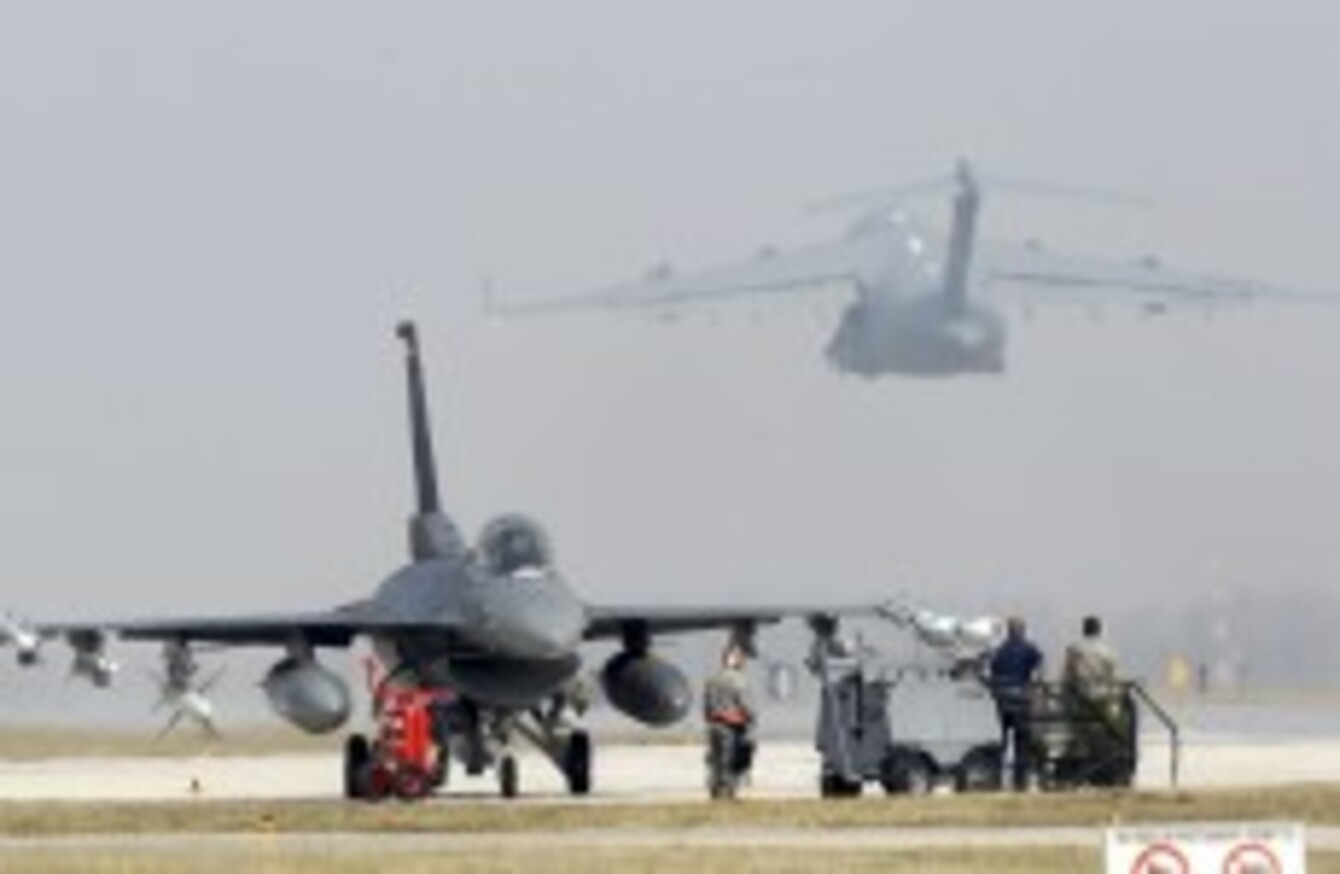 File photo of US Air Force planes.
Image: AP Photo/Luca Bruno
File photo of US Air Force planes.
Image: AP Photo/Luca Bruno
IRAQ HAS ASKED United States to carry out air strikes on Sunni jihadists, who attacked the country's main oil refinery and seized more territory in the north.
The appeal came as fighters from the Islamic State of Iraq and the Levant (ISIL) were pressing a week-long offensive that has brought them close to the capital, and as Prime Minister Nuri al-Maliki pledging to face down "terrorism."
"Iraq has officially asked Washington to help under the security agreement (between the two countries), and to conduct air strikes against terrorist groups," Zebari told reporters in Saudi Arabia.
However, Zebari said "a military approach will not be enough. We acknowledge the need for drastic political solutions."
The United States spent millions of dollars over several years training and arming a new Iraqi army after disbanding the Sunni-led force created by the late dictator Saddam Hussein.
Washington has already deployed an aircraft carrier to the Gulf and sent marines to bolster security at its embassy in Baghdad, but President Barack Obama has insisted a return to combat in Iraq for US soldiers is not on the cards.
However, Secretary of State John Kerry has said drone strikes could be used.
Maliki vowed on television that "we will face terrorism and bring down the conspiracy," adding that "we will teach (militants) a lesson and strike them."
He also said the country's security forces, which wilted in the face of a major militant offensive that overran all of one province and chunks of three more in a matter of days last week, had suffered a "setback" but had not been defeated.
Maliki security spokesman Lieutenant General Qassem Atta later said security forces would retake by Thursday morning full control of Tal Afar, a Shiite town in the north that lies along a strategic corridor to Syria.
That would provide a base from which to launch operations to recapture Mosul.
With regional tensions rising, Iranian President Hassan Rouhani said the Islamic republic "will do everything" to protect Shiite shrines in Iraqi cities against the militant assault.
And Saudi Arabia warned of the risks of a civil war in Iraq with unpredictable consequences for the region, while the United Arab Emirates recalled its envoy to Baghdad, voicing concern over "exclusionary and sectarian policies."
The crisis, which has displaced hundreds of thousands of Iraqis, threatens to break the country apart, while the assault on Baiji oil refinery Wednesday further spooked international oil markets.
Brent crude for August delivery added three cents to $113.48 per barrel just after midday in London.
US benchmark West Texas Intermediate for July delivery picked up 34 cents to $106.73 a barrel.
As much as 33 tonnes as emergency supplies for children affected by recent violence in Iraq arrived in Erbil this morning.
The supplies will be distributed by UNICEF to cover 35,000 children.
- © AFP, 2014. Additional reporting by Nicky Ryan.