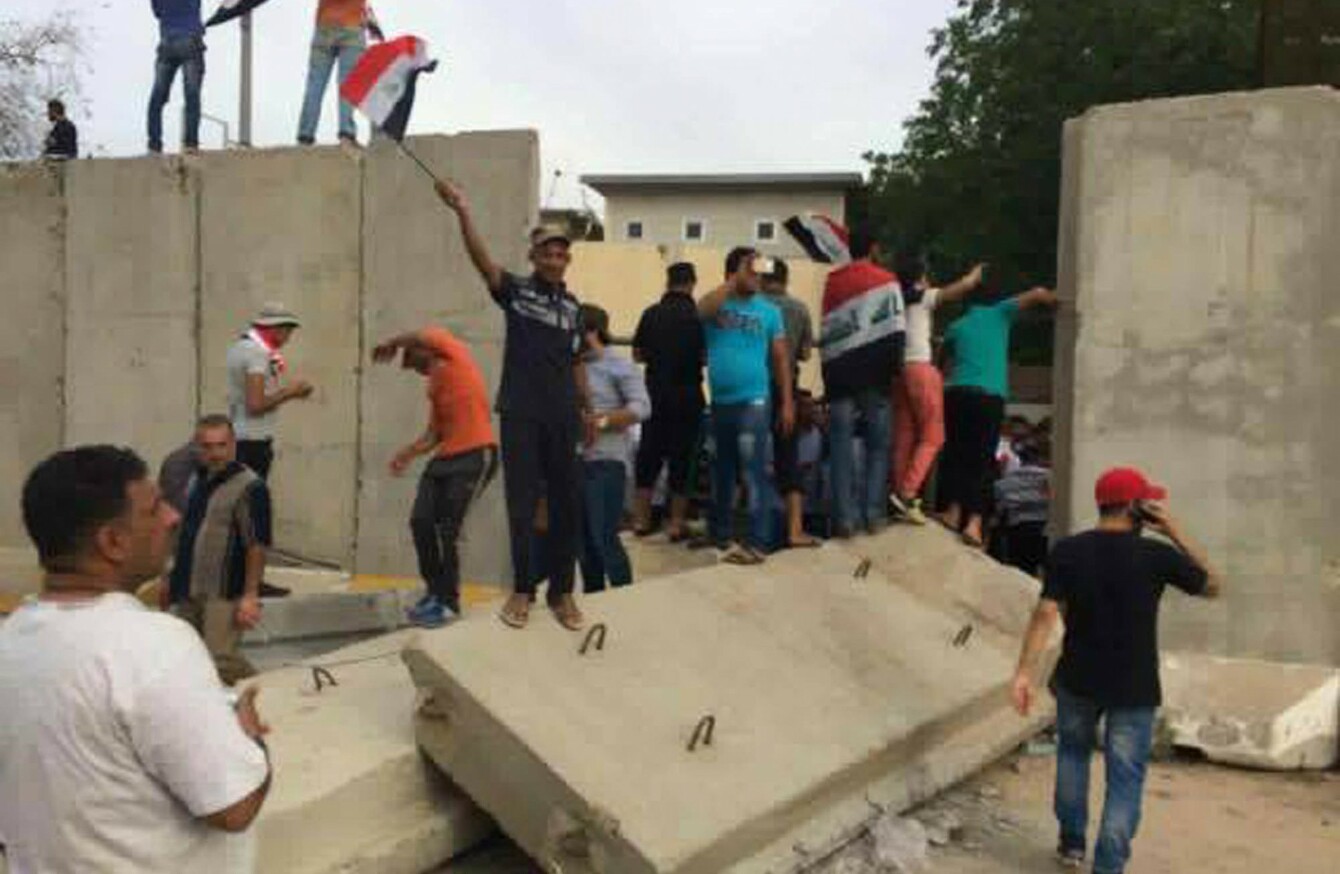 The protesters stormed the compound yesterday.
Image: AP/Press Association Images
The protesters stormed the compound yesterday.
Image: AP/Press Association Images
THOUSANDS OF PROTESTERS are inside Baghdad's Green Zone after breaking into the fortified area and storming parliament, as Iraq's premier called for rioters to be pursued and punished.
Demonstrators pulled down or scaled slabs of heavy concrete blast wall to enter the fortified area where Iraq's main government institutions are located, the culmination of weeks of political turmoil and inaction by parliament.
Source: wochit News/YouTube
While there is still the potential for escalation, the situation was calm today, with protesters touring the area and taking photos of places they have rarely if ever been able to access.
"This is the first time I've been here since I came with my school under Saddam (Hussein)," said 32-year-old Yusef al-Assadi, who took a selfie in front of the unknown soldier's monument.
It's one of the most beautiful places to be in Baghdad. It should be for everyone, yet the people were not allowed here.
Assadi said it was striking "how rich this place is. Here, there is air conditioning and electricity everywhere, but the people of Iraq suffer from power cuts all the time."
Many Iraqi politicians live in luxury, while most average citizens make do with abysmal services that include only a few hours of government-provided electricity per day at the height of summer.
Prime Minister Haider al-Abadi's office said he had ordered the pursuit of people involved in attacks or vandalism, but security forces were not taking action against protesters inside the Green Zone on Sunday.
"(Abadi) directed the interior minister to pursue the elements who attacked the security forces and citizens and members of parliament and vandalised state properties and to refer them to the judiciary to receive their just punishment," a statement said.
'System is not working'
Protesters attacked at least one MP as well as cars they believed belonged to lawmakers on Saturday, and broke into offices in parliament.
But others sought to contain the destruction, and many were content to take photographs of themselves in parliament, with some sitting in seats usually occupied by lawmakers.
The fact that security forces may fear the repercussions of crossing powerful Shiite cleric Moqtada al-Sadr will likely hamper Abadi's directive.
Many of the demonstrators were supporters of Sadr, and members of his Saraya al-Salam militia group deployed around parliament on Saturday night.
A car bomb just outside Baghdad on has yesterday killed at least 23 people, according to security and medical sources.
That attack targeted Shiite faithful walking to the northern Baghdad shrine of Imam Musa Kadhim, the seventh of 12 imams revered in Shiite Islam.
The Islamic State jihadist group, which considers Shiites heretics, almost systematically attempts to target pilgrims marching to holy sites during Iraq's many religious commemorations.
#Open journalism No news is bad news Support The Journal

Your contributions will help us continue to deliver the stories that are important to you

Support us now
Bomb blasts
While it remained relatively calm inside the Green Zone, two bomb blasts in the southern Iraqi city of Samawa Sunday killed at least 33 people and wounded more than 50.
"The hospitals have received 33 dead," a senior official in the Muthanna health department, which covers Samawa, told AFP.
At least 50 people were also wounded in the blasts in Samawa, 230 km south of Baghdad.
"Two car bombs went off in town. The first one was at around midday near a bus station in the city centre," a senior police officer in Muthanna province said.
"The other exploded about five minutes later, 400 metres from the spot of the first explosion," he said.