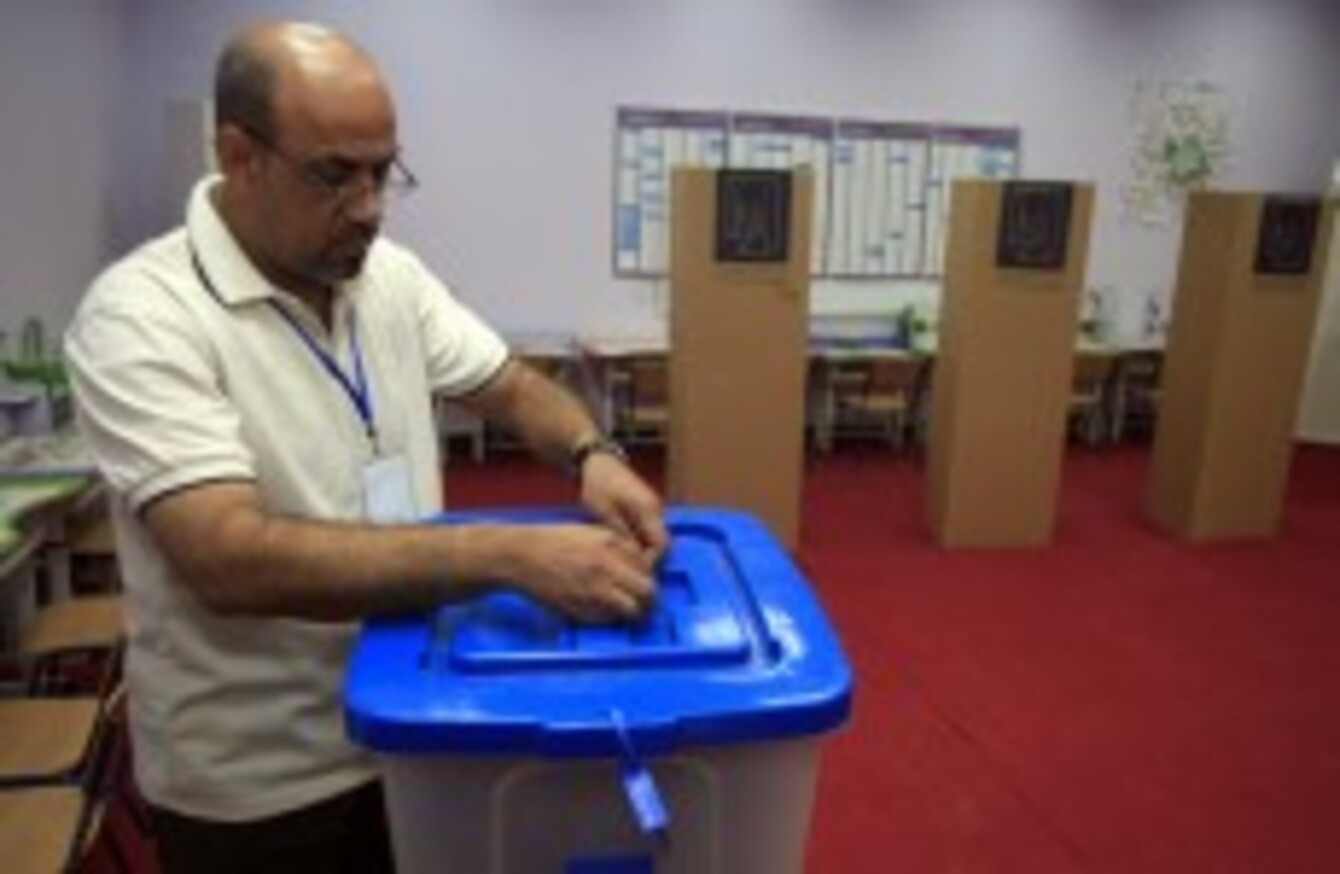 Voting in provincial elections last year.
Image: AP/Press Association Images
Voting in provincial elections last year.
Image: AP/Press Association Images
TWO MORTARS LANDED near voting centres west of Baghdad this morning as Iraqis went to the polls in the country's first general election since US troops withdrew, an official said.
The mortars did not cause any casualties, according to Shaker al-Essawi, a senior municipal official in the area just west of Baghdad where the attacks took place.
Voting begins
Voters braved the threat of attacks to stream to polling centres today in Iraq's elections. Premier Nuri al-Maliki proclaimed"certain" victory as he cast his ballot.
Long queues formed from early morning at tightly-guarded election centres despite a spate of attacks in recent days on polling booths and campaign gatherings.
Iraqis have a long list of grievances, ranging from poor public services to rampant corruption and high unemployment, but the month-long campaign has centred on Maliki's bid for a third term and a dramatic deterioration in security.
Maliki encouraged voters to turn out in large numbers, and voiced confidence that he would return to power after casting his ballot at a VIP voting centre set up in the Rasheed Hotel in Baghdad's heavily-fortified Green Zone.
"Today is a big success, and even better than the last elections, even though there is no foreign soldier on Iraqi soil," the premier said.
He called for a move away from national unity governments to ones of political majority, and confidently told journalists:
Our victory is certain, but we are waiting to see the size of our victory.
US forces
The run-up to the election, the first since US forces departed in December 2011, has seen Baghdad and other major cities swamped in posters and bunting.
Parties have staged rallies and candidates have angrily debated on television, though appeals to voters have largely been made on sectarian, ethnic or tribal grounds rather than the issues.
A surge of violence in the run-up to the polls, including militant attacks in the past two days which killed 90 people, had spurred fears that much of the electorate could stay home rather than risk being targeted.
But many Iraqis said they were determined to vote, voicing disdain for the current crop of elected officials.
'Change towards the better'
More than 750 people have been killed this month, with unrest at its worst since Iraq emerged from a brutal sectarian conflict that left tens of thousands dead in 2006 and 2007.
Militants have controlled the town of Fallujah west of Baghdad — the site of major battles during the insurgency against US-led forces — since the beginning of the year.
Parts of restive Anbar province, where Fallujah is located, will not be voting.
Maliki's critics have accused him of consolidating power and marginalising minority Sunnis, and say public services have not sufficiently improved during his eight-year rule.
The 63-year-old, who hails from Iraq's Shiite majority, contends the violence is fuelled by the civil war in neighbouring Syria and has accused Saudi Arabia and Qatar of backing insurgents.
He has also complained that his national unity government is made up of groups who snipe at him publicly and block his legislative efforts in parliament.
Oil production
One bright spot during his time in power has been a significant expansion of oil production. Iraq exported as much as 2.8 million barrels of oil per day earlier this year, though voters complain that much of the windfall is lost to graft.
Maliki's State of Law alliance is tipped to win the most seats in parliament but fall short of a majority. It will face stiff competition in the premier's traditional Shiite heartland of central and southern Iraq from a bloc loyal to powerful cleric Moqtada al-Sadr and another party seen as close to Iran.
Sunni and Kurdish areas in the north and west are expected to see parties with strong communal or ethnic appeal do well, but no major party has made a concerted effort to win votes nationwide.
Voting, which began at 7am (4am GMT) is to continue to 6pm (3pm GMT), as upwards of 9,000 candidates compete for 328 parliamentary seats.