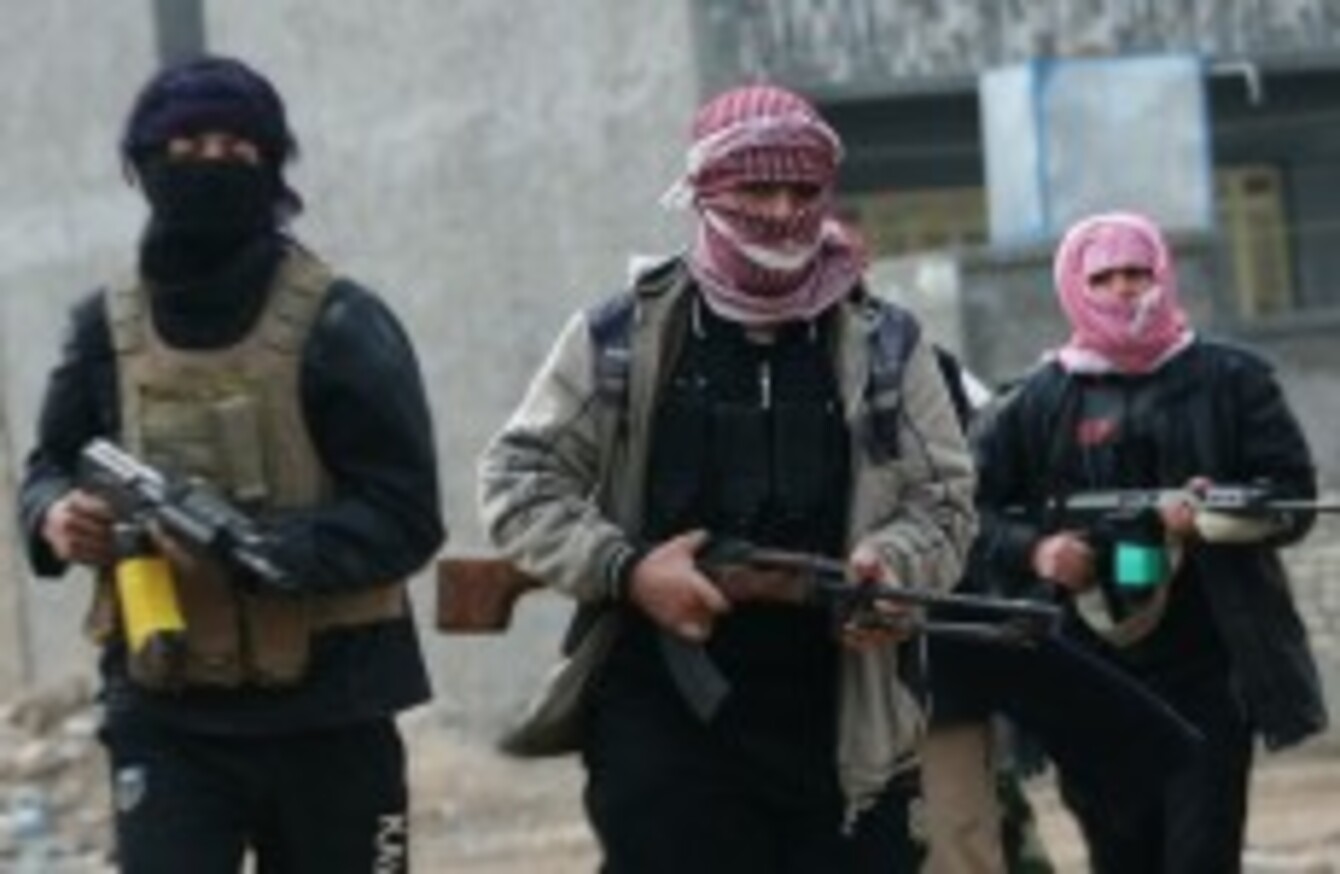 Gunmen patrol during clashes with Iraqi security forces in Fallujah, 40 miles (65 kilometers) west of the Iraqi capital of Baghdad.
Image: Uncredited/AP/Press Association Images
Gunmen patrol during clashes with Iraqi security forces in Fallujah, 40 miles (65 kilometers) west of the Iraqi capital of Baghdad.
Image: Uncredited/AP/Press Association Images
IRAQI PRIME MINISTER Nuri al-Maliki has called for residents of Fallujah to expel "terrorists" holding the city to avoid an assault by security forces.
Iraq is preparing a "major attack" to retake Fallujah, which has been outside government control for days, while parts of the Anbar provincial capital Ramadi are also held by Al-Qaeda-linked fighters.
It is the first time militants have exercised such open control in major cities since the height of the insurgency that followed the US-led invasion of 2003.
Maliki called on "the people of Fallujah and its tribes to expel the terrorists" so "their areas are not subjected to the danger of armed clashes," state television reported.
Maliki also ordered security forces "not to strike residential areas in Fallujah", it said.
Meanwhile, continuous fighting between security forces and militants took place in north, northeast and south Ramadi from early Monday, a police major said, while a captain reported clashes east of Fallujah.
A senior official told AFP on Sunday that "Iraqi forces are preparing for a major attack in Fallujah".
And ground forces commander Staff General Ali Ghaidan Majeed said the city should "wait for what is coming", a reference to the impending assault.
US Secretary of State John Kerry said Sunday that Washington would provide assistance to Iraqi forces in their battle against the militants, but that it was "their fight" and Washington had no plans to send ground troops.
Iran's deputy chief of staff General Mohammad Hejazi also offered "equipment and advice" to Iraq.
Fighting in Anbar has reportedly killed more than 200 people in just three days, making it the deadliest violence to hit the province in years.
Gunmen overlook a b urned army truck on top of a hill during clashes with Iraqi security forces on the outskirts of Fallujah. (Image Credit: Uncredited/AP/Press Association Images)
Both Ramadi and Fallujah were insurgent strongholds in the years after 2003, and Fallujah was the target of two major assaults in which US forces saw some of their heaviest fighting since the Vietnam War.
American troops eventually wrested back control of Anbar from militants, with the support of Sunni Arab tribesmen of the Sahwa militia, who joined forces with the US from late 2006.
American forces suffered almost one-third of their Iraq dead in Anbar, according to independent website icasualties.org.
But two years after US forces withdrew, the power of militants in Anbar is increasing.
Basra riot police unit convoy returns to its headquarters following clashes between Iraqi army and al-Qaeda fighters in Anbar province, in Basra, Iraq's second-largest city (Image Credit: Nabil al-Jurani/AP/Press Association Images)
Fighting erupted in the Ramadi area on December 30, when security forces cleared a year-old protest camp where Sunni Arabs had been demonstrating against what they see as the marginalisation and targeting of their minority community by the Shiite-led government.
The violence then spread to Fallujah, and the subsequent withdrawal of security forces from parts of both cities cleared the way for Al-Qaeda-linked militants to seize control.
Violence in Iraq last year reached a level not seen since 2008, when the country was just emerging from a brutal period of sectarian killings.
More than 250 people have been killed in the first five days of this month, exceeding the toll for the whole of January last year.