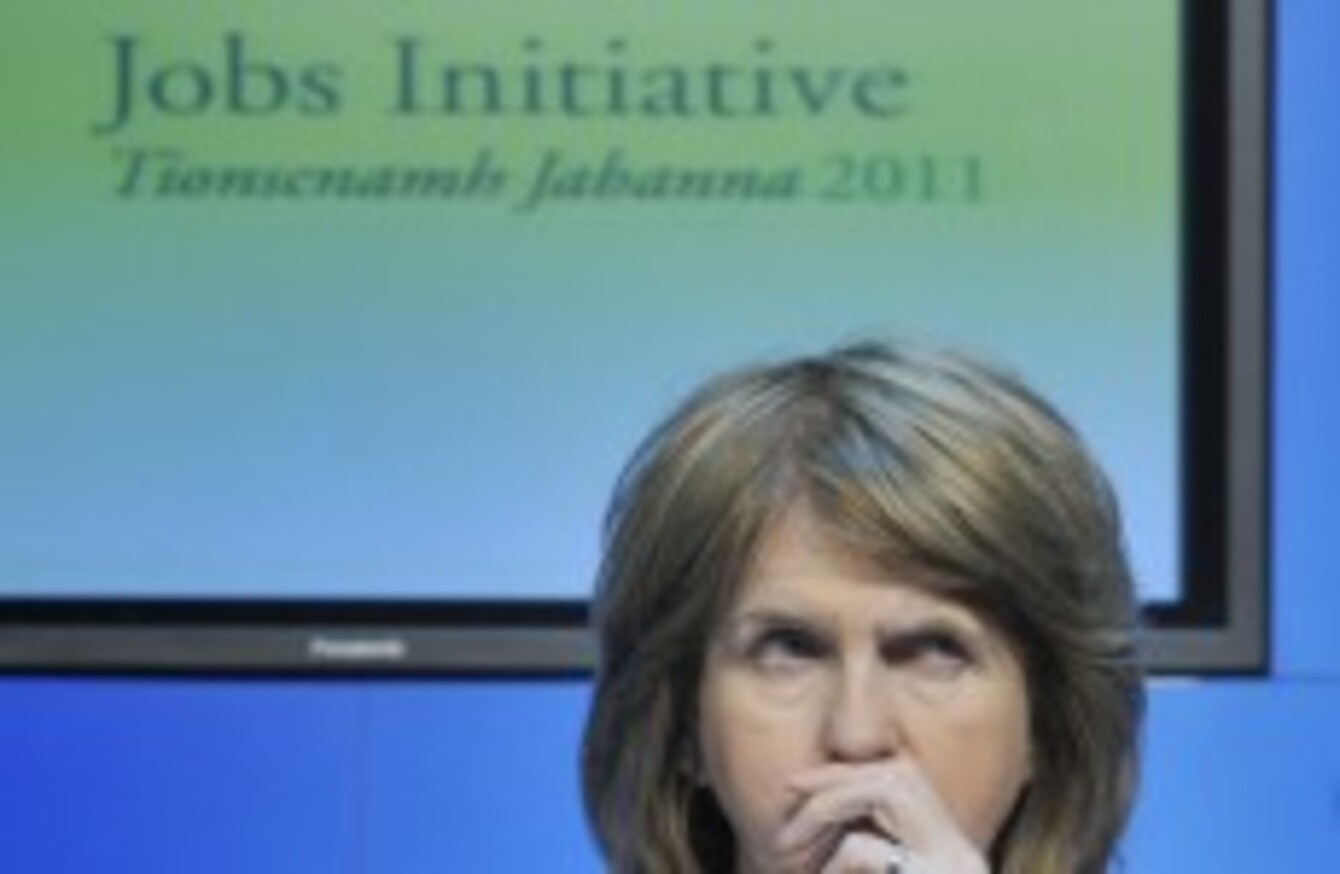 Image: Photocall Ireland archive
Image: Photocall Ireland archive
HOW WILL WE remember the post-boom years in time to come?
Donal Conaty of TheMire.net has been chronicling the fall of Celtic Tiger Ireland through daily spoof news posts since 2009.
Extracts have been gathered into a new book, Ireland In The Bailout Years: Tall Tales from Ireland in The Mire, available to buy here for Kindle or in paperback.
Each weekday until Friday, TheJournal.ie brings you a taste of the book's savage satire, year by post-boom year.
Today: 2011
Minister did not realise his secretary was also his wife
Friday, 01 April
A Government Minister accused of employing his wife as his secretary has said it was "an honest mistake" as they had been married so  long they had forgotten they were married at all.
Asked to justify employing his wife the Minister was clearly taken aback.
"She's my wife? Are you sure?" he said.
When The Mire pointed to their obvious disdain for each other as proof that they were in fact  married the Minister accepted the irrefutable evidence.
"It's an honest mistake," he said. "You're not going to tell her are you? There's no point in upsetting her."

Psychologist urges EU-IMF not to neglect Ireland's emotional needs
Thursday, 07 April
A psychologist has urged the EU and IMF not to neglect Ireland's emotional needs now that Portugal has applied for a bailout.
Ireland has become sulky and withdrawn since Portugal acknowledged it needed a bailout last night.
"This is not unusual," a psychologist said. "Ireland feels spurned now that the EU-IMF have turned their attention to Portugal."
"A small affectionate gesture would help Ireland to feel better," he added. "Perhaps the EU-IMF could buy Ireland flowers or take it out to dinner."
Jobs Initiative to use storytelling to keep memory of employment alive
Wednesday, 04 May
The Government's Jobs Initiative is expected to use oral storytelling techniques to keep the memory of employment alive.
"People with jobs will travel the country holding roadside gatherings," a Jobs Initiative source said.
The gatherings will be told what it is like to work in the hope that some record of it will still exist when employment returns," the source added.
The source insisted that the initiative would be cost neutral. "There is no question of anyone getting pay or a job out of this," he said.
Phone hacking reveals Bono phones God to talk about Bono

Thursday, 14 July
Phone hackers at The Mire have revealed that Bono regularly phones God to talk to Him about Bono.
"Bono goes on quite a bit, God can't get a word in," a phone hacker said.
"He talks to God about himself and about creation and how much better it would be if Bono had created it," he added.
A psychologist believes the conversations with Bono are not good for God.
"It is very significant that God phones Dr Phil to talk about self-esteem issues as soon as his call with Bono ends," the psychologist said.
Government relations with Vatican hit 'worrying' stumbling block
Tuesday, 26 July
Sources in the Vatican have revealed differences between the Holy See and the Irish Government as to how to handle issues raised in the Cloyne report.
Following the recall of the papal nuncio to Ireland, Archbishop Giuseppe Leanza, The Mire discovered that the church was uneasy with discussing the Cloyne report with politicians.
"The issue of child sex abuse is very sensitive," a source revealed.
"As a rule we prefer to discuss it in private with children."
Prisoners refuse early release in current economic climate
Tuesday, 09 Aug 2011
Justice Minister Alan Shatter's plan to introduce an early release scheme to relieve prison overcrowding has been thwarted after prisoners refused to leave in the current economic climate.
The early release scheme for those serving long sentences would create space in prisons for newly convicted criminals.
"To hell with them," a prisoner said. "We're not leaving until there's money circulating in the economy."
"We have a right to go to prison," a newly convicted criminal said. "And if necessary we will go to court to defend that right."

Fresh crisis could force HSE to outsource phoning in sick
Friday, 30 September
A fresh crisis is looming in the HSE as thousands of staff are getting sick of phoning in sick.
"It's a huge problem. There's a hiring freeze so we can't take anyone else on to phone in sick for them," a HSE official said.
Unions and management are meeting today in an attempt to resolve the issue.
"Management has to accept that phoning in sick will have to be outsourced. There is no other solution," a union source said.
Donal Conaty is a former Irish Times London correspondent and author of the IMF bailout comedy, The Eighty-Five Billion Euro Man. He has been blogging on his satirical site TheMire.net since 2009.