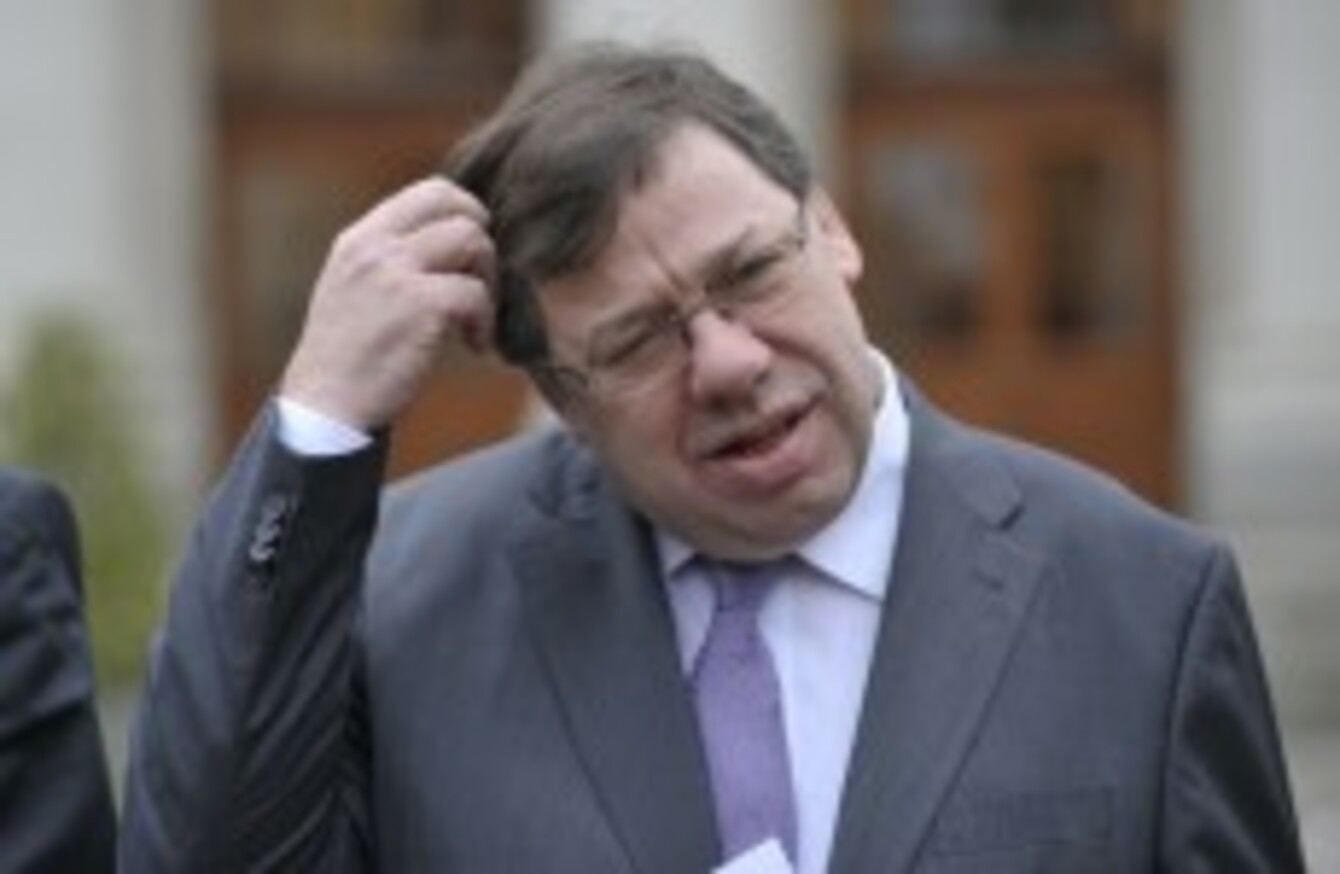 Brian Cowen: what was I to do today?
Image: Photocall Ireland archive
Brian Cowen: what was I to do today?
Image: Photocall Ireland archive
HOW WILL WE remember the post-boom years in time to come?
Donal Conaty of TheMire.nethas been chronicling the fall of Celtic Tiger Ireland through daily spoof news posts since 2009.
Extracts have been gathered into a new book, Ireland In The Bailout Years: Tall Tales from Ireland in The Mire, available to buy here for Kindle or in paperback.
Each weekday until Friday, TheJournal.ie brings you a taste of the book's savage satire, year by post-boom year.
This week: 2010
Loan sharks stress importance of staying in touch
Thursday, 21 January
Many of the country's leading loan sharks have stressed that debtors should always advise their loan sharks of a change in their circumstances.
"When people are in financial difficulty they sometimes bury their heads in the sand. This could be fatal," one loan shark said.
"If you lose your job and are having difficulty in making payments tell your loan shark."
Loan sharks are under increasing pressure as clients who fear losing their homes are paying their mortgages  before paying loan sharks.
People booking flights just to be seen naked on body scanners
Friday, 29 January
Airports with full body scanners on trial have found that many people are booking flights for the sole purpose of being seen naked by somebody other than themselves.
"We're getting people who don't normally fly," a source said. "Slightly strange people who don't get out much. We have no problem getting them to use the scanner but security sometimes have to remove them from it," he added.
Full body scanners can reveal concealed weapons but they also show you naked and are human operated. Management at airports are noticing an increase in sick leave since the scanners were introduced.
"I thought this would be a dream job. I didn't think it through. The horror, the horror,"  a scanner operative on long-term sick leave said.
Lee documentary to reveal TD's life more desolate than The Road
Tuesday, 09 February
A documentary on George Lee's harrowing experience as a Fine Gael TD will be screened tonight.
The programme will show the pain, suffering and loneliness endured by Lee during his selfimposed exile from RTÉ.
"It is very bleak, very depressing," a source said. "It is like The Road only more desolate."
Lee, who represented Dublin South, is understood to have felt ineffectual in the Dáil.
"Tell me about it," Enda Kenny is believed to have said.
The documentary on Lee follows similar programmes on Charlie Bird's devastating experiences as Washington Correspondent.
It is believed that a documentary on the loneliness of correspondents working on outside broadcast units is also in development.
People driving five miles less per week disappear without a trace
Tuesday, 13 April
An attempt to cut CO2 emissions by getting people to drive five miles less per week has been shelved after most participants in a pilot study failed to arrive at work.
The campaign was intended to encourage people to eliminate unnecessary car journeys but has led to the mysterious disappearance of 100 people.
"People driving five miles less per week are completely unreliable," a source said. "Of 100 trialists all either failed to turn up to work or never came home."
"The environment is all well and good but there is no way the economy can afford this," he added.
Gardaí and Nigerian authorities investigate cruel email scam
Wednesday, 19 May
Garda sources have confirmed that they are assisting Nigerian authorities in investigating a cruel email scam which targets unsuspecting citizens in Lagos.
"This is a cruel and sophisticated trick," a Garda source said. "Vulnerable people in Nigeria are receiving emails telling them they have won a house in Drumshanbo."
#Open journalism No news is bad news Support The Journal

Your contributions will help us continue to deliver the stories that are important to you

Support us now
"Initially, they are delighted. They make plans to move here but their hopes are dashed when they find out the house is on a ghost estate," he added.
The Garda source said it was not yet clear whether a crime had been committed. "It is not as if the house doesn't exist," he said. "It's just worthless."
Dire warning on economy dismissed as rational and lucid
Monday, 24 May
The Department of Finance has dismissed as rational and lucid a warning from a leading economist that bailing out the banks will  leave the State insolvent.
The economist warned that the open-ended guarantee of banks' liabilities and the Nama bailout will  leave the country in a worse situation than Greece by 2012.
However, a Finance department spokesman has reassured the public that there is nothing to worry about.
"This warning is based on rational and lucid analysis. It is a considered and thoughtful perspective.
Clearly that that is not how we do things around here," the spokesman said.
A humiliation once again as Cowen doesn't resign in resignation speech
Tuesday, 23 Nov 2010
The country was humiliated on the international stage last night when Taoiseach Brian Cowen forgot to resign during his resignation speech.
People gathered around their widescreen TV screens at 7pm yesterday for the much heralded resignation speech only to hear Mr Cowen talk about the economy and the IMF EC bailout.
"It must have slipped his mind," an aide explained.
Amnesty International sources noted that Mr Cowen was surrounded by members of the Cabinet and speculated that he may now be imprisoned in the role of Taoiseach.
"The Taoiseach should immediately be released from his role on humanitarian grounds," an Amnesty source said.
Donal Conaty is a former Irish Times London correspondent and author of the IMF bailout comedy, The Eighty-Five Billion Euro Man. He has been blogging on his satirical site TheMire.net since 2009.