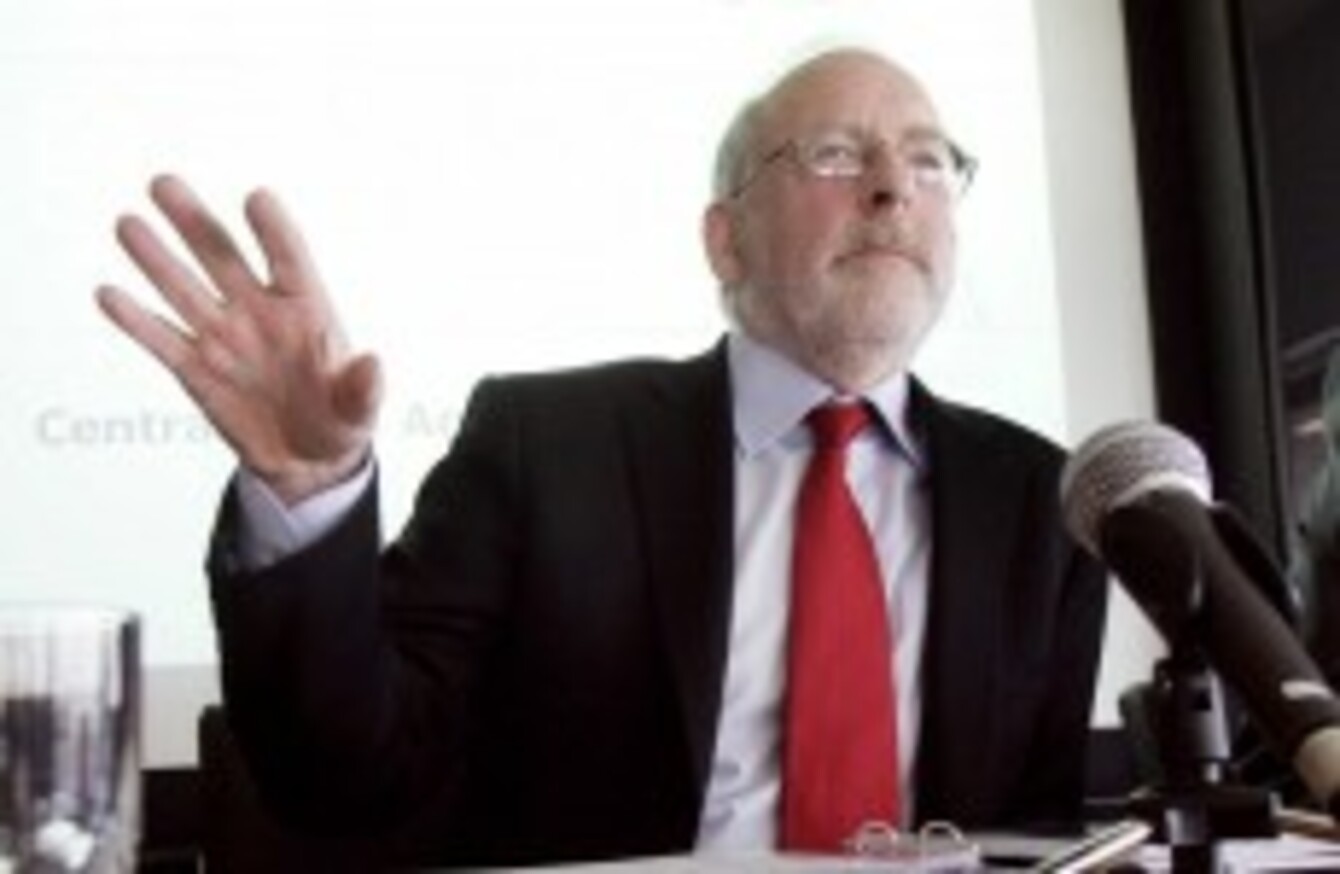 Central Bank governor Patrick Honohan
Image: Mark Stedman/Photocall Ireland
Central Bank governor Patrick Honohan
Image: Mark Stedman/Photocall Ireland
THE GOVERNOR OF the Central Bank, Patrick Honohan, has said that it is not essential that a deal be reached on reducing the burden of Ireland's bank debt by the end of October.
He was responding to reports in recent days that a deal to reduce the €64 billion of banking debt on the government's balance sheet was unlikely to be reached by the end of this month as the government had hoped would be the case.
Honohan said that it was not a case of whether or not something would be done but what will be done with the government currently in negotiations with European officials on the debt.
"In my view it's not a question of whether something will be done. It is a question of what will be done and that's how I would present it," he told RTÉ's This Week programme.
He later added: "It's not in my mind absolute essential to have everything wrapped up by a particular deadline."
The Irish government wants to take advantage of the decision to allow Spain's banks to be bailed out directly from the eurozone bailout find and for this to be retrospectively be applied to a portion Ireland's €64 billion bank guarantee.
This would theoretically reduce the amount of debt the government holds and improve its prospects for a return to normal lending markets when the bailout finishes. One possibility is that the length of time that the government has to pay back to money is extended.
However, a report from Bloomberg yesterday said that any deal was unlikely to be reached by the end of next month as EU Economic Affairs Commissioner Olli Rehn and the Irish government had hoped.
Honohan said that he was confident that the government would "get a lot" from negotiations with EU officials and insisted that something would be done about the bank debt.
'No impact on Budget'
He told RTÉ Radio: "This is a decision of the summit to have a look again at the Irish financial sector and see what can be done to improve the effectiveness… so something will be done. We would like, on the Irish side, a lot to be done and very effectively.
"This is a negotiation and the government are leading that negotiation and there is a range of possible outcomes. I am hopeful that we will reach the top end of these possibilities."
He added: "We always knew that these negotiations would be difficult because the Irish government will push for a lot and will, I am sure, get a lot.
#Open journalism No news is bad news Support The Journal

Your contributions will help us continue to deliver the stories that are important to you

Support us now
On the same programme, Transport Minister Leo Varadkar said that it was Rehn and not the Irish government that set the end of October deadline on reaching a deal but acknowledged that it was going to be difficult to achieve.
He said: "It is the deadline or the target I suppose of October is still something we're working towards but it is important to say that the origin of the date came from Olli Rehn, it wasn't a target or a deadline that we set ourselves.
"It is going to be difficult to achieve. That's not because of any weakness on our part, our officials are out there negotiating. Michael Noonan will be touring the capitals of Europe next week for example, meeting other finance ministers.
"But if you go back to June 29 where all this started, at that summit it appeared that Spain was getting a better deal than we got and as a result of that it was agreed that anything that Spain gets Ireland should get the same treatment.
He said that negotiations on bailing out Spanish banks were progressing slower than anticipated but played down the importance of any deadline on getting a deal for Ireland.
"Getting a deal on the debt will not impact on the budget," he said referring to the €3.5 billion in adjustments that need to be made this December in this current government's second Budget.