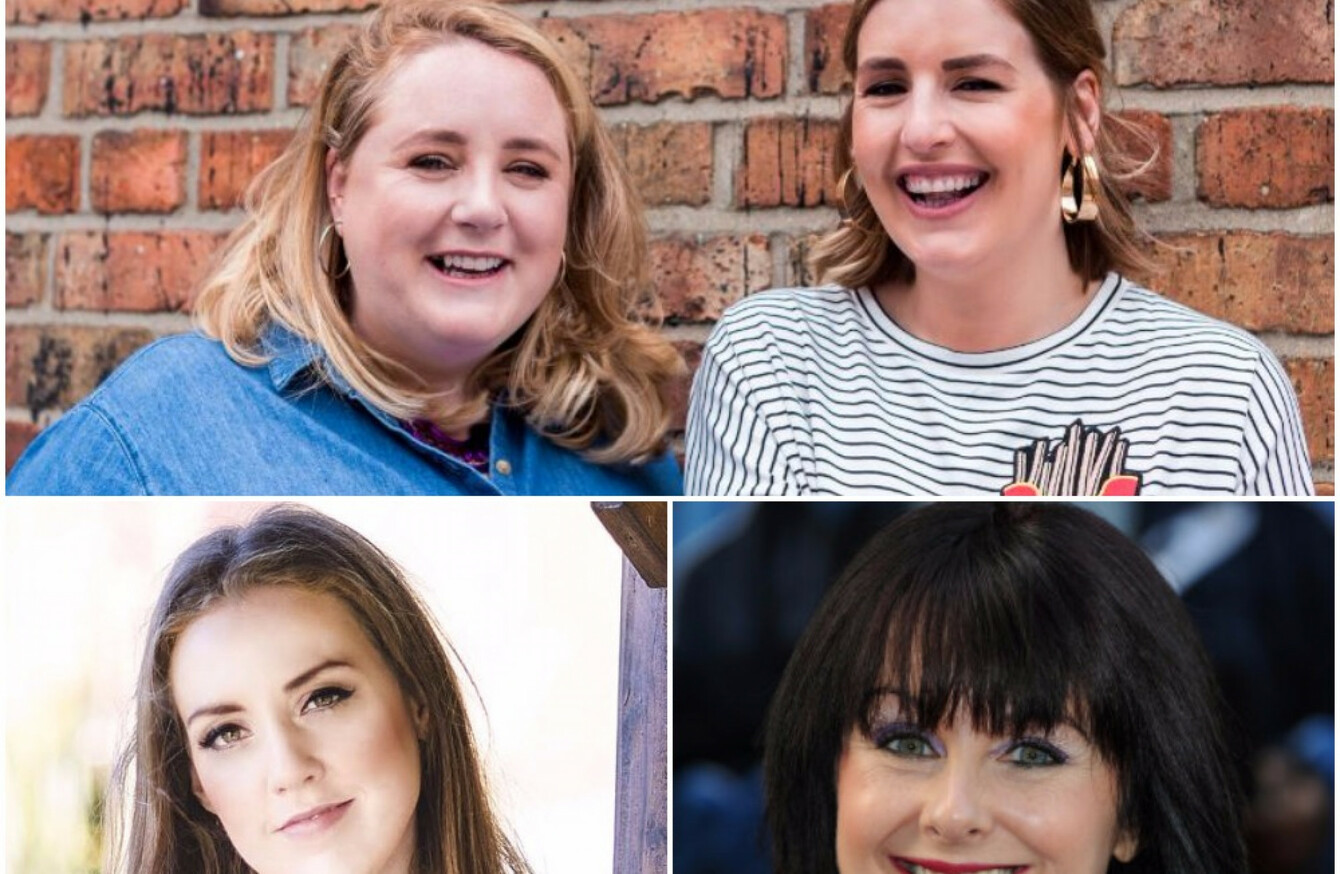 (Top) Emer McLysaght and Sarah Breen; (Left) Louise O'Neill; (Right) Marian Keyes
Image: (Top) Nathalie Marquez Courtney; (left) Anna Groniecka; (right) PA Images
(Top) Emer McLysaght and Sarah Breen; (Left) Louise O'Neill; (Right) Marian Keyes
Image: (Top) Nathalie Marquez Courtney; (left) Anna Groniecka; (right) PA Images
EATING DISORDERS. ABORTION. Mental health difficulties. Marital problems. All issues that affect different people throughout Ireland, and all themes touched on in some of the most popular commercial fiction books in the country right now.
Authors in the commercial fiction realm – as distinct to the literary realm though, as we will see, it's not as though they don't cover such issues – are currently exploring tough and oftentimes dark topics, and readers are lapping it up.
Maria Dickenson, managing director of Dubray Books, says that she has watched as commercial (or what's sometimes known as 'women's' fiction) has started to act as a cultural barometer for Ireland, pushing boundaries while exploring the issues of the day.
"I think there are two areas, both in Irish crime and contemporary commercial fiction if you want to call it that, that really tackle contemporary issues or are a good barometer of what's happening in society," she says.
These writers tend to write more quickly just due to the nature of the industry. They tend to produce a book a year, so simply from that perspective they tend to be writing of the moment.
Marian Keyes' The Break, and Emer McLysaght and Sarah Breen's Oh My God What A Complete Aisling are just two top-selling books that she points to as an example of writers tackling 2017 issues.
Oh My God, What A Complete Aisling features topics such as parental health issues, and touches on the Repeal the 8th movement.
Meanwhile, in her latest book, The Break, Marian Keyes explores what happens when a long-married couple take a 'break' from marriage. One of the subplots involves abortion.
"Marian has always been fantastic about tackling important issues," says Dickenson. Her book Rachel's Holiday, for example, took inspiration from Keyes' time in rehab for alcohol use, while she has also touched on how she dealt with depression.
"The Break might be a little bit different because the abortion theme is a broader political issue rather than personal," says Dickenson.
"They are very human stories, not aggressively done," says Dickenson of both the above books.
They are books that people might dismiss at face value as being light entertainment, but they tackle meaty subjects.
From boom to bust
Dickenson also mentions Paul Howard's hugely popular Ross O'Carroll Kelly series, saying that "Ross really reflected boom to bust and back again".
"It's entertainment, it is humorous writing, but there are very serious messages behind it," she says.
In an interview with TheJournal.ie, Howard talked about how his writing reflects what's going on the world – to the extent that he scrapped an entire book because it was written before Donald Trump's election, and so didn't truly reflect people's thoughts – and fears – in 2017.
"I felt after finishing the book that it was the first time in a long time where I didn't feel I'd reflected the world as it was at that time. I thought I'd missed something," he said.
"I felt I couldn't put out a book which didn't reflect a Trump era… I just felt that I couldn't do it unless I mentioned this new world we're living in, this scary new world."
Vaccination
Another book that tackles a broad theme that can also be very personal is Melissa Hill's book Keep You Safe. Set in Ireland, it's about two young girls who are unvaccinated – one due to an allergy and one due to a mother who's anti-vaccination.
It is published as the issue of the HPV vaccine for young girls has led to fierce debate in some quarters of Ireland – and the HSE calling for a greater uptake of the jab.
In an interview with NPR, Hill agreed when asked if the story of Keep You Safe – where the two young girls contract measles – is "a mother's worst fear".
She says that on one side she wanted to "defuse some of the hostility surrounding the vaccination debate but show that a decision not to vaccinate, you know, provokes real consequences and comes with responsibilities outside of the personal."
In recent years, writers like Tana French have explored the recession in Ireland – her book Broken Harbour is about a murder on a ghost estate. "It was really quite early on in the crash that she captured emptiness and the fear that came along with that and the isolation – it's absolutely brilliant," says Dickenson.
Because of commercial fiction's commercial sensibilities, books tend to be published faster than, say, literary fiction. But that doesn't mean that literary fiction isn't tackling similar topics.
"Art and literature do make sense of what's happening in the world but as a general rule the literary fiction takes a bit longer to filter through," says Dickenson. "It's more of a reflective process. Commercial fiction is quick to respond and is very energetic. And it has a broader reach so there are more people engaging with these issues through that means."
Many of the top-selling writers of commercial fiction are female, and Dickenson says it has long frustrated her how women's commercial fiction in particular is treated. "Women's fiction writers are very intelligent women and they are among our greatest cultural exports."
"But as a general rule they are dismissed as fluff," she says, despite the fact that there are so many substantial writers publishing commercial books.
But she adds that "attitudes are changing, certainly". It's a long way away from the days of 'chick lit'.
"I think to everyone's credit that has now finally been pushed out," says Dickenson of that contentious term.
'She's a composite of people we know'
The new book from Karen Perry, Can You Keep A Secret?, also looks at issues affecting people in contemporary Ireland.
Karen Perry is not one person – it's two people, authors Karen Gileece and Paul Perry, and their remit is crime. This latest book is set in Ireland and its protagonist is a woman in her early forties, the same age group as the authors.
"I think that it would be fair to say that she's a composite of a lot of people that we know," says Gileece of their protagonist.
So she would be of the same generation as Paul and I, and I think there's a lot of pressure on women of that age to be married and have babies and have the career and have the house and all of that, and it's just not possible, it's very challenging for a lot of women.
The character deals with a major health issue. "So we wanted to write a character who's dealing with all those challenges, and she has this health crisis because the age we're at unfortunately a lot of friends are going through different health issues," adds Gileece.
"So we wanted to give her all those challenges and to go to this house with all this baggage, especially in a reunion situation."
The reunion of friends is one of the key plot points in the book, and functions as a way to explore how all of their lives have turned out. Initially, the book was going to be from a male perspective, but it was changed to female, as they thought "it would be interesting to look at the world through purely female eyes".
Young adult
Ireland's own Louise O'Neill is one of the young adult (YA) writers – described as a "groundbreaking writer", by Dickenson – who has made her name with focusing on topical issues. While her debut was a work of dystopian fiction, her second book, Asking For It, looked at sexual assault in a small town, and the follow up is about obsessive love and domestic abuse.
The YA arena has been particularly important in tackling topical issues head-on. "It would be quite progressive in terms of gender politics, sexuality, diversity, there are a lot of very positive movements in that area which is interesting," says Dickenson. "I think it adds to the cultural discourse."
Author Claire Hennessy has written YA novels that feature themes like eating disorders and abortion. But she cautions that it can't just be about the theme – the book has to have a good story at its heart.
"I think for me you do have to make sure it's about story first and foremost," she says.
"So that if you do have an issue you want to tackle you have to be conscious – sometimes I think you need to hold back and say, do I have a story that goes with that?"
Her latest book Like Other Girls features a young woman who has an abortion.
She says that bringing an issue into fiction isn't about hammering one point home. "If you want to write a manifesto then you should be writing a manifesto," she says.
"Fiction does have to be more nuanced than that. And that can be tricky because obviously for many writers including myself there are these issues that we do feel really strongly about – but you don't want to be preaching and telling people: this is how you should feel about this issue'."
At the same time, Hennessy says that "it's important not to feel you are on the radio – that you have to provide balance to the issue".
But Hennessy knows that writing about topics like this "comes with risks". "Particularly with this era with Twitter… because there can be a tendency to remove things from context and not appreciate nuance," she says – such as using quotes from books to represent the beliefs of authors themselves.
"You can't treat a line in a novel as you would treat a line in a piece of straightforward journalism or an opinion piece."
There's also the fear about a possible backlash for tackling serious issues in books, but Hennessy says if writers cared too much about this fear "you would not write a single word".
"No matter what you write and no matter how much you research something or how sympathetically you portray something, there are still going to be people who aren't happy with it," she says.
As for the suggestion that commercial fiction isn't political, Hennessy says it is:
All fiction is political, whether it's challenging the status quo or upholding it, it is political. Because commercial fiction focuses so much on women and their interior lives, it is an incredibly political thing to do.
"One of the powerful things can be where we see issues turning up in fiction where they are not the entire purpose of the book," says Hennessy, singing out Oh My God, What A Complete Aisling in particular.
"Sometimes you do feel this is a topical issue, I'd love to see how it's handled. But sometimes it can be really useful to remind people that no one's life is a one-issue story – there's always a variety of things going on," concludes Hennessy.