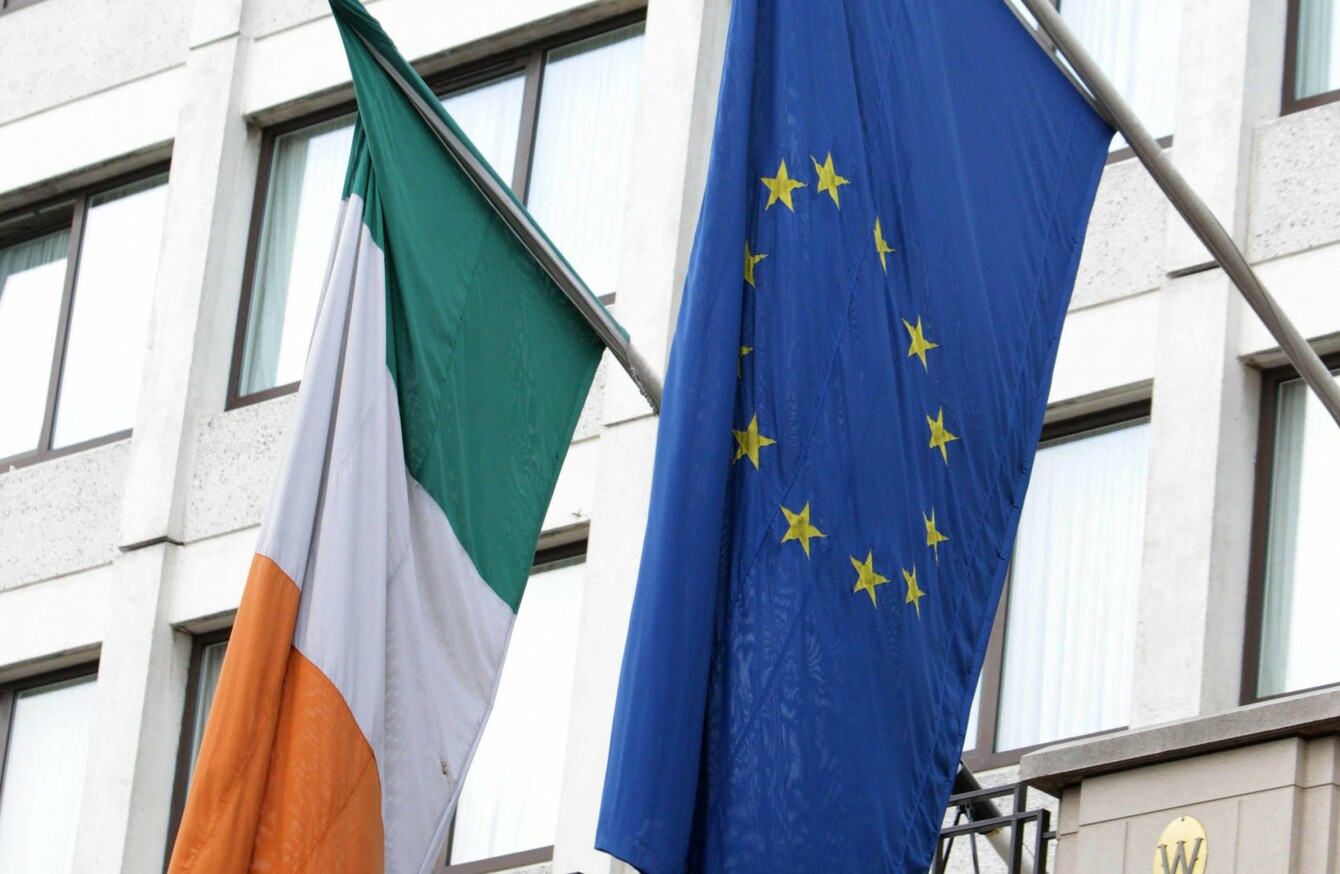 Image: Niall Carson PA Wire/PA Images
Image: Niall Carson PA Wire/PA Images
IRELAND'S INTERESTS ARE "directly in contradiction" from the stance that EU negotiators have adopted for Brexit talks, and the country should consider leaving the EU, a UK think tank has said.
The paper from Policy Exchange says that, "although uncertain", the future direction of the EU is "unlikely to be to Ireland's taste or in its interests".
Written by former Irish ambassador Ray Bassett, he says that while Ireland has firmly signalled their choice of being "Team EU", there is a strong case for the country leaving the EU in the wake of Brexit.
Background
Last year, in the wake of the Brexit, Taoiseach Enda Kenny signalled that Ireland would not follow suit.
This report argues that this was a mistake. It says:
It essentially advertised that Ireland had no bottom or red lines in the discussions and that the EU would do Ireland's negotiations for it, as simply one part of a united 27 remaining countries.
It points to the close economic ties between Ireland and the UK, and the political situation in the North as indicative of Ireland's need to stand apart from its EU counterparts.
"There is simply no mechanism in the EU customs regime at present," it said, "that can cope with an Irish/British trading relationship post-Brexit without massively damaging economic relations between the two countries."
Industries like agri food, fisheries and energy are particularly vulnerable in Ireland in any Brexit scenario, the report warns.
In the circumstances, Ireland must give serious considerations to other options, including Irexit.
Diplomatic missions
While a recent ESRI report warned that a "hard Brexit" could affect Ireland's budget to the tune of €500 million over three years, the issue of Ireland's particular case is certainly high on the priority list in the Brexit negotiations.
Speaking at a joint press conference following the first day of negotiations, the UK's chief negotiator David Davis and his EU counterpart Michel Barnier both said that a great deal of time had been taken up discussing Ireland.
Davis said that "everyone understands the political sensitivities" and that there was a determination on both sides to maintain no physical border between the two countries.
Barnier said that Ireland was "one of the most sensitive issues before us". He said that the issue was brought home to him during a recent meeting with then-Taoiseach Enda Kenny.
Speaking to RTÉ's Six One News, Minister Coveney said that Ireland would not sign off on a Brexit deal unless the Good Friday Agreement is protected.
He said: "That makes it very complicated, but it's something that I will insist on being the case."
Yesterday, Agriculture Minister Michael Creed said a move from the UK to withdraw from a key fisheries agreement was "unhelpful and unwelcome".