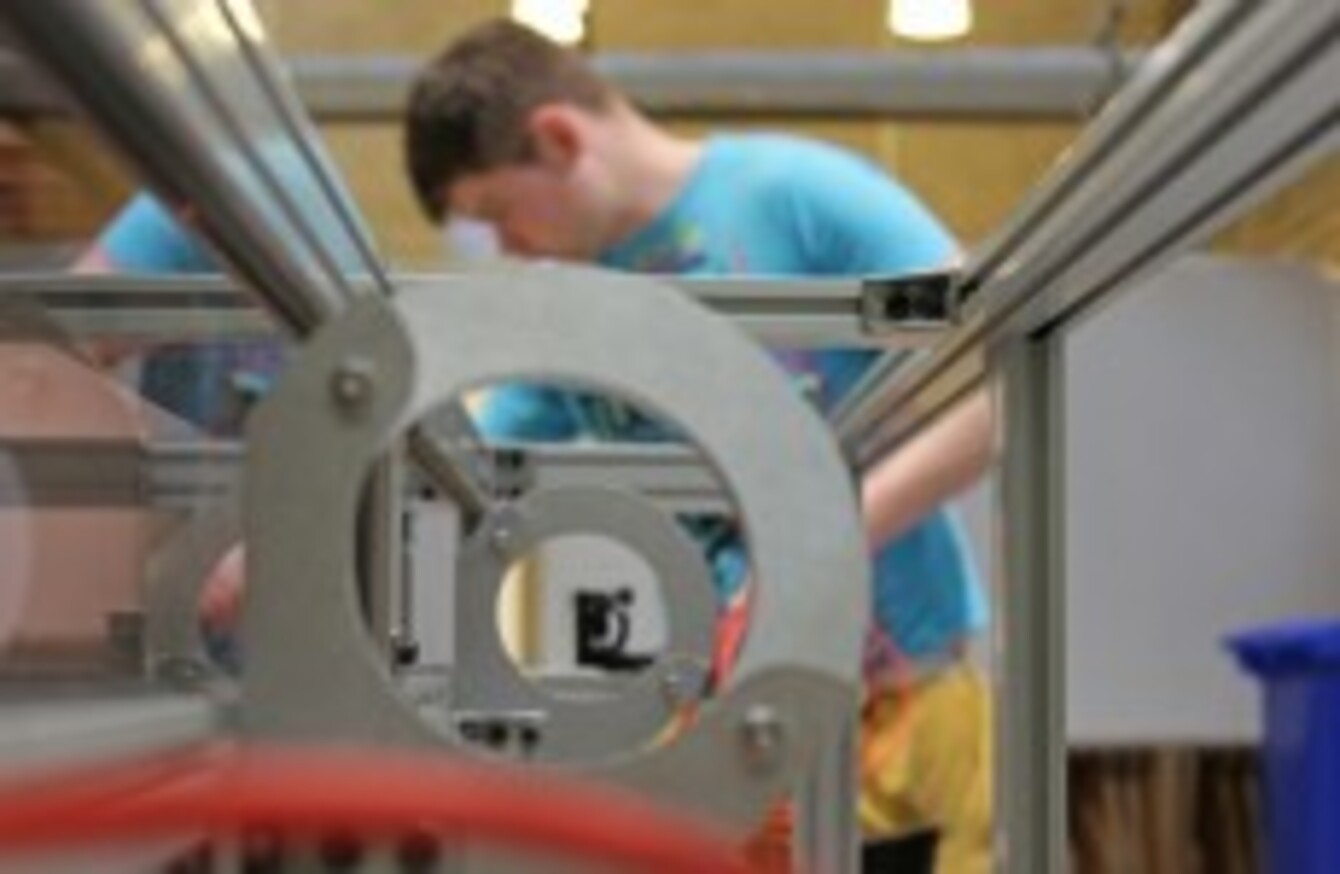 Students building a laser cutter in the University of Limerick
Image: Javier Burón CC BY-SA 3.0
Students building a laser cutter in the University of Limerick
Image: Javier Burón CC BY-SA 3.0
MANUFACTURING IS GOING through a renaissance of sorts. With 3D printing opening up a whole world of possibilities for object creation, it means great things for those interested in design or are involved in creative spaces.
Yet such tools are only available to those with significant resources to avail of, mainly large companies. Smaller businesses and individuals who would greatly benefit from having access to these tools will find them out of reach due to money or space issues, and then hampers creativity.
This is where fab labs come into play, helping to solve this problem by providing such tools to the public.
What are fab labs?
Fab Labs (short for fabrication laboratory) are small-scale workshops that allows smaller businesses, groups and individuals to create almost anything using computer-controlled equipment.
They are created for commercial, educational and research purposes, and allow users a great deal of flexibility when creating and designing items.
Usually the equipment found in a fab lab includes:
- A computer-controlled laser cutter which engraves or cuts a piece of wood in any shape you want.
- A 3D printer for printing out solid objects.
- A signcutter for producing flexible circuits and antennas.
- Milling machines which are used to subtract material, the opposite of what a 3D printer does.
- Vinyl cutter for making signs, stickers, apparel decorations.
- A computer-numerically-controlled (CNC) machine which assist all the above machines. Such machines are used in all types of manufacturing.
The major benefit of fab labs is that they're available to anyone to use. The space allow both individuals and groups to be creative and experiment with different ideas, creating anything from basic objects to smart devices.
The average cost of setting up a fab lab is roughly €150,000, including the day-to-day costs of power, rent, and the cost of the machines.
What purpose do they serve?
Fab Labs usually play three different roles. The first would be the commercial side where businesses can avail of the equipment for a fee to design and mass produce objects at a small scale.
The second is educational where the facilities are open to the general public – the vast majority of fab labs follow the MIT charter which requires this to happen – and allows them to experience digital modelling. Workshops and classes are usually held to show people the facilities and give them an idea of how to use the technology available to them.
The third is research and community. All of the fab labs around the world work together in developing ideas allowing you to recreate an item anywhere in the world and offer the same tools and technology. For example, if you designed and printed an object in a fab lab in New York, you would be able to do the same in a fab lab in Ireland since the experience is similar.
Where are they in Ireland?
Before this week, if you wanted to access a fab lab, you would either have to go to Belfast or Derry, but two new laboratory are opening up in Tipperary and Limerick.
The first one is located in Cloughjordan in Tipperary, which launched this week as part of the village's eco-village project.
The initiative, created by the organisation WeCreate, ties in with the theme of self-sustaining living, but it's available to anyone to use if they wish. Alongside funding from private investors and the North Tipperary leader partnership, the fab lab will sustain itself by opening up its services to businesses who will pay to create and manufacture goods at a small-scale.
The co-founder of WeCreate Anthony Kelly said there was a lot of optimism surrounding the project, and hopes that if successful, it will encourage other initiatives to open up fab labs around the country.
The idea is if we can make this work, then there's a possibility for other enterprise centres [to adapt a similar model]… it's not just for the ecovillage or Cloughjorden, it's for the wider base.
Part of the appeal of a fab lab is its accessible nature. By taking away the major costs involved in buying equipment and such, it allows businesses and groups to avail of the technology without having to pay major funds.
The laser cutter machine in Cloughjordan's fab lab (Image: WeCreate Workspace/Facebook)
With the funding received from the North Tipperary leader partnership, combined with private funds, the organisation had around €200,000 to work with.
#Open journalism No news is bad news Support The Journal

Your contributions will help us continue to deliver the stories that are important to you

Support us now
While Coughjordan's fab lab was created because of a major project, Limerick's version evolved from a different source. Back in Spring 2012, the project originally started out as a course elective in the University of Limerick (UL) before it took a life of its own.
The project, created by Javier Burón García, Michael McLaughlin, and Jim Murphy, separates itself from similar projects as both UL staff and students build the equipment from the bottom-up. This was down to both lack of funds and García's interest in building these tools, which tied in with the elective he was teaching.
(Video:colaborativa/Vimeo)
Once McLaughlin built a CNC machine for his final thesis project – with help from García – they realised they could use the same approach to build a fab lab. All they needed to do was purchase materials to build the devices needed, which was pretty easy considering they were readily available in UL.
We couldn't access that kind of money [usually needed for fab labs], but we did have money for materials for electives. In the architecture school for example, you can buy timber, all sort of construction material [for building the machines].

We realised that it was possible to use that approach to build a step-by-step fab lab so the following semester, we went for the 3D printer… and then we went for the laser saw and that's what we have at the moment.
The group has seen support from Limerick's City of Culture, the city council, which provided a space for the fab lab in the city through the Creative Limerick scheme, and from UL's School of Architecture, espeically its head Professor Merritt Bucholz.
While the plan is to get professional machines, taking a DIY approach has not only helped students understand the tools used, but it's also cut the costs of creating a fab lab significantly.
UL students assembling the laser cutter during Spring 2013 (Image: Javier Burón CC BY-SA 3.0)
Everything, including doing up the building the fab lab is located in, is done by the three men, and the cost of the project, including the rent for the space for the lab, has amounted to around €15,000.
The group still intends on bringing in professional machines over time such as a new CNC machine, and bring in both businesses and architecture and design students who would use it for academic research. Through funding from the City of Culture, the group will be holding a cultural programme on digital fabrication from April, which will include open days, workshops and lectures throughout the year.
The concept is very much in its early days here, but the community is developing and we could see more initiatives like the ones above appearing in other counties. We're still a long way from seeing 3D printers in our homes, but chances are we'll be seeing them more in our day-to-day lives as fab labs grow in popularity.