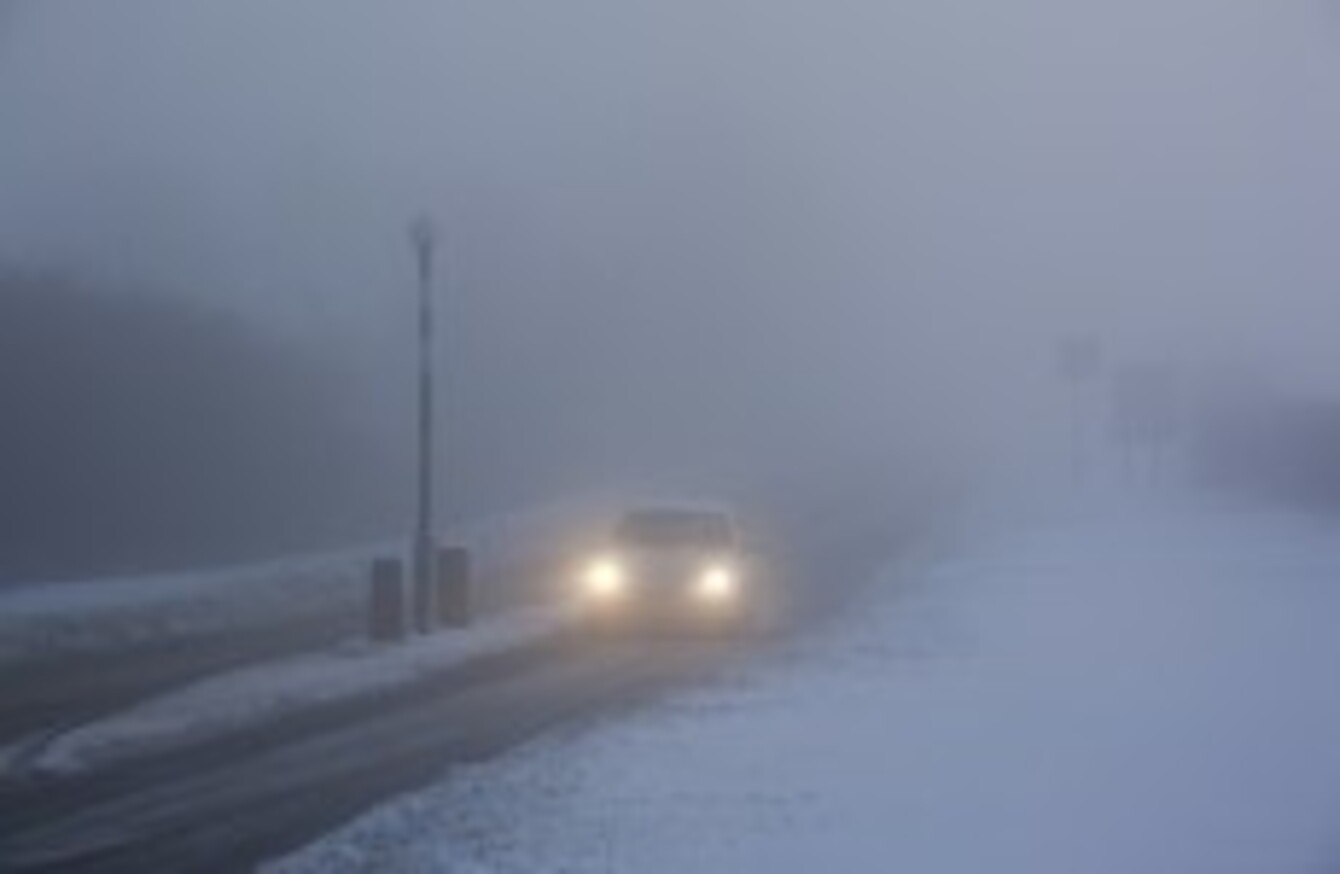 Image: Shutterstock/Steve Allen
Image: Shutterstock/Steve Allen
Updated 5.31pm
ROAD USERS HAVE been warned to beware of 'freezing fog' on the country's roads from this evening.
Met Eireann is forcasting temperatures dropping to between -1C and -7C. It is thought this will cause a "major safety risk" for road users.
The conditions are expected to last for the next few days.
Freezing fog causes a reduction of visibility and this can lead to incidents escalating rapidly.
The impairment to drivers' vision can result in single vehicle car crashes quickly involving other cars. The Road Safety Authority (RSA) describe the biggest risk in condition like this to be:
A multiple-vehicle pile-up on roads with higher speeds such as motorways and dual carriageways.
Speaking about the conditions, RSA CEO Moyagh Murdock, said, "dense fog reduces visibility greatly and makes driving very dangerous. Freezing fog, when liquid fog droplets freeze to surfaces, can make it difficult to keep the windscreen clear. Combined with icy road surfaces – it's a driver's worst nightmare."
Advice
To help drivers avoid potential accidents, the RSA has issued advice on what to be aware of, recommending that drivers:
Check local and national weather forecasts before embarking on a journey
Not using hot water to clear a windscreen (as it can crack glass)
In heavy fog, turn down your radio and open your window to allow yourself to hear other cars
Do not depend on the tail lights of cars in front as a guide (something referred to as target fixing), as this can result in the reduction of a safe stopping distance
The organisation also warns pedestrians to avoid going out in heavy fog if they can avoid it and to beware of areas they would typically regard as safe.
Black ice 
The RSA has also warned road users about the seasonal hazard of 'black ice'.
This is a natural phenomenon where a thin sheet of transparent ice covers a road or pathway. It can be particularly hazardous as it is hard to spot.
The country is still reeling from the effects of Storm Rachel.
As many as 8,000 Eircom customers are still without service today.
A statement from the company this evening said as many as 1,700 customers had their service restored today, with more than 1,000 technicians out working to fix faults.
"Our staff will work through the weekend throughout the country to restore service to as many customers as possible," the statement read.
Full service has been restored to all mobile sites impacted by yesterday's storm.
Additional reporting by Nicky Ryan.