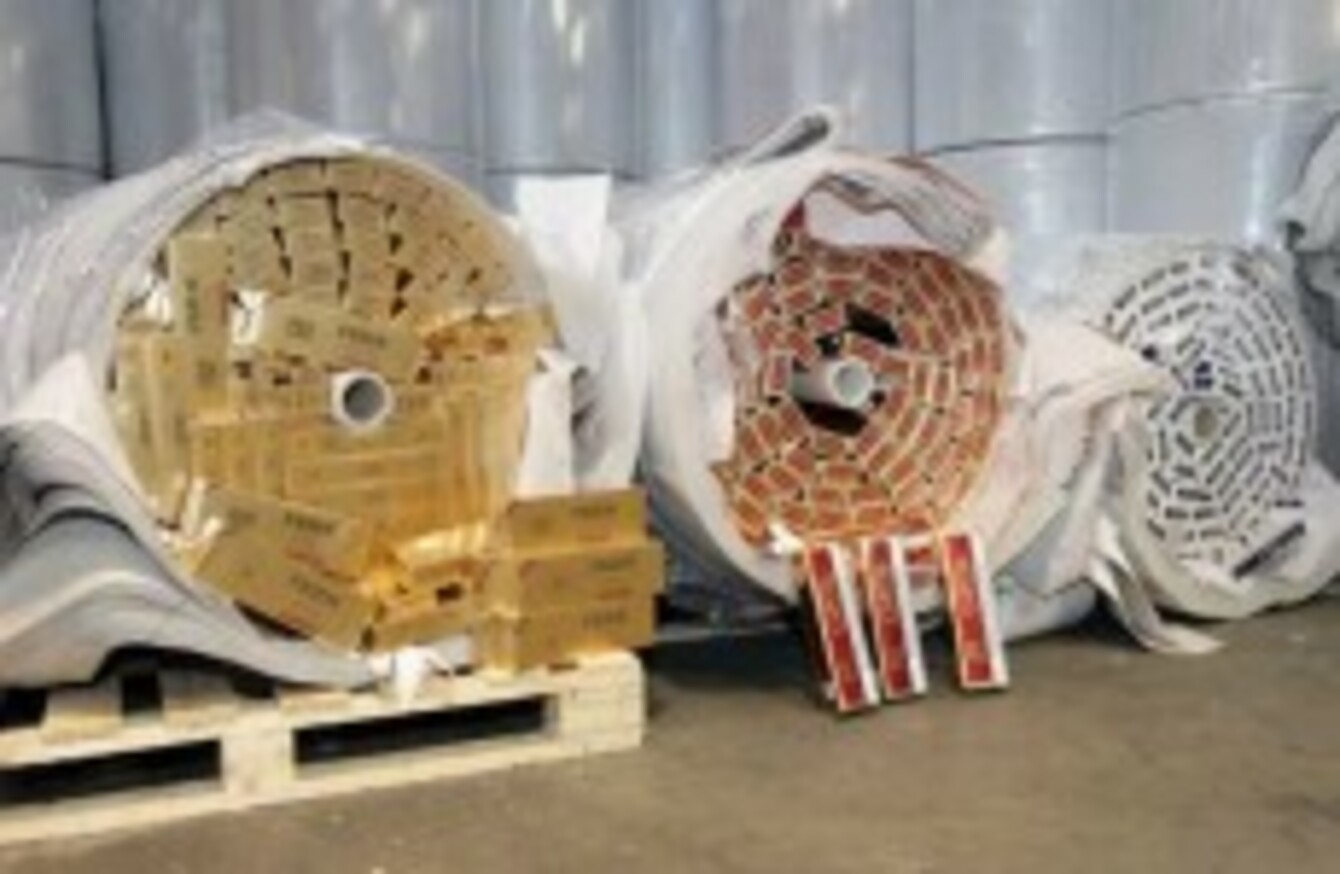 Seized cigarettes (file photo)
Image: Mark Stedman via Photocall Ireland
Seized cigarettes (file photo)
Image: Mark Stedman via Photocall Ireland
IRELAND HAS THE third highest trade for non duty tobacco in the EU, behind only Latvia and Lithuania.
However both Baltic states have decreased their Non Duty Paid (NDP) levels since 2012 while Ireland has stayed at 28.3 per cent.
It costs €9.40 for a pack of 20 cigarettes here, the second highest price in the EU.
The UK is slightly higher at €9.94 yet their NDP level is just 15.5 per cent, down from 21.5 per cent in 2012.
TD Billy Kelleher made the point that "The tobacco companies are part and parcel of smuggling in the sense that most tobacco smuggled into this country is made legitimately by these tobacco companies in other jurisdictions where they flood the market which cheap cigarettes, making it financially viable for smugglers to bring them into this country".
(Irish Tobacco Manufacturers Advisory Committee)
A surveys undertaken BY IPSOS MRBI found that in 2012, 13 per cent of cigarettes consumed in Ireland were illicit. The figures for 2013 are not yet available.
A spokesperson for the Irish Tobacco Manufacturers Advisory Committee said, "As an island we should be dealing with this problem a lot easier then we are.
There is no doubt the high cost of legitimate tobacco is pushing more people to the illicit trade but unless the government seriously address the problem by taking an integrated approach through the proposed informal working group on illicit trade, then the problem will only get worse.
(Irish Tobacco Manufacturers Advisory Committee)
The link between high price and high NDP levels is strong with Ireland and France having some of the highest prices in Europe and also ranking third and fourth within the EU's illegal tobacco trade.
Ireland is also one of the highest countries taxed for tobacco products with approximately 78 per cent of the price going to Government in excise and VAT.
The Irish Tobacco Manufacturers Advisory Committee criticised the Government's approach to illicit tobacco sales,
As a country that considers itself a leader in tobacco control the Government needs to do much more to deal with the black market.
"Fines must be increased, the average fine in 2013 was €2,600, this is not acting as a deterrent to criminal gangs who are reportedly generating profits of €3 million per week".
The Minister for Finance, Michael Noonan, has said that "combating the illegal tobacco trade is, and will continue to be, a high priority for the Revenue Commissioners.
Their work against this illegal activity includes a range of measures designed to identify and target those who are engaged in the supply or sale of illicit products, with a view to seizing the illicit products and prosecuting those responsible.
Noonan added that "This multi-faceted strategy includes ongoing analysis of the nature and extent of the problem, developing and sharing intelligence on a national, EU and international basis, the use of analytics and detection technologies and ensuring the optimum deployment of resources at points of importation and within the country".