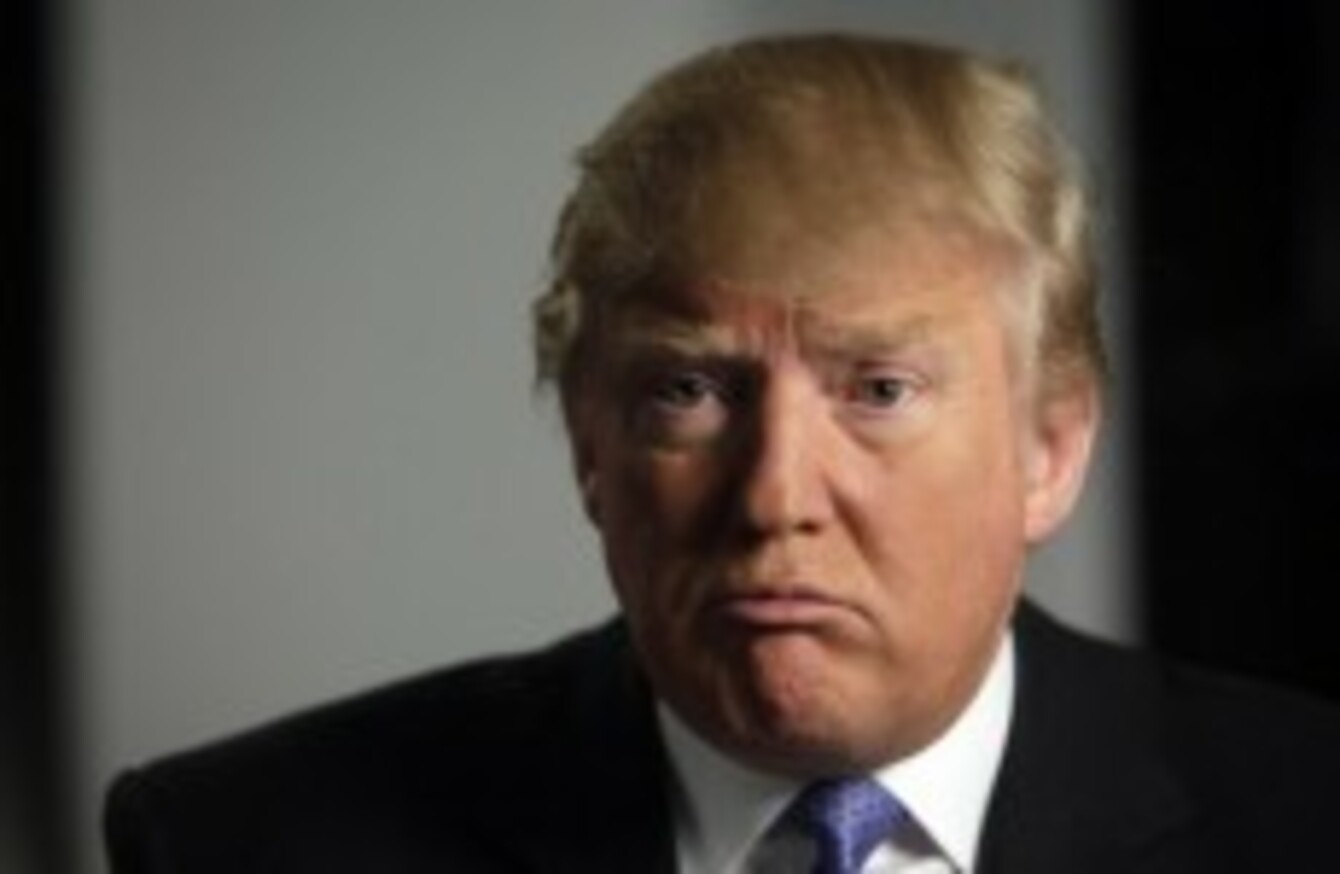 Image: Richard Drew/AP/Press Association Images
Image: Richard Drew/AP/Press Association Images
SQUILLIONAIRE BUSINESSMAN DONALD Trump has said that Ireland should definitely not be given any financial help by the US.
Trump was being interviewed by Fox News about his Celebrity Apprentice programme when he embarked on a bit of a rant about US loans to other countries. When asked if the US should help out Ireland in its current financial crisis, Trump said:
Well, no, I think Germany should help out Ireland. Germany's got a lot of money, they're selling us Mercedes, they're selling us lots of cars all over the place and I simply think Germany should help out Ireland.

I don't think we should help out Ireland. You know they're in a different system. They're not part of the dollar; they happen to be part of something else and Germany's in charge over there and yet we go over, and WE want to bail them out? And we're bailing out other countries and we're giving Brazil, which is one of the richest nations, $2 billion to drill for oil.

I mean honestly it's incredible what this country has done. This country could be so great. We're giving money to Egypt.

I mean the whole thing is just insane. And you know really we have the potential to be a great country and we're not now. We're a debtor country, let's face it. We have such great potential. And to do that, we have to become a rich nation again. We're a poor nation.

Can you imagine bailing out Ireland when Germany's sitting back smiling?
Trump's monologue seems to indicate that he has more of a problem with Germany than with giving a helping hand to Ireland, but his comments may not endear him to an Ireland still basking in the positive speech delivered by US President Barack Obama in Dublin yesterday.
Trump told the Fox News anchors that he also did not rule out returning to the field of potential US presidential candidates for the November 2012 election. A week ago, Trump announced that he would not be running for the White House. He had been expected to put himself forward for the Republican party.
He said yesterday:
I can't rule out anything. The country is so important, it's so vital that we choose the right person and at this moment, I don't see that person.