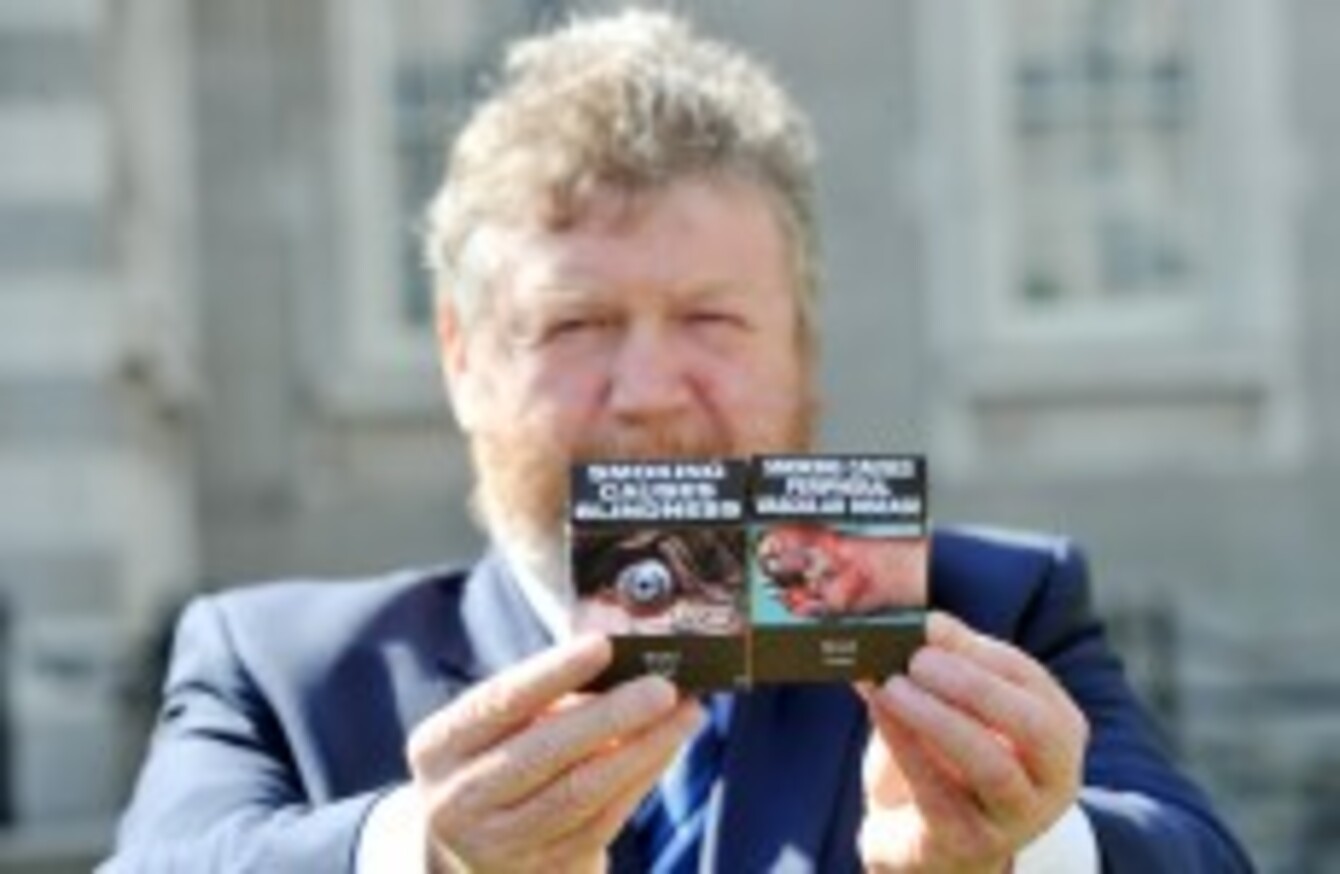 Image: Laura Hutton/Photocall Ireland
Image: Laura Hutton/Photocall Ireland
Updated 10.50pm
IT'S OFFICIAL: IRELAND is to become the first country in the European Union to introduce plain packaging on cigarette packets.
Minister for Health James Reilly confirmed earlier today that the Government has approved the publication of the legislation to bring in the change, which will remove any branding such as trademarks, logo, colours and graphics from packets.
Cigarette companies have already indicated that they plan to take legal action to stop the move from going ahead.
Ireland will be just the third country worldwide, behind Australia and New Zealand, to bring in the rules around cigarette packaging.
"This represents a significant step forward in our tobacco control policy and our goal of being a smoke free country by 2025," said Minister James Reilly.
The new laws will have strict guidelines about the design and appearance of tobacco products: the only branding information will be the name of the brand and the variant name, both of which will be done in the same typeface on all packets.
The packets will have graphic warnings and texts about the damage caused by smoking.
John Player has said that it will "robustly defend" what it described as its "legitimate commercial right to utilise its trade marks to differentiate its brands from those of its legitimate competitors".
"People start smoking due to peer pressure and social influences, not due to branding," said a spokesperson for the cigarette company.
Minister Reilly said that one of his key goals in his role is to prevent young people from starting to smoke.
"Given all we know about the dangers of smoking, it is not acceptable to allow the tobacco industry to use deceptive marketing gimmicks to lure our children into this deadly addiction and to deceive current smokers about the impact of their addiction," he said.
The introduction of standardised packaging will remove the final way for tobacco companies to promote their deadly product in Ireland.
Cigarette packets will no longer be a mobile advertisement for the tobacco industry.
The Minister said he was confident that the legislation will be supported on public health grounds.
Pro-smoking campaigners have said that James Reilly is trying to distract attention from other issues facing his department by focusing on smoking.
First published 2.13pm