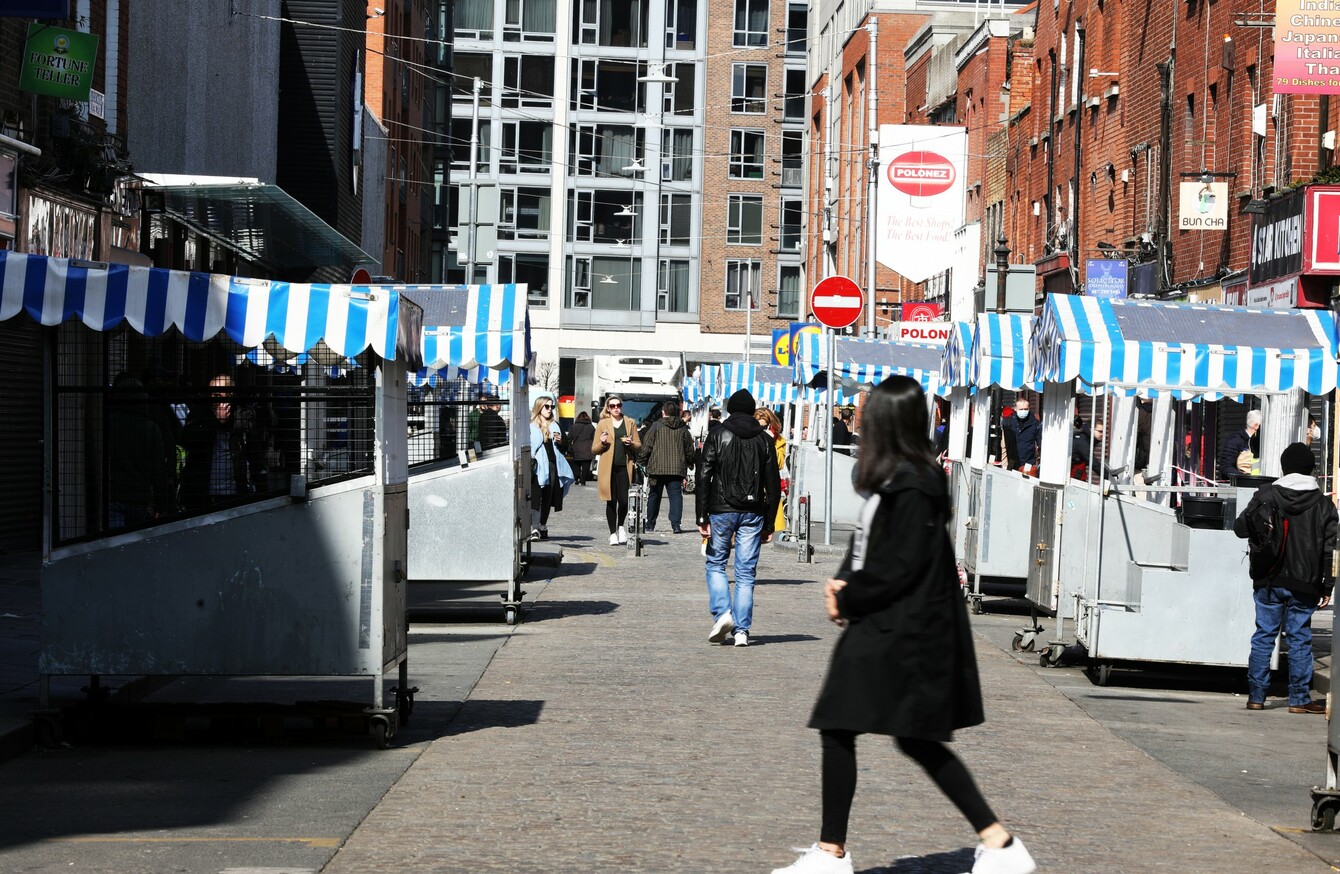 People walk past market stalls on Moore Street, Dublin.
Image: Leah Farrell
People walk past market stalls on Moore Street, Dublin.
Image: Leah Farrell
THE IRISH ECONOMY is expected to shrink by 7.1% and fall into a recession due to the coronavirus pandemic, the Economic and Social Research Institute (ESRI) has warned.
The not-for-profit research institute said that the ongoing Covid-19 pandemic is "the greatest threat that the Irish economy has faced since the financial crisis".
Acknowledging that it was difficult to apply a traditional economic forecast, it instead provided a "scenario analysis" to assess the impact of the pandemic:
At this juncture, we assume that these measures stay in place for a 12-week period and the economy recovers afterwards. Under this scenario, the Irish economy would shrink by 7.1% in 2020.
"Consumption, investment and net trade would all fall sharply; households would cut spending, firms would cancel or postpone investment and external demand for Irish goods and services will fall."
It also said that the labour market, "which had been in a position of strength before the spread of the pandemic, is set to face the largest one-quarter shock in living memory".
"Under the scenario the unemployment rate increases to 18% in Q2 up from 4.8% in the previous quarter, as over 350,000 people lose their jobs."
The ESRI said that the general government balance, which had been expected to be in surplus at the start of the year, would now register a 4.3% deficit.
This is as a result of the significant fall in revenues the exchequer will face.
It also reflects the significant increase in spending the government will implement in order to support workers who have lost their jobs, assist businesses facing declines in revenue and provide additional health expenditure needed to combat the virus.
As this analysis is based on the restrictions being in place for 3 months and a recovery to begin after that, the ESRI said that this may prove "too benign", and will revisit its scenario "more frequently" than it would in a normal environment.