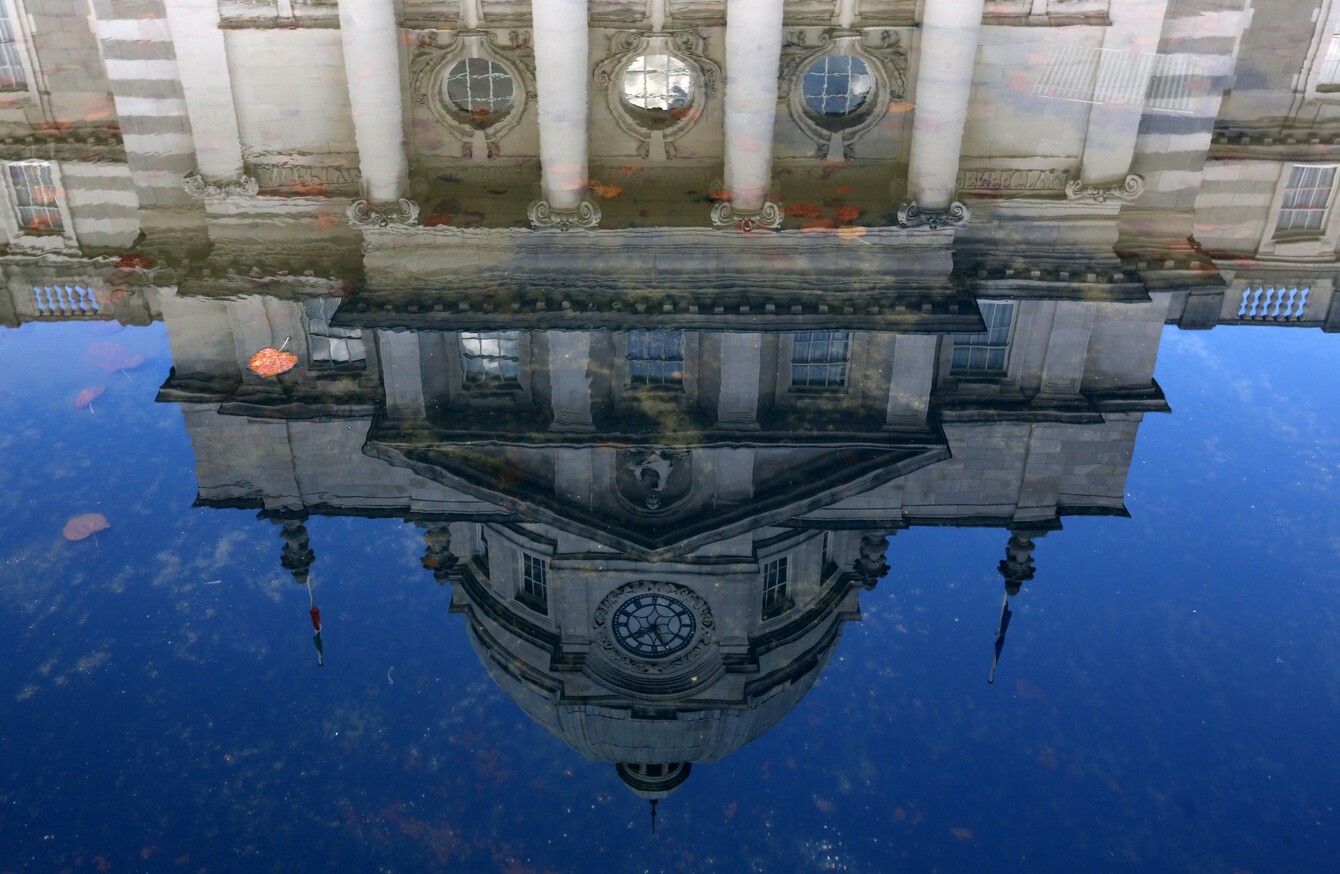 Government Buildings in Dublin
Image: RollingNews.ie
Government Buildings in Dublin
Image: RollingNews.ie
Updated 3.55pm
THE DEVASTATING ATROCITIES in Paris last Friday night have put the focus on what measures other countries, including Ireland, are taking to prevent such attacks on their own soil.
The deaths of 129 people at six different locations in what were apparently indiscriminate attacks has heightened concern among the public as to whether such terror could be visited on the streets of our own capital.
The government's assessment of the likelihood of such an attack happening in Ireland is that it is unlikely.
On Saturday, Defence Minister Simon Coveney told RTÉ's Prime Time:
While of course a terrorist attack is always possible, the assessment would say the threat is very low at the moment.
This was echoed by Justice Minister Frances Fitzgerald who said that an attack in Ireland is "possible but unlikely".
Taoiseach Enda Kenny said there is no evidence that anything untoward is being planned either in or for Ireland but that does not mean the government is not considering such a possibility given the shocking events in the French capital.
"We don't have any information to suggest that [Ireland could be attacked] but we are very conscious of being vigilant of all of this," he told RTÉ Radio.
National Security Committee
On Saturday, the State's National Security Committee (NSC) met to consider the implications of the Paris attacks. Its assessment was that threat assessment has not changed and that the possibility of an attack in Ireland remains low.
This secretive inter-departmental committee was formed in 1974 and is tasked with ensuring that the Taoiseach and the government are kept informed of issues related to national security, intelligence and defence.
Kenny described it as a "very sophisticated response unit".
The committee is chaired by Kenny's secretary general Martin Fraser, who is considered the most powerful civil servant in the country. It comprises of the Garda commissioner Noirin O'Sullivan, the secretaries general of the Departments of Justice, Defence and Foreign Affairs and the Defence Forces' chief of staff Mark Mellett.
The Director of Military Intelligence, Colonel Joseph Mulligan, is responsible for providing the latest defence and security assessments to the committee. He usually briefs the Defence Minister on a monthly basis. Security briefings also come from the Garda commissioner.
It's not clear how often the committee meets, but Kenny told the Dáíl in June that its members liaise "on an ongoing basis":
It is concerned with ensuring the Government and I are advised of high level security issues and the responses to them but not with operational security matters. It meets as required and will continue to do so. In addition to its meetings, its members liaise on an ongoing basis to monitor developments that might have national security implications, in particular, in the international arena.
Last year, a former Defence Forces intelligence officer Micheal Murphy wrote in the Irish Times that the NSC "lacks staff, working groups or the capacity for independent analysis, and it cannot co-ordinate intelligence before an event".
He said there is no evidence that this State has a "fusion centre" which coordinates local and national intelligence . Murphy called for the establishment of a civilian intelligence agency and for the appointment of a director for national intelligence.
In an interview with TheJournal.ie in March, Murphy said it was impossible to say if Ireland was more or less likely than any other country to be attacked:
If you put yourself in the mind of the other people, they have said attack anywhere. It's not because people are in Shannon or because we have American companies. Wherever you can hit the infidel, hit them, by whatever means you  can hit them.
Monitoring
Fitzgerald underlined the importance of intelligence in weekend interviews, saying the key to preventing such attacks is gathering and sharing as much as possible. She suggested that the level of investment in Ireland's security resources would be kept under review.
The minister also said that Ireland's security force, An Garda Síochána, are linking internationally with other security agencies and sharing information.
In a statement this afternoon, the gardaí have said that a Garda Liaison Officer attached to the Irish Embassy in Paris has been working with the French authorities, and that an intelligence assessment review was conducted domestically on Saturday.
It has also said that appropriate measures have been taken to deal with any further threats, but that for security reasons it is not outlining the detail of its operational response.
It is known that there are a small number of people in Ireland who sympathise with Islamic State.
Kenny told the Dáil last summer that the activities of a small number of people based in Ireland and "whose behaviour may be of concern" is monitored "closely and regularly".
How small? In July, a prominent Irish Muslim cleric Shaykh Dr Muhammad Umar Al-Qadri suggested that up to 100 of the 50,000 Muslims in Ireland are silent supporters of the Islamic State and its radical idealologies.
Speaking in Brussels this morning, Foreign Affairs Minister Charlie Flanagan said a small number of people's activities are being "monitored fully by An Garda Síochána".
We are vigilant, we are engaging with our European partners in intelligence gathering, our Garda Síochána are very active.
But Flanagan would not go into detail on the numbers of those being monitored, citing "operational reasons".
Meanwhile, last year it was reported that up to 30 Irish residents are fighting with IS in Syria and Iraq. One of the concerns here is the possibility that these people may return to Ireland.
In this context, the government is conscious of ensuring that those refugees coming into Ireland over the coming months, as part of our response to the migrant crisis, are vetted and registered properly.
"The vast majority are perfectly law abiding citizens who wish to flee conflict with their families and their children," Kenny told RTÉ at the weekend.
As one country, we have decided to respond in a humanitarian way to that and obviously the vetting and the examinations will be very thorough and comprehensive.
- First published 10.48am