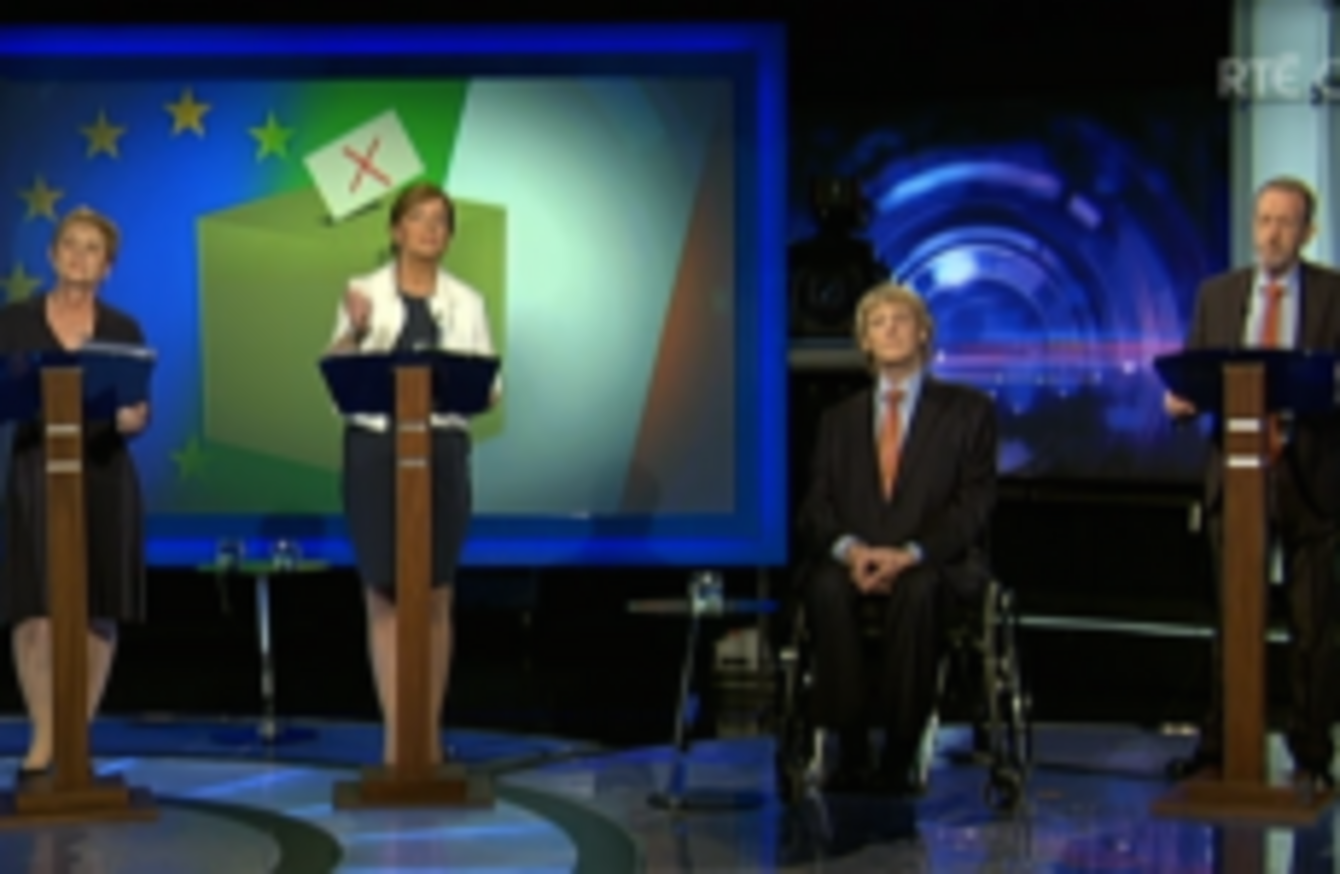 Some of the 15 candidates running in Ireland South during last night's debate.
Image: RTÉ
Some of the 15 candidates running in Ireland South during last night's debate.
Image: RTÉ
FOUR DAYS OUT and it was round two of RTÉ's mammoth European election debates last night.
This time it was the turn of candidates and incumbents running in Ireland South. There was little of the controversy that hit the first debate on Sunday night, but it was a lively affair nonetheless.
In the first debate we had sitting MEPs Phil Prendergast of Labour, Seán Kelly of Fine Gael and Brian Crowley of Fianna Fáil with Sinn Féin's Liadh Ní Riada also involved.
The second debate saw two Fine Gael candidates Simon Harris and Deirdre Clune, Fianna Fáil's Kieran Hartley, the Greens' Grace O'Sullivan, the Catholic Democrats' Theresa Heaney, Direct Democracy's Jim Van de Ven, and independents Richard Cahill, Jillian Godsil, Peter O'Loughlin, and Diarmuid O'Flynn.
Here's what you need to know about the debate in case you missed or, inexplicably, found something better to do…
1. The make-up of the panels was even more bizarre
RTÉ's pre-arranged criteria meant that just four candidates qualified to participate in the first debate, leaving ten for the second debate. This meant round one was a fairly tepid affair and round two was confusing and a bit messy, but actually a better debate. Key to the success of the second debate was Claire Byrne's moderating as she successfully kept candidates in line but allowed a bit of back and forth between them.
2. Sinn Féin was hammering its message and the opposition was hammering it
Liadh Ní Riada, who is favourite to win a seat for Sinn Féin, did not get the pounding from opposition candidates that Matt Carthy got the night before. But as she pressed home that people are being "crippled by austerity budgets" the other candidates went for her, particularly Phil Prendergast who knows she faces a tough ask to win a seat for Labour. Prendergast repeatedly raised the old favourite of this government: the contradiction between Sinn Féin's policies in the North and those in the South.
3. It's every man and woman for themselves
Having already hung her party leader out to dry, the embattled Prendergast took no prisoners last night and even criticised Labour's coalition partner, saying that a vote for Fine Gael is "a vote for more of the same".
4. Medical cards are an issue – but they're not a European one 
The video preview before the debate highlighted medical cards as a big issue. Brian Crowley claimed that he is dealing with over 100 people a week whose discretionary medical cards have been removed.
Seán Kelly was honest enough to say that it's not an issue for European parliamentarians and pivoted to his work in Europe on tackling obesity. Not necessarily a popular move, but he was right.
5. Debt and bank debt finally came up 
There was little or no mention of it in the first debate but MEPs and MEP hopefuls in the south finally got around to discussing both personal and the State's bank debt.
"It's the biggest single issue for our country," Jillian Godsil said, claiming it would be as big an issue now as the famine was in the 1800s.
O'Flynn, who has campaigned against bondholder payments for years, questioned why the "unelected" ECB is dictating the policy and said his group 'Ballyhea Says No' asked for a debt writedown before anyone in the Irish government did.
Harris tried to defend the government, saying that it had made savings on our debt repayments, but a shouting match with O'Flynn ensued.
6. Pylons are still an issue
The government may have headed off this hot topic by kicking the pylons issue to a review group some weeks ago, but that didn't stop it being raised last night particularly when Kieran Hartley, a vocal anti-pylons campaigner, was asked about it.
He said he was misquoted when he told us in April that he was not actually anti-pylons. Except he wasn't misquoted at all:
In any case, all candidates criticised the Eirgrid project in one way or another. Harris, a government loyalist, even criticising Eirgrid's "mock consultation" process. Grace O'Sullivan faced the awkward question about her party leader Eamon Ryan approving the plan when he was in government. She pressed home the need for "clean, renewable" energy.
7. There were couple of other issues… 
Theresa Heaney of the Catholic Democrats said she stood firmly with the church on gay marriage and claimed the people will choose God's law over man's law in next year's referendum. She also criticised the tax system for penalising stay-at-home mothers.
Peter O'Loughlin, an anti-EU candidate, talked about Europe as an "empire" and said that the State is attracting "people we don't want" with "open borders" and a "generous" social welfare system. An Irish UKIP? Yes, he admitted.
- additional reporting from Órla Ryan
The final RTÉ Prime Time debate, featuring the candidates in Dublin, takes place tonight at 9.35pm on RTÉ One.