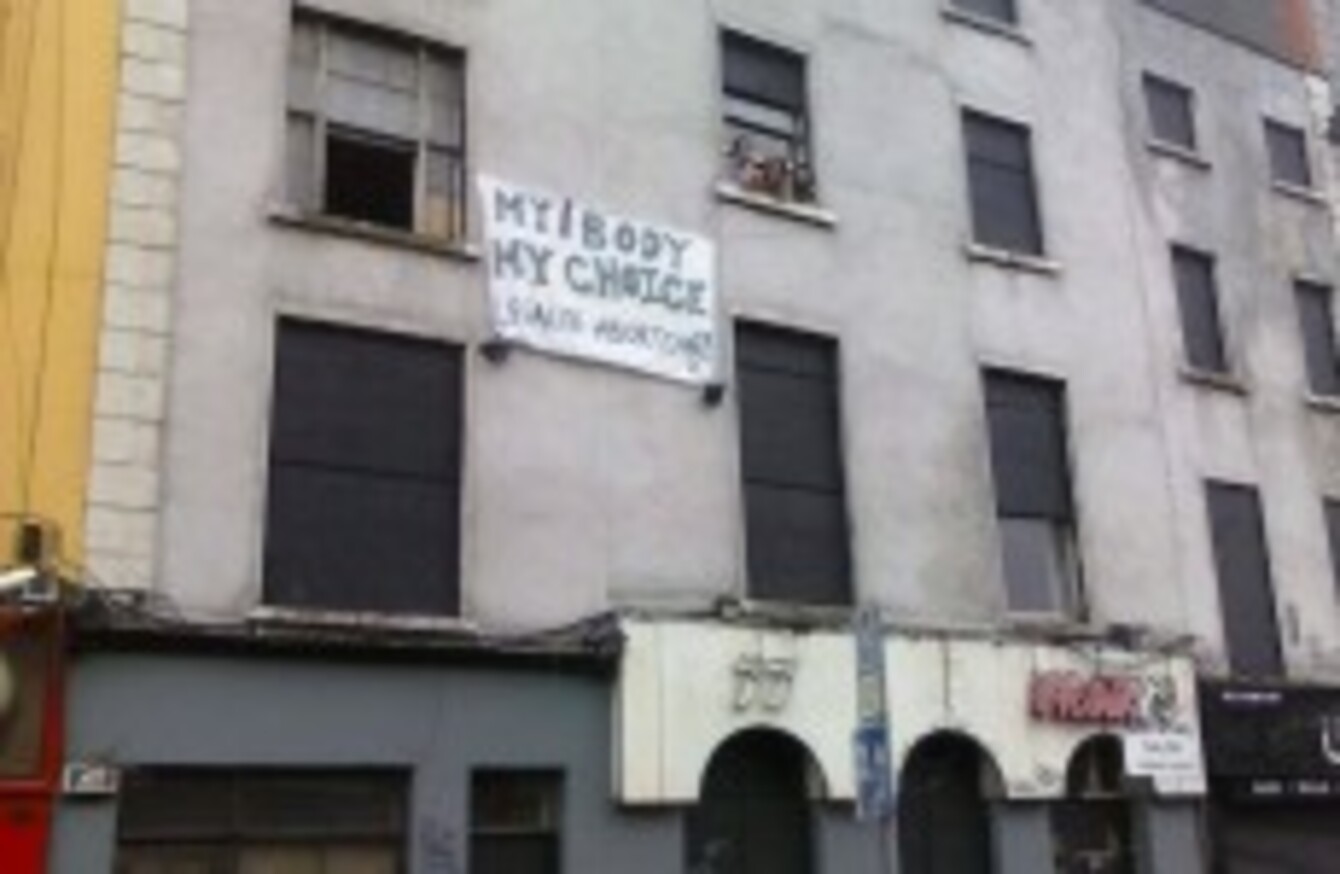 Activists take part in a protest at the Barricade Inn squat
Image: Barricade Inn website
Activists take part in a protest at the Barricade Inn squat
Image: Barricade Inn website
FROM THE OUTSIDE the Barricade Inn is an unassuming building on a similarly nondescript part of the capital's Parnell Street.
Surrounded by a mixture of traditional Dublin pubs and modern Asian eateries, the stretch provides an unlikely home for Ireland's best known Anarchist social centre.
But inside, the disused space which occupies the site of the former Neary's hotel, is used to house people, fundraising events, educational classes and even a bike repair workshop.
But the future is uncertain for the Barricade Inn collective after the owners of the building, which has been vacated for over a decade, decided to seek a High Court injunction in a bid to put the young activists out on the street.
The High Court case against the group was adjourned last week but the legal battle continues in front of a judge on Wednesday.
Speaking on behalf of the Barricade Inn collective Ferdia O'Brien has branded the decision to evict the group a 'disgrace'.
"People are extremely frustrated by this decision," he told TheJournal.ie.
"Aside from acting as a social centre, the building provides a home to anything from 10 to 20 people who now will have nowhere to go.
"Given the fact that the city is already facing a homeless crisis, this is extremely upsetting."
Aside from providing a safe place for some of the city's homeless, the centre also plays host to  a vegan cafe and holds regular educational classes for a donation fee.
"When we found the building it had fallen into disrepair but we fixed it up and made it useful for people again.
As a group we put a huge amount of effort, time and money into improving the space and now looks like we are going to lose it.All we want to do is put this disused space to good use and make the city a better place.
As the legal row rumbles on the Barricade collective have released an official statement outlining the the group's objectives and concerns:
"As well as a social centre, the Barricade is many people's home, people who are threatened with homelessness if this injunction is granted," it reads.
"But we want more than just a roof above our heads, we want homes for everybody. We want an end to rent hikes and property speculation, and a truly free public space in the city for people to gather.
"We want a society based on freedom and solidarity, and will keep fighting for that no matter what."
So far the building's owners have refused to specify what a post-Barricade future would mean for the premises.
But O'Brien is suspicious about what the property owners are willing to provide for the city centre community.
"The building lay untouched for the past 13 years and ultimately fell into a state of disrepair," he said.
There are rumours that the owners may wish to sell it but it seems odd that they would sell it now despite hanging onto the premises throughout the property boom.
In court the owners claim that they want us out for our own safety but that is complete nonsense as we've improved the standards of the building since we moved in.
The Barricade Inn is just one of a growing number of squatted premises in the capital, with similar setups existing in other cities such as Galway and Cork.
There is currently no specific law criminalising squatting in Ireland but squatters are sometimes brought before the court on other charges including trespassing.
Activists claim that the spaces are necessary to tackle the country's growing housing shortage and provide a preferred alternative to vacant and derelict buildings.
Homeless
Latest figures from the Dublin Regional Homeless Executive (DRHE) show that there are over 607 families in homeless accommodation in Dublin – more than double the same time last year.
Meanwhile charities estimate than there are more than 100 people sleeping rough on Dublin's streets on any given night.
Despite the bleak outlook for the Barricade Inn, O'Brien believes that the squatting scene in Dublin is beginning to flourish.
"We've had people coming here from abroad to visit Dublin because they have heard that the squatting scene is starting to grow here.
I think what is most important is that we introduce squatting to a broader range of people. Thankfully the word is starting to get out and people are starting to take notice. Right now we have a situation where there are thousands of people without proper housing and yet we have thousands of empty properties. Squatting is a practical solution to tackle the country's housing crisis.
Earlier this year, activists took over the site of the disused Bolton House homeless hostel which closed in 2011.
The group, which aimed to use the building to house those in need, were evicted by Dublin City Council just weeks later.
Meanwhile 30 squatting activists were also evicted from a site at Dublin's Grangegorman this summer.
The group had used the site as a living space and social centre for more than a year before being evicted.
As for the future of the Barricade Inn?
"If we are evicted on Wednesday, there is no doubt that squatting in Dublin will continue and in one form or another – The Barricade Inn will be back." O'Brien added.