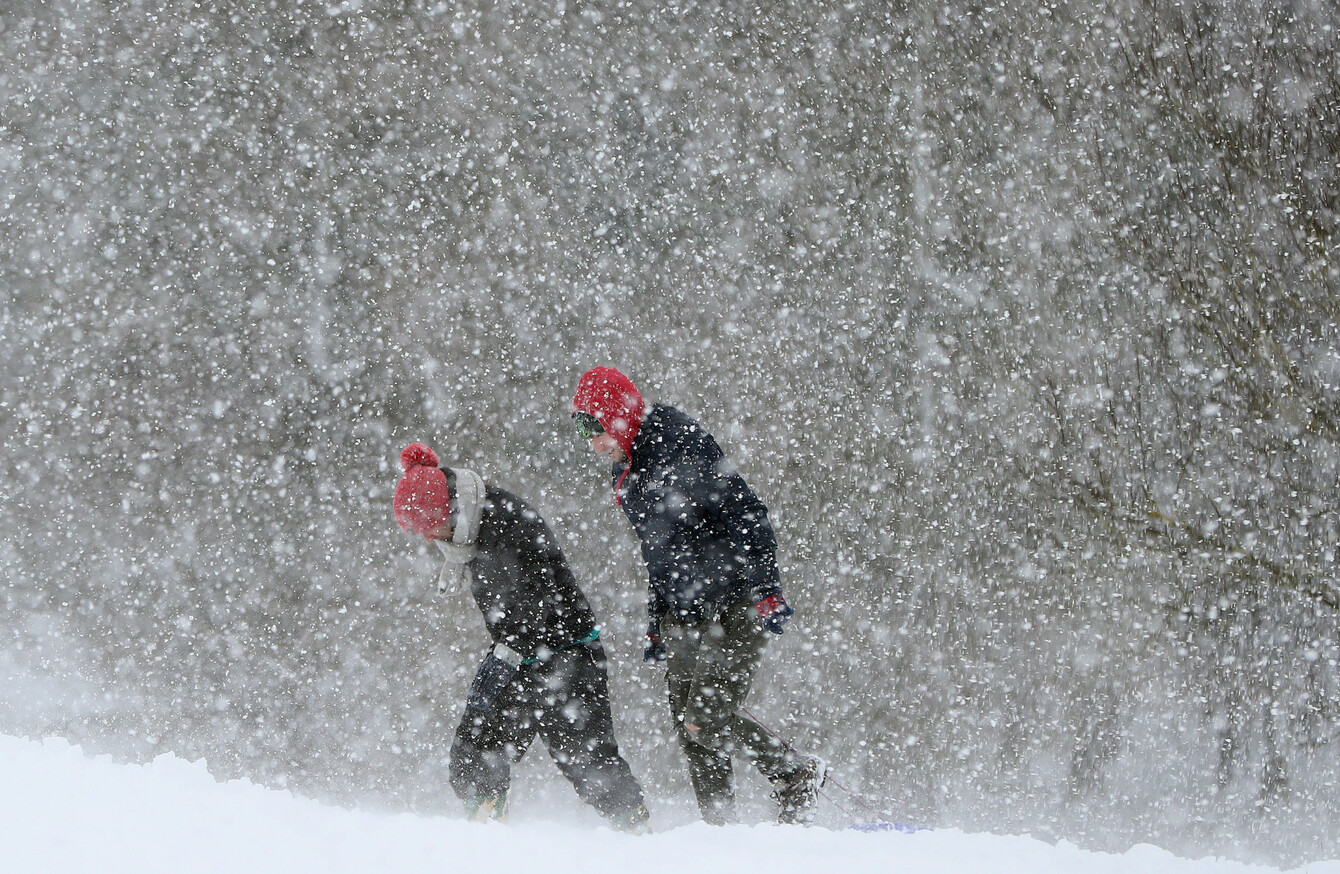 Walkers in Athy, Kildare during the Beast from the East in March
Image: Niall Carson
Walkers in Athy, Kildare during the Beast from the East in March
Image: Niall Carson
THE NUMBER OF Irish names, the pronunciation of 'Aaron' and references to a US sitcom were among the concerns raised during the naming of this year's winter storms.
Correspondence released to TheJournal.ie under the Freedom of Information Act reveals how Met Éireann and the UK Met Office decided upon storm names for 2018-19.
It is the fourth year that the two offices have shared responsibility for designating the storms under the 'Name Our Storms' scheme, which aims to raise awareness of severe weather before it hits.
The names are used when a wind storm is strong enough for either office to issue an orange or red warning.
An alternating male-female pattern is followed, with names beginning with letters Q, U, X, Y and Z excluded to comply with international conventions.
This year, Ali, Bronagh, Callum, Deirdre, Erik, Freya, Gareth, Hannah, Idris, Jane, Kevin, Lily, Max, Niamh, Oliver, Peggy, Ross, Saoirse, Tristan, Violet and Wyn were selected, and formally unveiled on 12 September.
Agreed pronunciation
A list of names sent from the UK Met Office to Irish meteorologists Evelyn Cusack and Joan Blackburn on 7 August shows that five other names were initially proposed.
They included the names Arthur, Eamon, Geraint, Lola and Phoebe, but a reply from Cusack the same day floated a number of alternatives.
"Just a few comments: I would slightly prefer Eugene to Eamon," one read. "Lola to me is a Spanish name … how about Lottie?"
Cusack also suggested that Aaron was a "good choice" and would be popular in Ireland, prompting the UK Met Office to ask: "Is there a consensus of how 'Aaron' is pronounced in Ireland?"
"Aaron is Moses's brother, but I just pronounce it: are on," Cusack replied.
However, in another email on 23 August, the UK Met Office proposed another set of changes after reviewing the original names.
"Replacing 'Aaron' with 'Ali' will add to the diversity of names in this year's list," a meteorologist wrote.
"It's Arabic in origin … but can also be a shortened version of 'Alistair' (and those not familiar with the male/female pattern might assume 'Alison' too)".
'Even spread'
The Met Office also suggested replacing Eugene with Erik to acknowledge other European countries and "help address the Irish imbalance", over which it had previously expressed concerns.
In an email to Cusack on 22 August approving the name Idris, a meteorologist wrote: "I've ran the list past a few more folk … a comment from one person is that this year's list seems quite Irish heavy (nothing to do with me).
"I've done a quick Wikipedia breakdown: 6 Irish, 3 Welsh, 2 Scots, 6 English and 4 European. So not an even spread, yes, but I don't think we'd ever get evens!"
Replying, Cusack agreed that the list was "a bit heavy on the Irish and English side" and suggested using the name Aonghus, which is both Irish and Scottish in origin, although this was not taken up.
In a previous email, Cusack also expressed concerns over an unintended reference to a US sitcom by two of the proposed names – which featured sequentially – on the original list.
"Phoebe and Ross … very Friends," she wrote. "Maybe not have the two Friend's [sic] names!"
Storm Ophelia
The emails also reveal how the two offices discussed referring to storms already named by other services, but which had been downgraded by the time they reached Ireland and the UK.
At the launch of this year's storm names, Cusack noted that some of the most serious events to hit Ireland recently, including Ophelia, did not come from the 2017-18 list.
In an email to Met Éireann on 16 August, the Met Office proposed how to designate former tropical storms such as Ophelia.
"In the ex-TS [tropical storm] cases (eg Ophelia), rather than keep saying ex-Ophelia whatever, we would start saying 'Storm Ophelia' if the system would have qualified to be named by us", they wrote.
"Otherwise it would stay Ex-Ophelia … if it just came straight across but weakened to be just a wet and windy day with no more than yellow warnings."
However, Met Éireann's response, if any exists, was not released to TheJournal.ie.
A final list of names was eventually agreed on 28 August, and released to the public two weeks later.