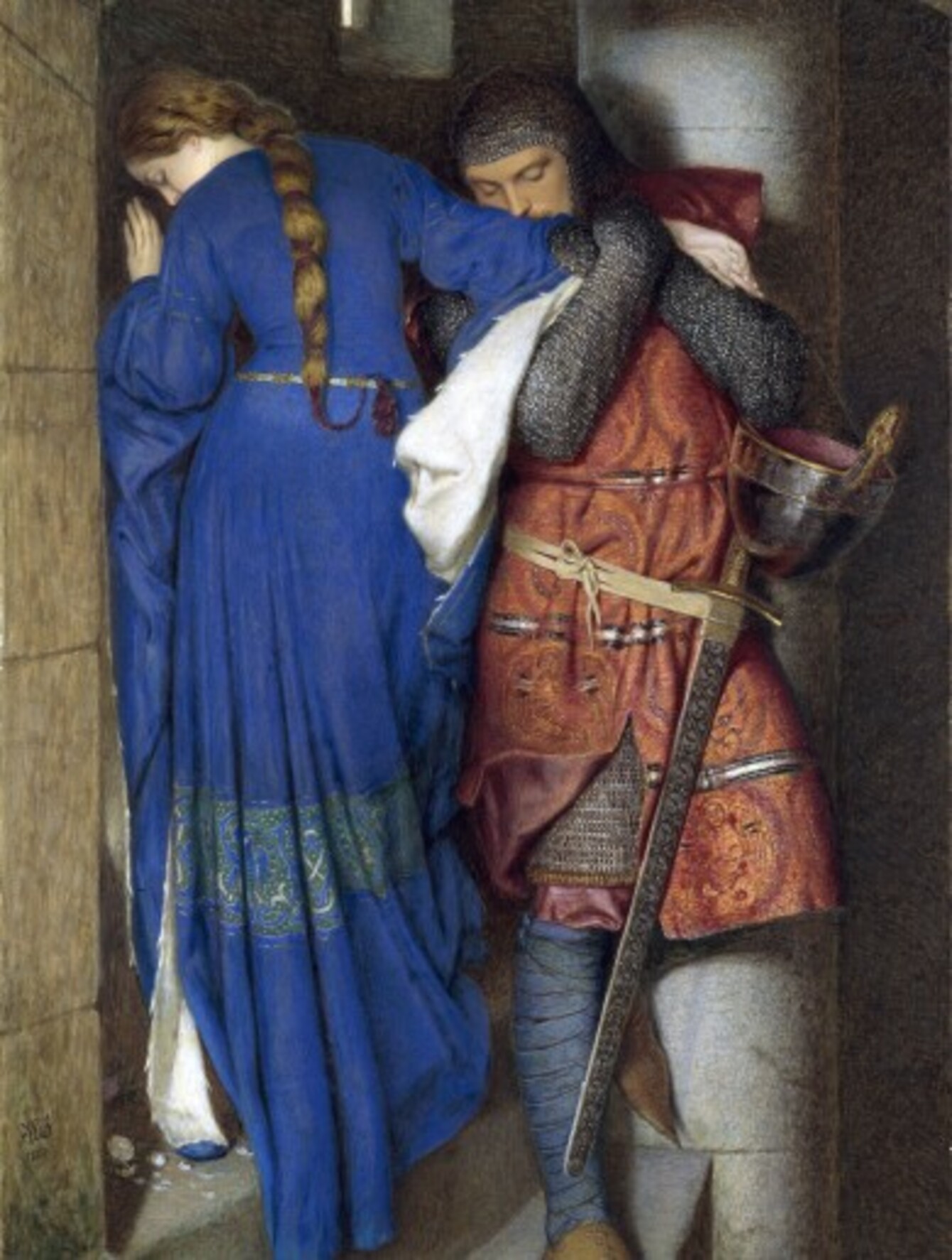 Hellelil and Hildebrand, The Meeting on the Turret Stairs by Frederic William Burton
Image: National Gallery of Ireland
Hellelil and Hildebrand, The Meeting on the Turret Stairs by Frederic William Burton
Image: National Gallery of Ireland
THE FAVOURITE OF old Irish romantics everywhere, The Meeting on the Turret Stairs, has been named Ireland's favourite painting.
A public vote promoted by RTÉ's competition to find the nation's favourite painting over the past five weeks found that the Frederic William Burton piece, which hangs in the National Gallery of Ireland, polled most preferences. One in five of those who voted (22 per cent) went for the romantic 19th century depiction of a young soldier stealing an illicit kiss from his beloved as they pass on a turret stair. Burton was from Corofin, Co Clare.
Speaking on RTÉ's arts programme The Works last night, President Michael D Higgins said he thought the painting to be "a very considerable and beautiful painting". He said:
I remember the editorial in the Irish Independent of the day, written by William Martin Murphy, who said that the (National) gallery would never be a jot of value to the common people of Dublin. And thankfully he was wrong. Art is about the foundations of citizenship and creativity and what we all own together and the celebration that should be available to every citizen now and into the future.
The National Gallery said that it had recorded increased visitor figures since the competition began with footfall up by about 20,000 visitors on the same period in 2011. Sales of merchandise relating to all the shortlisted paintings had "doubled" and sales of merchandise relating to the winning painting had increased fourfold on the same period in 2011.
Sharon Corr, who had been one of the celebrity spokespersons on the RTÉ campaign – and who had picked the Meeting on the Turret Stairs as her favourite painting – had recalled how she had seen it on her first date with her now husband Gavin Bonnar. She said:
We'd literally just met the night before in the Gaiety at some salsa club and we were walking up Baggot Street the next day and he said where will we go and I said let's go to the National Gallery because I'd never been there before. We did and it was so special and we've brought our kids back as well, like an anniversary. I'm terribly romantic, I really am a sucker for it all.