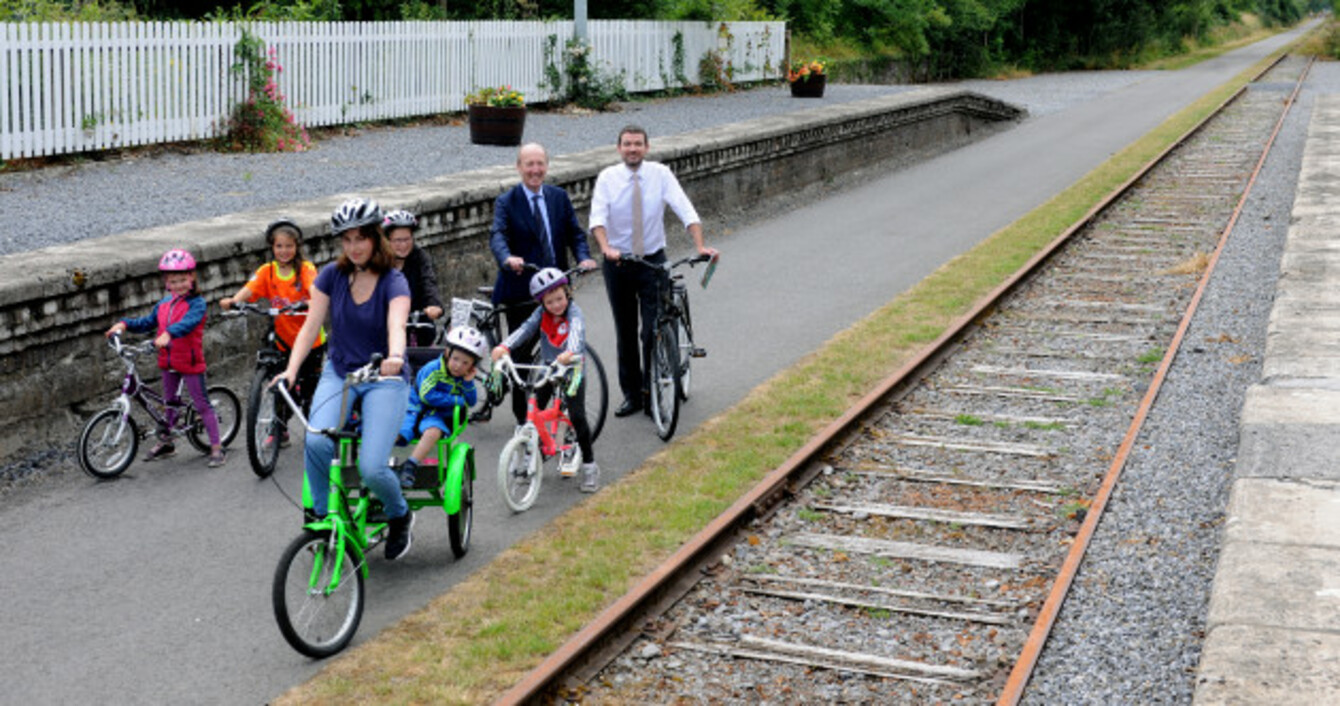 Ministers Shane Ross and Brendan Griffin at the launch of Ireland's new Greenway strategy.
Image: John Mc Cauley
Ministers Shane Ross and Brendan Griffin at the launch of Ireland's new Greenway strategy.
Image: John Mc Cauley
THE GOVERNMENT HAS launched Ireland's Greenway strategy in a bid to increase the number, length and regional spread of off-road walking and cycling tracks across the country.
The long-term strategy is backed by a fund of €53 million for the years 2019 to 2021.
Minister for Transport, Tourism and Sport Shane Ross said the ambition is to have at least one greenway that is coast to coast, stating his preference is for a Dublin to Galway route.
Ross and Junior Minister Brendan Griffin said the eagerly awaited Strategy for the future development of National and Regional Greenways will replicate the success of towns such as Newport on the Great Western Greenway, Kilmacthomas on the Waterford Greenway, and Old Rail Trail in Moate in Westmeath, which are already open to the public.
Launching the plan in the midlands, which has been rebranded 'Ireland's Hidden Heartlands' in a bid to boost tourism in the area, Ross said the public has seen the benefits that have accrued to towns along the existing greenways.
Greenways of scale
"That is why we are focusing our investment on projects of scale, the common denominator of successful projects to date is that they are in the order of 40 kilometres and thus provide the opportunity to overnight in a new area," said Ross.
The plan states that the cycle and pedestrian routes should be well sign-posted both on and off the corridor, bike storage lockers, bike repair and charging stations, rest stops and also other facilities along the routes such as study and play areas.
It is also hoped each route will have art works such as murals, mosaics, carvings and art pieces by community members and local schools along each greenway, which the plan states "will further enhance the local ownership, use, and respect for a route".
The government has worked out the branding for the new strategy, and plans to roll out a social media campaign, which includes Facebook, Twitter and Instagram pages.
The plan focuses on regional and national greenways which must be a minimum of
20 kilometres in length. Shorter routes will only qualify if they are extending an
existing greenway or have the potential to be extended in the future.
Proposals will need to be fully costed, and comply with Transport Infrastructure Ireland design standards and there must be clarity on land access issues.
There are specific guidelines for certain aspects such as lighting. The government are open to considering new and innovative solutions, such as Smart Highway lighting, which the plan states is an "emerging but expensive trail light technology" which uses light emitting stones which solar charge during the day.
"Such a process might be considered for signature sections of a greenway," it states.
The minister explained that this is why it is important for early and widespread consultation with landowners and communities along and adjacent proposed the recreational routes.
Funding for shorter more local routes may be available under the schemes administered by the Department of Rural and Community Development.
Greenway routes for regional areas and the Greater Dublin Area do not fall under the remit of this plan.
"We are lucky to live in such a beautiful country and greenways provide an opportunity to experience that beauty up close and at a slow pace. Our strategy will help us fund the spine of a network of greenways that can, over time, provide links to the rest of the countryside through quiet roads that will prove attractive to many people cycling," said Griffin.
Using Longford County Council as an example, he said the local authority is looking to identify a quiet route from the end of the Royal Canal Greenway in Clondra to Athlone.
"This will provide a wonderful triangular route from Mullingar along the Royal Canal to Clondra and then to Athlone returning to Mullingar on the Old Rail Trail," he added.
Minister Griffin said greenways are for more than cycling, stating that statistics from the  current greenways in operation show that in towns such as Moate more people are walking along the routes than cycling.
How do you propose a route? 
A funding call is being issued and an outline funding criteria document has been released. The application form will be available in the next couple of weeks and the deadline for application will be end-November with a view to awarding funding for draw down between 2019 and 2021 to the successful projects.
Proposals for a greenway must meet criteria in terms of it must be a "scenic" route, there must be things to "see and do", it should be "substantially segregated" and it must be safe and workable for shared usage.
"I am looking forward to examining the many worthwhile project proposals that we expect to receive over the coming months under the funding call, and I would urge local authorities and state agencies to consult widely with landowners and communities along proposed routes to bring agreed routes to fruition. This strategy sets out how that consultation should take place and suggests the components that make for a successful greenway," said Ross.