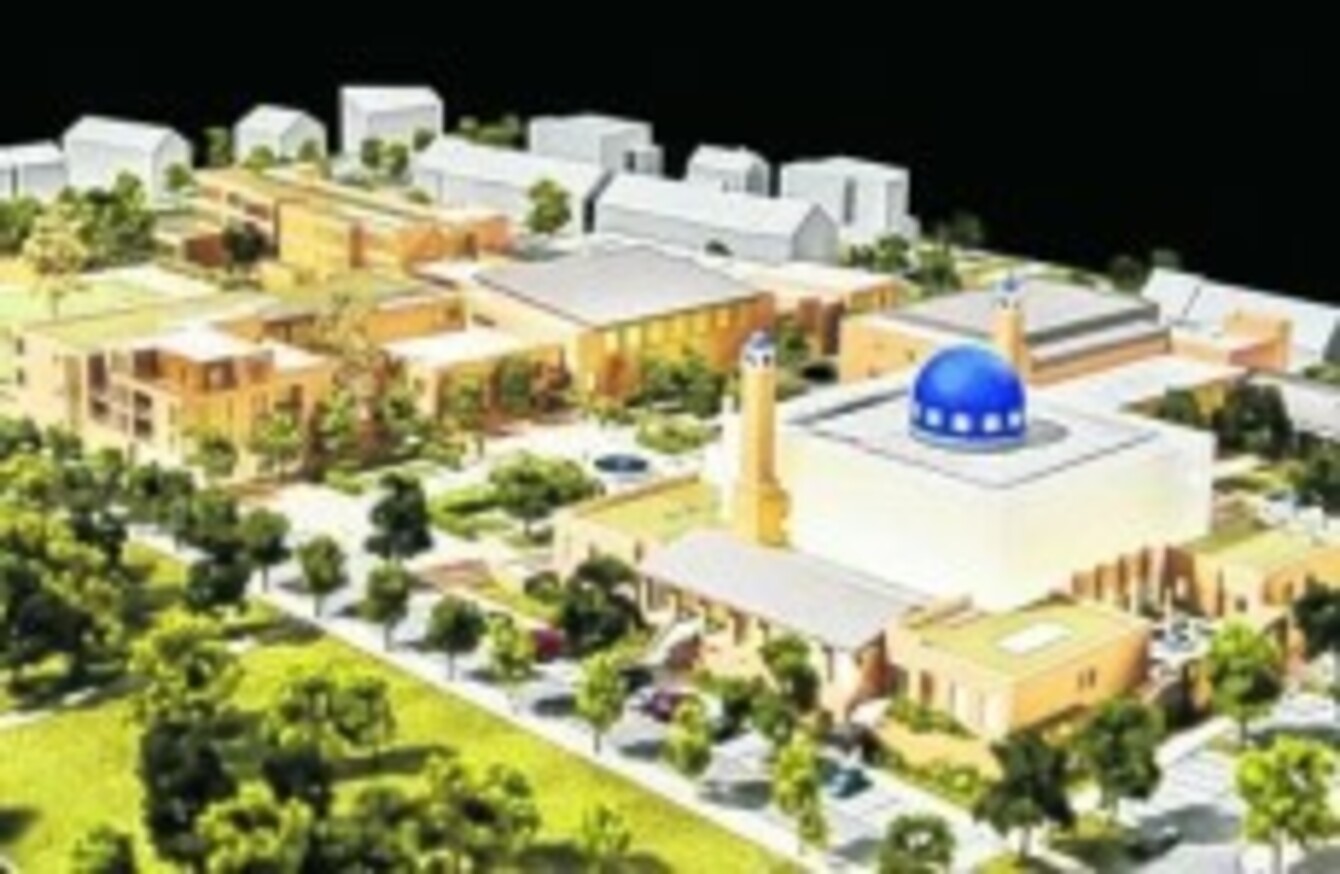 Mosque development costing in the region of €40 million.
Image: Dublin Welfare Society
Mosque development costing in the region of €40 million.
Image: Dublin Welfare Society
PLANS FOR IRELAND'S biggest mosque have been given the go-ahead by An Bord Pleanala for a site in Clongriffin, North Dublin.
The €40 million development will see the construction of a mosque and cultural centre, conference centre, primary school, secondary school, fitness centre and eight apartments. The mosque will cater for up to 3,000 people
Objection
Dublin City Council granted planning permission last March, but there was an objection lodged by local Labour TD Tommy Broughan who said that the plan did not adhere to the development plan of the area and that he had concerns about the size of the project as well as traffic congestion it would bring.
TD Sean Kenny has welcomed the approval by An Bord Pleanala.
There are now approximately 55,000 Muslims in Ireland. The majority of Muslims live mostly in Dublin. There are currently over 36 mosques across the country catering to the community.
Clongriffin mosque will be the third purpose-built mosque in Ireland. The other two are in Ballyhaunis, County Mayo and at the Islamic Cultural Centre of Ireland in Clonskeagh, Dublin.
The Dublin Welfare Society who are behind the development of the project stated that they are very pleased that permission has been granted with a statement on their website saying:
The project is expected to start as soon as sufficient funding restored.
Building an inclusive community
Speaking to TheJournal.ie, Abdul Haseeb, the project co-ordinator for the Clongriffin Mosque Project said "we are very excited about this development" adding "the project will come in around €40 million, so now that we have approval we are trying to see what is the best way forward. The way it works in Muslim community is we put out the word about fundraising to the local community and to other mosques, so we just have to keep working at it".
He said that there was a bigger challenge to be faced. "Our biggest challenge is to build a community that is all inclusive, where people of other faiths can come and feel part of this development and can feel they can use the facilities it will have," he said.
He added:
We want to avoid ghettoisation and marginalising those of other religions. We also want to prevent the spread of hatred. There are so many wars happening across the world, nothing but hatred and anger. We have an opportunity to get things right here.
Haseeb said:
If we can show here, that we can put our heads together and get people together of all different faiths to create something beautiful, then we can be an example that things can be done differently.