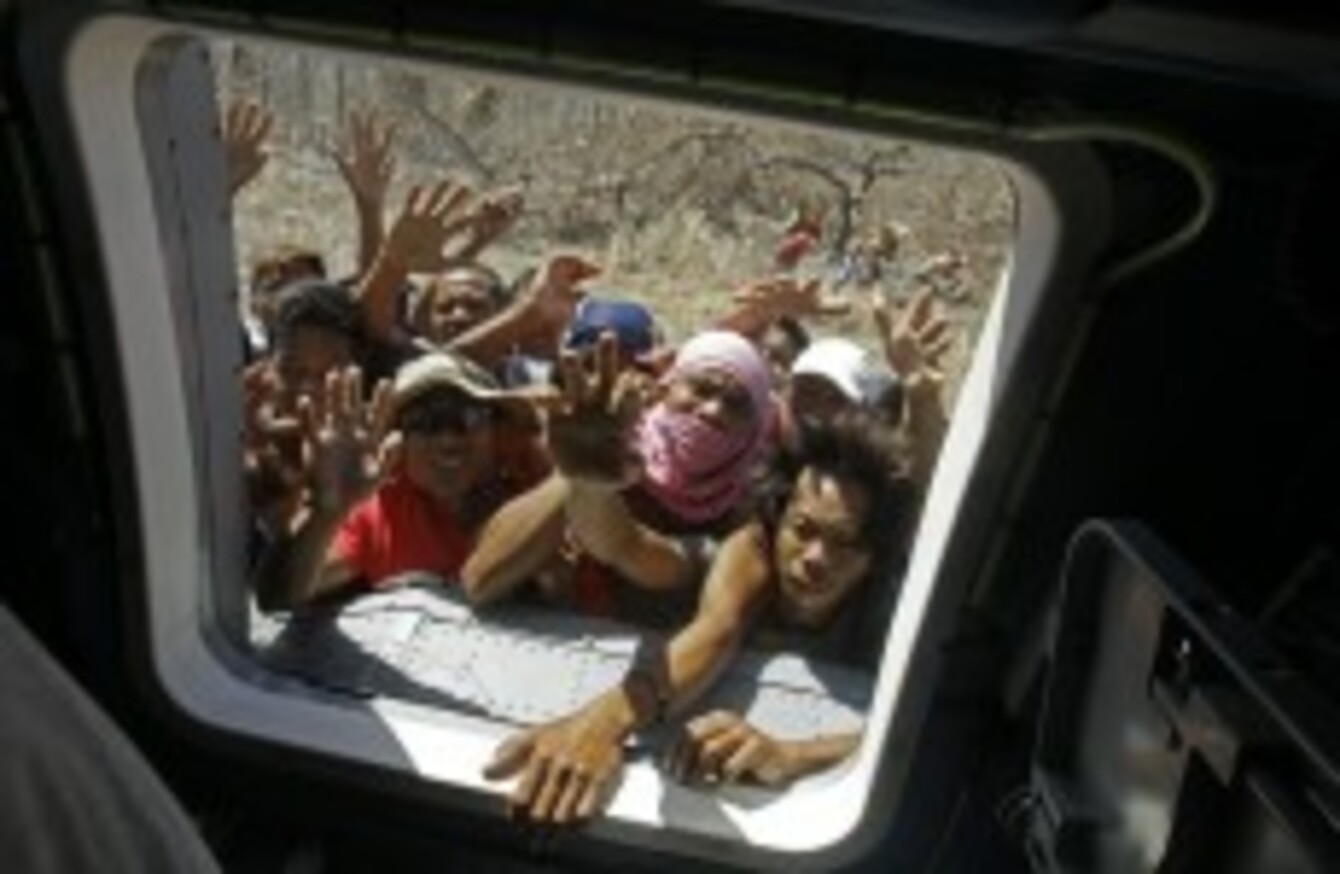 Desperate villagers rush to a window of a U.S. Navy Seahawk helicopter as crewmen deliver aid in an emergency drop in San Jose, Philippines
Image: AP Photo/Wally Santana
Desperate villagers rush to a window of a U.S. Navy Seahawk helicopter as crewmen deliver aid in an emergency drop in San Jose, Philippines
Image: AP Photo/Wally Santana
ANOTHER BATCH OF aid has been dispatched from Ireland to the Philippines as part of the Typhoon Haiyan relief effort.
The 16 tonnes of life-saving supplies are worth €120,00, Minister for Trade and Development, Joe Costello said.
The aid includes water and sanitation materials to protect communities against disease in the worst-affected areas of the Philippines following the devastating typhoon.
According to the minister, further assessment of the needs of people on the ground will be made by the members of Ireland's Rapid Response team, who have deployed to assist UN agencies involved in the relief effort.
The team are are on the ground supporting the work of the World Food Programme, UNICEF and the UN Office for the Coordination for Humanitarian Affairs in the Philippines.
The shipment is from Irish Aid's stocks in the UN's Humanitarian Response Depot in Malaysia and will arrive in the Philippines early tomorrow.
The latest aid brings to 166 tonnes the items that have so far been airlifted by Irish Aid to the region, with Ireland's total contribution to the Typhoon Haiyan relief effort standing at €3.62 million.
The stocks will be distributed by Plan Ireland and includes:
9,000 jerry cans
6,500 mosquito nets
600 pickaxes and spades
50 water distribution ramps
24 5,000 litre water tanks
25 10,000 litre water tanks
On 24 November, a plane carrying 40 tonnes of humanitarian aid was sent to the Philippines via a specially-chartered GOAL-Aer Lingus flight.
Yesterday, aid agencies appealed for people to donate cash rather than second-hand goods to the Typhoon Haiyan relief effort. They said that donating material items that have not specifically been requested could prevent the transportation of goods that are needed.