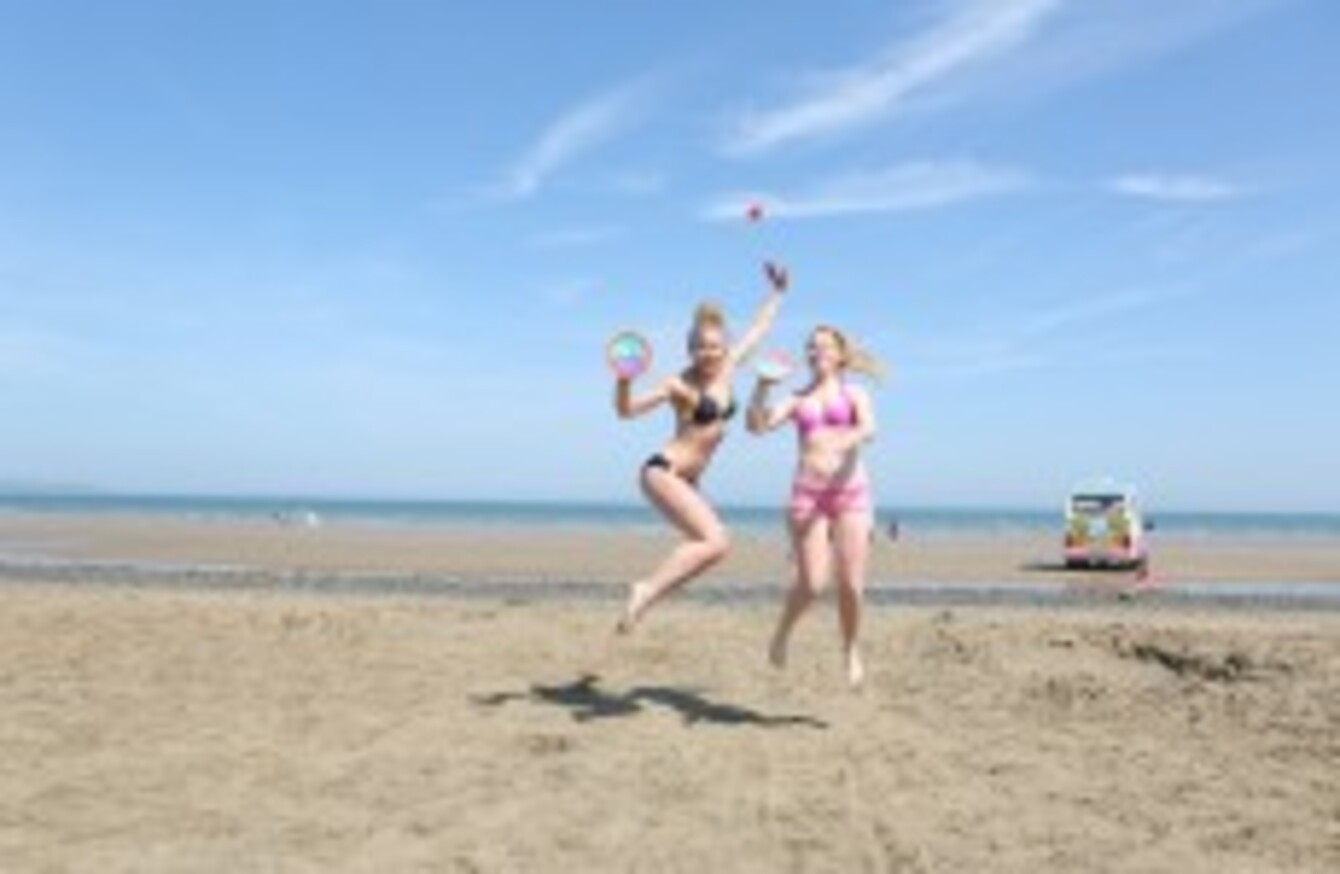 Image: Sam Boal/Photocall Ireland
Image: Sam Boal/Photocall Ireland
TODAY IS 1 May, so it's officially the start of the summer (don't let those grey skies fool you, folks).
What does summer mean to us here in Ireland? Warm hang sandwiches, fighting with your siblings/children/other half on long car journeys, and taking trips to the beach as soon as you spot the temperature hits a roasting 17 degrees.
If you're planning your next trip to the sea, rest assured that Ireland's beaches are for the most part still nice and clean. There are a few, however, that don't quite hit the mark.
EPA
The Environmental Protection Agency has just released its latest report – Quality of Bathing Water in Ireland – An Overview for the Year 2013 – which says that Ireland's bathing waters "continue to be of a very high standard".
Overall, 97 per cent of designated bathing areas meet the minimum EU qualifying standard. Great stuff.
But even though the EPA currently monitors 135 locations nominated by local authorities (these are the most popular bathing spots), it would like to see more locations in the programme.
Here's what it found in its latest round of monitoring:
84.4 per cent of bathing waters (114 of 135) were classified as being 'good' – compared to just 67 per cent (91 of 136) in 2012. (This reflects both the unusually wet summer in 2012 and the good summer in 2013.)
Just four bathing spots (one inland and three coastal) failed to comply with the minimum mandatory standards and were classified as being 'poor'.
Dr Matthew Crowe, Director of the EPA's Office of Environmental Assessment, said that Irish bathing waters"continue to be among the best in northern Europe".
Our projections show that almost 90 per cent of Ireland's designated bathing waters should meet the new 'excellent' or 'good' water quality standards which will come into force from this year.
Good and poor bathing areas
Ireland's bathing water was monitored throughout the 2013 bathing season for E.Coli and Intestinal Enterococci.
An assessment of the waters found that in 2013, 97 per cent of bathing areas (131 of the 135 bathing areas) complied with the EU mandatory standards and were classified as achieving at least 'sufficient' water quality status.
This was similar to the 2012 bathing season.
The proportion of bathing areas that complied with the much stricter EU guideline standards indicating 'good' water quality status was up at 84.4 per cent (114 of 135), compared to just 66.9 per cent (91 of 136) in 2012.
#Open journalism No news is bad news Support The Journal

Your contributions will help us continue to deliver the stories that are important to you

Support us now
Of the 18 Local Authorities who have designated bathing areas, six achieved 'good' water quality status for all of their bathing areas:
Dun Laoghaire Rathdown
Meath,
Clare
Kerry
Donegal
Louth.
These account for 38.5 per cent (52 of 135) of all bathing areas in Ireland.
However, four of the 135 bathing waters (3 per cent) failed to comply with the minimum mandatory standards, indicating 'poor' bathing water quality status:
Clifden Beach (Galway)
Lilliput (Lough Ennell, Co Westmeath)
Dugort (Achill, Co Mayo)
Ballyloughane (Galway City)
In the case of Clifden, a program of remedial works for the nearby wastewater treatment plant has commenced. The EPA warned though that this is unlikely to bring about significant improvements in water quality ahead of the 2016 bathing season.
Lilliput encountered a period of contamination late on in the season, while Dugort was affected by a rare pumping station malfunction.
At Ballyloughane, two pollution events were recorded that were linked to heavy rainfall – also, on one occasion the mandatory standard for E.Coli was exceeded, which automatically caused the water to be classified as poor.
Throughout the summer of 2014, up-to-date bathing water quality information and notifications of any incidents affecting them will be put on the Splash website.